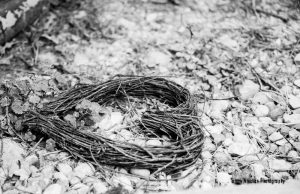 Discarded but not quite thrown away,
this love-shaped wreath rests quietly in the rocks in our backyard.
Step on me.
Step over me.
But never forget who I am……………
I am "love."
————————————————————
This past year I've felt so much like this wreath.
Snapping photos
Taking classes
Even teaching a college course
I've worked on discovering my new role in this big world,
all the while burying the truth deep inside my soul—–
When the gap between childhood and adulthood is so small that "mom" is all I've really known of the adult world, it's difficult to see myself embracing anything else.
MOM
That's who I've been since I was 21.
Caregiver
Problem Solver
Errand Runner
Temperature Taker
Clothes Washer
Boo-Boo Fixer
Snack Maker
Dinner Cooker (or at least Dinner Purchaser)
Game Attender
Party Planner
Schedule Coordinator
Loving almost every minute of the past thirty years,
I've grown accustomed to my three-letter name.
 I've seen the day coming, though,
the day when I would be removed from the front door and placed gently to the side.
Let's face it,
the moving of the wreath has to happen from time to time,
because grapevines weather and wreaths sag eventually…………….
and who wants to be greeted by such a tattered sight?!?
———————————–
I'm okay with my lowered position, really.
The pressures off a little when you're no longer front and center.
And to be honest, I'm almost as weary as my worn-out wreath.
The problem isn't that my title is changing, though.
I'm still "mom" when I'm not hanging for the world to see.
Even moms with all their babies in Heaven are moms forever.
The problem is I'm no longer all the other titles…………
greeter
 coordinator
problem solver
party planner
fixer of boo-boos
And that means every single one of my kids is suddenly in total control of everything about their lives.
Every achievement and every failure.
Every action and every word.
And I hope they realize……………
Adults don't always get the same kind of second chance children do.
So I lay here in the rocks asking questions like,
"Did I do enough to help them be ready for all of these new roles?"
Do they know the world is beautiful and exciting and filled with so much potential, but it takes hard work to accomplish anything worthwhile?
Do they realize people will disappoint them and hurt them but that NEVER, EVER gives them permission to turn their backs on them?
Do they understand that in order to experience unconditional love they need to be able to show unconditional love?
Have they experienced enough mercy in our home to show mercy to others?
Have they felt the power of forgiveness in such a personal way that they could never imagine being unforgiving to anyone who hurts them?
Do they know what kindness looks like and acts like and sounds like?
Are they willing to walk a mile in someone else's shoes in order to see life through that person's eyes?
Do they grasp the fact that honesty isn't just the best policy but also the only way to live a life free of the inner turmoil that comes from walking in any other way than the truth?
Do they know deep down in their bones that there is NOTHING they can do that will ever separate them from God's love or the love of me and their dad?
——————————————————————–
I feel the cool breeze blowing over me as I embrace my new home on the pebble-covered soil.
I think I can get used to this.
It's peaceful here.
—————————————————-
So to my adult children,
I want to say this,
Never forget that love truly is the greatest gift of all.
Love deeply
Love bravely
Love selflessly
"Over all other virtues put on love." 
When you see a heart, think of your mom and know without a doubt……..
I love you so much.
Being your front door was fun while it lasted.
Thanks for the memories!
If God allows, I hope we will make many more with me happily off to the side looking up to watch you soar!
Step on me.
Step over me.
But never, ever forget…………..
I'm praying for you!
I'm so proud of you!
And most of all, I love you with every inch of my heart and soul!