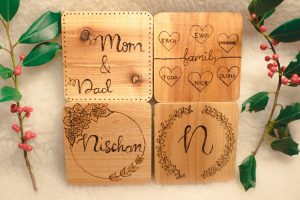 Olivia spent many hours creating Christmas gifts for each member of our family.
Handmade coasters.
Burned wood in all kinds of styles,
specially designed to match each family members' personality and style.
Reminders of her love for us.
And reminders of the love our family shares.
As I read Genesis this morning,
Noah and his family survived the flood
and the day finally came for them to leave the ark
and walk on dry ground.
Noah's first response in this moment wasn't to build a house for his family.
His immediate action was to build an altar to God.
Something to express His thanks for his family's salvation.
Love puts people in action.
I'm not sure how to thank Olivia for our coasters.
They remind me of her love every time I look at them.
They remind of the time she took to meticulously etch patterns into wood out of love.
God saw Noah's altar.
God smelled the aroma coming from it.
He knew it was for Him.
He felt loved.
And He was moved.
He blessed Noah and then He did something the Creator of the Universe didn't seem to need to do.
But He did it anyway.
As a reminder for Himself (not for us as I had always thought),
He made a rainbow.
And then He said,
"Whenever I form the clouds over the earth and the bow appears in the clouds, 
I will remember
my covenant between me and you and all the living creatures;
water will never again become a flood to destroy every creature. 
The bow will be in the clouds,
and
I will look at it and remember
the permanent covenant between God
and all the the living creatures on earth."
Olivia etched her love into coasters so we would have a reminder of her love for us.
Noah etched his love into an altar so God would have a reminder of his family's love for Him.
And God etched His love into the sky to remind Himself of His love for the world.
I've always seen rainbows as our reminder of His love for us……………
but the next time I see a curved arch of color in the sky,
I'm going to smile as I think of God,
looking down from Heaven and seeing this beautiful band of colors,
and being reminded of the very same thing.
I love that He created a reminder for Himself
and chose to share it with us.
I love that He invited us into His creative way
of holding Himself
accountable to His own words.
At the very same time,
I love that He created a beautiful reminder for us of His
never ending love.
We definitely need it in a world where
daily sacrifice doesn't come as easily or naturally
as it did for Noah.
What can I sacrifice today in order to show God my love for Him?
What do I need to put on my altar as a way of saying, "thank you," to Him who loves me most?
How can I remind Him today of how much His love means to me?