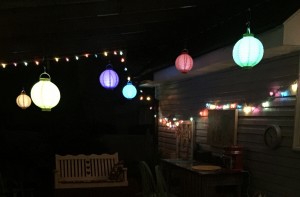 I don't know a lot, but I do know this:
Reading news headlines right before crawling into bed is never a good idea.
Last night, I looked at my husband as I closed my laptop and said,
"I am overwhelmed with fear."
I started listing all the things pressing on my chest from our daughter-in-law and one of our sons still being out of the country to not knowing what the world will even look like for our children's children.
I quoted a couple verses, trying to remind myself that God is in control.
Deep inside I know He'll never leave us or forsake us.
Deep inside I know He holds the whole world in His hands.
_______________________________________________
Tim even reminded me that God isn't wringing His hands because of all that is going on.
He's still on His throne.
He's still King of Kings.
I know this is true, and in some ways, it seems so simple.
Love God
Love others
________________________________________________
In other ways, though, it seems so complicated.
God clearly calls His people to be aliens in a foreign land,
and there's just something about realizing you really are an alien that can be a hard pill to swallow when it's dark.
It's hard to sleep when you're fully aware that you're up against a spiritual enemy who has one goal –
the defeat of Christianity.
It's hard to feel peace when you know there are people who hate you just because of Who you follow.
————————————————————
 To many, we are a pungent, stale smell much like a moth-filled trunk found in the corner of an abandoned building.
We are yesterday's archaic story.
We're sticks in the mud, unable to open our minds to new ideas, new ways.
——————————————————
To others, we are the enemy of their god.
We are unbelievers.
It hurts to read those words when you know how deeply you do believe and how your entire life is framed around the core conviction that God sent His Son to save you and conquer death once and for all.
It's hard to face the darkness when you're struggling to see the light.
——————————————-
It's morning now, and the birds in my backyard are once again chirping.
They don't seem any more concerned about today than they did about yesterday.
They still know where to turn for their daily food; and just like every other day, they're finding the way they turn is just enough for what they need.
—————————————————
I want to have the faith of a bird.
I want to sing even when the branches around me seem shaky and barren.
———————————————–
God must have known we would need the sounds of nature to draw us close to Him time and time again.
I wonder if that's why Jesus often slipped into the garden.
He faced chaos too, and there must have been nights when He found it difficult to sleep.
Surely He woke up many times to the chirping of birds and was reminded, just like I'm reminded today, that God is faithful.
No matter how scary, how disappointing, how confusing, or how dark the world may seem,
God is there.
And He needs us to be right there with Him……………..
In the scariness, in the disappointment, in the confusion, in the darkness………………
He needs us to light the way for others who find the black of night overwhelming too.
The enemy would love for us to hide in fear.
Quit writing.
Quit speaking.
Quit stepping out of our comfort zones.
But God needs aliens in this world to show people there is another land,
a coming Kingdom,
a better Way.
This world is very dark.
How do we live in such darkness?
I think we must, without question,………………….
1. Stay in His Word
2. Keep Praying
3. Keep Trusting
4. Keep Loving
and
5. Never, Ever Forget We Are Aliens Here
No matter how dark this world gets we are called to be "children of the light."
Now, brothers and sisters, about times and dates we do not need to write to you, for you know very well that the day of the Lord will come like a thief in the night. While people are saying, "Peace and safety," destruction will come on them suddenly, as labor pains on a pregnant woman, and they will not escape. But you, brothers and sisters, are not in darkness so that this day should surprise you like a thief. You are all children of the light and children of the day. We do not belong to the night or to the darkness.  So then, let us not be like others, who are asleep, but let us be awake and sober.  For those who sleep, sleep at night, and those who get drunk, get drunk at night.  But since we belong to the day, let us be sober, putting on faith and love as a breastplate, and the hope of salvation as a helmet.  For God did not appoint us to suffer wrath but to receive salvation through our Lord Jesus Christ. He died for us so that, whether we are awake or asleep, we may live together with him.  Therefore encourage one another and build each other up, just as in fact you are doing.
I Thess. 5:1 – 11
Do not conform to the pattern of this world, but be transformed by the renewing of your mind. Then you will be able to test and approve what God's will is–his good, pleasing and perfect will.
Romans 12:2
I have given them your word, and the world has hated them because they are not of the world, just as I am not of the world. I do not ask that you take them out of the world, but that you keep them from the evil one. They are not of the world, just as I am not of the world. Sanctify them in the truth; your word is truth. As you sent me into the world, so I have sent them into the world. And for their sake I consecrate myself, that they also may be sanctified in truth.
John 17:14-19
Dear friends, I urge you, as foreigners and exiles, to abstain from sinful desires, which wage war against your soul. Live such good lives among the pagans that, though they accuse you of doing wrong, they may see your good deeds and glorify God on the day he visits us. Submit yourselves for the Lord's sake to every human authority: whether to the emperor, as the supreme authority, or to governors, who are sent by him to punish those who do wrong and to commend those who do right. For it is God's will that by doing good you should silence the ignorant talk of foolish people. Live as free people, but do not use your freedom as a cover-up for evil; live as God's slaves. Show proper respect to everyone, love the family of believers, fear God, honor the emperor.
I Peter 2:11-17
Praying for all of you as you continue to shine in dark places.
You are never alone.
Have I not commanded you?
Be strong and courageous.
Do not be afraid; do not be discouraged, for the Lord your God will be with you wherever you go."
Joshua 1:9