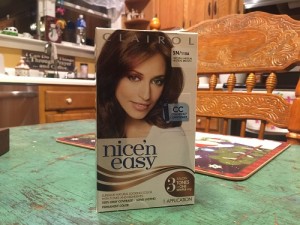 Those roots.
My beautician notices them way before most,
and she has a way of gently breaking the news.
She also frees me up to take matters into my own hands as often as I need.
I head to the store in search of my "true color" when the reality is……………..
my roots scream the truth.
Roots have a way of doing that.
Closest to my skin,
they're the real me.
_____________________________
There's no hiding age or the passing of time when you look closely –
especially in a rear view mirror when the bright sunlight hits just right.
_____________________________
Roots.
The truth.
Why do I want to hide it?
I wrestle with this question every single time I snip the lid off the application bottle.
_________________________________
Maybe it's a lot like every other part of my life.
This "nice and easy" way of covering up the things I'd rather others not see.
It's really not that nice.
Or easy.
________________________________
"Focusing on God while failing to know ourselves deeply may produce an external form of piety, but it will always leave a gap between appearance and reality."  David G. Benner
________________________________
My word for the year is "fearless", and while I'm not quite ready to let my hair speak truth,
I'm ready for my heart to be exposed……………………….
for God to shine so brightly on my roots that there's no pretending, no room for cover-ups.
I've been spending a lot more time lately filling up my own cup.
Reading.
Soul searching.
Being quiet.
But in this root-facing season, I've also found myself more affected by the words of others.
I've found myself comparing my "truth" to what I can see of others,
and I've found myself falling short,
feeling inadequate.
————————————-
It finally hit me this morning as I picked up my box of Clairol hair color.
Aren't we all covering up something?
Grief
Regret
Envy
Sin
Fear
Insecurity
The roots that run deepest are often easier to color than they are to face.
And there's nothing nice or easy about letting the world see our roots.
I think that's my biggest complaint about social media these days.
We post the smiles.
We share the news that makes the world say,
"Wow!"
But deep inside we ache.
We wonder if we're enough.
We question our motives.
We measure life by deeds done or titles earned, and all the while our roots scream truth.
My roots have been screaming loudly lately, like a soul trying to speak into an ear muffled by headphones.
All the while, I've purged closets and dumped drawers………………..
Cleaning out things I can easily see while the deeper cleaning needs to happen in places only God can reach.
Search me, God,
and know my heart;
test me and know my anxious thoughts.
See if there is any offensive way in me,
and lead me in the way everlasting.
Psalm 139:23
There's nothing nice or easy about this prayer,
but then again, when did God say it would be nice or easy to follow Him?
I have been crucified with Christ;
and it is no longer I who live,
but Christ lives in me; and the life which I now live in the flesh I live by faith in the Son of God,
who loved me and gave Himself up for me.
Galatians 2:20
If my roots are going to expose Jesus,
crucifixion must come first.
Dying to self.
________________________________
And I'm just thinking there's nothing nice or easy about a crucifixion.
I may be covering the roots on my head this morning,
but I'm exposing the deepest part of me to Him who sees it anyway.
It's not nice.
It's not easy.
But it's worth it.
For the word of God is alive and active.
Sharper than any double-edged sword, it penetrates even to dividing soul and spirit, joints and marrow; it judges the thoughts and attitudes of the heart.  
Nothing in all creation is hidden from God's sight.
Everything is uncovered and laid bare before the eyes of him to whom we must give account. 
Therefore, since we have a great high priest who has ascended into heaven, 
Jesus the Son of God,
let us hold firmly to the faith we profess.
For we do not have a high priest who is unable to empathize with our weaknesses,
but we have one who has been tempted in every way,
just as we are—yet he did not sin. 
Let us then approach God's throne of grace with confidence,
so that we may receive mercy and find grace to help us in our time of need.
Hebrews 4:12-16