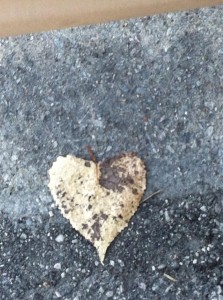 Where has the month of October gone??
I look at the date on my calendar and can barely believe I'm reading…………
10/31/14.
Time really does fly by!
As I think about the arrival of November tomorrow,
I am incredibly aware of the memories that seem to intensify as the colder part of autumn approaches.
Our precious son Nick left this world in November of 2008.
I remember being keenly aware of just how fitting it was for him to slip away at this time of year……………..
Just two days after Thanksgiving.
When the whole world was counting their blessings, our family was forced to say goodbye to one of ours.
But even in the goodbye, Nick was saying so much more.
He was saying,
"Be thankful."
"Be happy."
"Celebrate."
"Love life."
"Live big!!"
"Keep smiling!!"
Nick taught me more than any professor ever could.
He teaches me still today.
This November, I am challenging myself to a month of thankfulness!
Every day in every way possible, I'm going  to intentionally notice and say "thank you" for all that is good around me.
I hope you will accept this November challenge and count your blessings…………….
one by one!
Let's celebrate all that God has done!!
Even in our toughest days in our toughest seasons,
He is there.
And I am so thankful.
Let us come before him with thanksgiving and extol him with music and song.  For the LORD is the great God, the great King above all gods.
Psalm 95:2-3
I always thank God for you because of his grace given you in Christ Jesus.
I Cor. 1:4
For this reason, ever since I heard about your faith in the Lord Jesus and your love for all the saints,  I have not stopped giving thanks for you, remembering you in my prayers.
Eph. 1:15-16
Give thanks to the LORD, for he is good; his love endures forever.
I Chron, 16:34
I will give thanks to the LORD because of his righteousness and will sing praise to the name of the LORD Most High.
Psalm 7:17
And whatever you do, whether in word or deed, do it all in the name of the Lord Jesus, giving thanks to God the Father through him.
Col. 3:17
Give thanks in all circumstances, for this is God's will for you in Christ Jesus
I Thess. 5:18
Do not be anxious about anything, but in every situation, by prayer and petition, with thanksgiving, present your requests to God.
Phil. 4:6