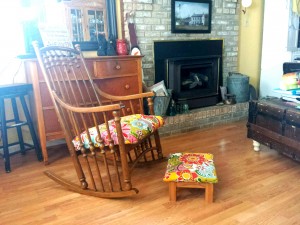 PROVERBS 31: 10-31
A wife of noble character who can find?
    She is worth far more than rubies.
Her husband has full confidence in her
    and lacks nothing of value.
She brings him good, not harm,
    all the days of her life.
 She selects wool and flax
and works with eager hands.
She is like the merchant ships,
    bringing her food from afar.
 She gets up while it is still night;
    she provides food for her family
    and portions for her female servants.
 She considers a field and buys it;
    out of her earnings she plants a vineyard.
 She sets about her work vigorously;
    her arms are strong for her tasks.
 She sees that her trading is profitable,
    and her lamp does not go out at night.
 In her hand she holds the distaff
    and grasps the spindle with her fingers.
 She opens her arms to the poor
    and extends her hands to the needy.
When it snows, she has no fear for her household;
    for all of them are clothed in scarlet.
She makes coverings for her bed;
    she is clothed in fine linen and purple.
 Her husband is respected at the city gate,
    where he takes his seat among the elders of the land.
 She makes linen garments and sells them,
    and supplies the merchants with sashes.
 She is clothed with strength and dignity;
    she can laugh at the days to come.
 She speaks with wisdom,
    and faithful instruction is on her tongue.
She watches over the affairs of her household
    and does not eat the bread of idleness.
 Her children arise and call her blessed;
    her husband also, and he praises her:
 "Many women do noble things,
    but you surpass them all."
 Charm is deceptive, and beauty is fleeting;
    but a woman who fears the Lord is to be praised.
 Honor her for all that her hands have done,
    and let her works bring her praise at the city gate.
I know there's a debate about whether or not you really existed.
Some say you were just a symbol for all that is good and right in a wife.
Either way, I really need to talk.
Can you sit right here in this chair for just a few minutes please and give me a tiny portion of your time?
First, I need to tell you something.
Something that makes me a little ashamed.
In so many ways,  I am not like you,
and there are moments when it really gets the best of me.
So I have a few questions if that's okay.
Just a few things I really need to know.
Did you ever walk into a room and sigh?
Did your eager hands ever shake from weariness?
When you stayed up late sewing a new bedspread or scarlet clothes for your children, did you ever hope they would tell you just much they loved them?
Did you ever long for a hug?
As you laughed at the days to come, did your eyes ever fill with tears at the exact same time?
Did you ever, even for one minute, eat the bread of idleness and enjoy it just a bit?
Even though you knew deep in your heart that your beauty was fleeting, did you ever look in a mirror, see signs of aging, and feel a little less as good about yourself as you did the day before?
Did you have a dog?  Or two dogs? And was one of them very old and having accidents on your floors more quickly than you could wash towels?
Did your children ever arise and ask for chocolate chip pancakes instead of calling you "blessed"?
When you extended your hand to the needy, did you ever feel a little needy yourself?
Did your chin ever have hives from stress, and did you wear a hormone patch to keep you somewhat sane?
I really need to know, because lately I've felt a lot more like a Proverbs 32 woman;
and she seems to have been conveniently left out of the Bible.
Honestly, if your profile status on Facebook read like your description in Proverbs 31, I'm not sure I could be your friend.
I'm afraid I would find your life more than I could bear…………………..
I want so desperately to sit and have coffee with you though.
I want to see the expression in your eyes as you speak.
I want to take a close look at the movement of your hands as you share about your life.
I want to know you.
I really want to know you.
Because I think there's a side of you that is just like a side of me………………….
a side that feels inadequate even as you strive so hard.
a side that wishes everyone would slow down,
relax,
quit competing,
stop comparing,
and just take care of their home.
I have to believe (or at least hope) that sometimes you messed up.
Overreacted.
Let someone down.
Lost your cool.
Felt like a failure.
Reached your limit.
Thought wrong thoughts.
Chose wrong words.
I'm a happy mom and  a thankful wife,
but today, I just need to know……………………..
In the midst of all you did right, did you ever do anything wrong?