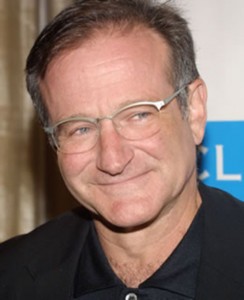 I wish I would have said, "Thank you."
A card.
An email.
 A hug.
Anything.
I wish I could have had the chance to say the things I'm saying now,
because in many ways you changed me.
You brought me to tears.
You made me laugh.
You caused me to think more deeply.
And you helped me take life a little less seriously.
All the while, I had no idea that deep inside you were struggling.
When my son walked into the kitchen and said you had died, I gasped.
Everything stopped in time, and I know that moment will be with me forever…………..just as you will.
Yesterday will be etched in my mind just like the day, years ago, when I casually told my mom Elvis had died as I watched the words of his death scroll across the bottom of the television screen.
I remember that day vividly, because mom came running from the kitchen in disbelief and cried.
I was shocked at her sadness, but I was affected by it.
Elvis was part of my mom's childhood like you were part of mine.
Knowing you are no longer here to create masterpieces and inspire us with your ability to be all sorts of kinds of people, well, it leaves a hole in my heart.
And I wish I could tell you how much I will miss knowing you are on this planet.
Your absence from this world is like a pillar of my childhood and my kids' childhoods being pushed away, causing the ceiling of life to come a little closer.
Rest in peace, Robin.
Thank you for all the memories.