I'm so glad God created the world in six days…..
and then rested.
I'm even more glad He chose to call that particular day, "Holy."
Set apart.
Sacred.
Not the day He gathered water into one place.
Or the day He said, "Let there be light."
Or the day He made man in His image.
Or any other day He created something and saw that it was good.
No.
The day He made holy was not a day full of check lists and productivity.
The day He made holy was the day He took a break.
The morning He declared holy was the morning He took a look at all He had accomplished and thought,
"I've done enough."
That was the most special day.
The day He blessed.
____________________________________
I've spent a lot of my life busy.
Trying hard to be good enough…….
as a friend
as a wife
as a mom
as a daughter
as an aunt
as a sister
as a Christian
as an employee…..
and the list goes on and on.
I've coached and taught and cleaned and shopped and rearranged everything from my schedule to the rooms in my house.
But in the trying,
I've often failed.
Come up short.
Disappointed.
Let down.
Forgotten.
Overbooked.
Misunderstood or been misunderstood.
And in those moments,
I've become weary.
Disheartened.
Overwhelmed.
Stressed.
Hurt.
And broken.
These aren't the best emotions to feel when you're trying.
So this morning as I read Genesis 2:3,
I was struck with the realization that I've had it all wrong.
I've made the wrong days holy.
I've tried to prove myself,
find my significance,
earn my titles,
be glorified……..
in and through the things I do.
When your love language is acts of service,
resting feels wrong.
But this morning,
God spoke to me through His Word,
and said,
I need your love too,
and the act of service I desire most 
is for you to rest.
Close your eyes.
Soak in the sounds around you.
Open your eyes.
Soak in the sights around you.
The hours you choose to be still and just know me…….
those are the sacred hours.
The minutes you pause to breathe in deeply and exhale slowly,
fully aware of the One who breathed life into you…….
those are the sacred minutes.
God had plenty of things to do after setting the universe in motion.
He knew the enemy was on the loose.
And there were many battles to come.
He could have chosen to immediately dive into strategy planning.
He could have begun fretting about things like getting the Israelites across the Red Sea or helping Jonah get out of the belly of a whale.
Instead He propped His feet up on His footstool, the earth (Isaiah 66:1),
and took a break.
I don't know about you, but I need a new kind of year.
A fresh start.
And I think this year,
my biggest goal is going to be to rest.
Go to bed earlier.
Say "no" more often.
Worry less about what others think
and focus more on what God desires.
The first holy and blessed day
was not the day the world began
or the day man was created.
The first holy and blessed day
was the day God rested.
And I'm finally getting it.
Happy New Year from my family to yours.
May God bless your year
with many restful moments.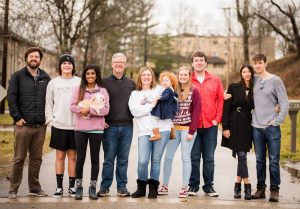 This is the day the Lord has made.
We will rejoice and be glad in it.
Psalm 118:24