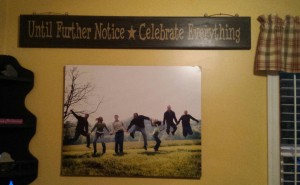 Phil. 4:4 has been my favorite verse since I was a little girl.
I can still remember holding my Bible on my lap and underlining this short but powerful verse as my minister preached a sermon about Paul's attitude of joy even as he sat in a prison cell because of his belief in Jesus.
I knew in that moment that I wanted to have that same kind of joy my whole life.
I didn't realize though that along the way, my life would get very, very difficult.
I didn't know all the things that would come my way as my little hand held a pen and marked the words,
"Rejoice in the Lord always."
But in my heart, I did know this:
Those words meant something to me.
They were powerful.
They mattered.
I needed to claim them.
And even though I've battled depression in my adult life as I've walked the road of grief after losing two children; I can honestly say that I understand deeply the meaning and importance of Christian joy.
Like Paul, I have slowly learned to be content in all circumstances. (Phil 4:12)
I have learned that God truly can turn tears into songs of joy. (Psalm 126:5)
It's because of Him that our family can "Celebrate Everything!"
It's because of Him that every day can bring a reason to smile and laugh.
I am so thankful for a minister who shared about Paul when I was young and just beginning to form my personal philosophy of life.
I am thankful for Paul who could pen such powerful words even as his own life was in jeopardy,
"Rejoice in the Lord always; again, I say, Rejoice!"
Today is Tim's birthday!
We will celebrate today even as we remember that this day also marks the end of Adrienne's earthly life.
We will celebrate because God has provided us with a Hope that DOES NOT DISAPPOINT!! (Romans 5:5)
Because of our living Hope, we know we will see Adrienne again; and that alone is a reason to celebrate!
I hope you will find reasons to celebrate today!
Happy Birthday, Tim!!
and
Happy Wednesday to all of you!!
I love you all so much!!