Marriage is a crazy thing.
Two imperfect people attempting to create a perfect life in an imperfect world.
Two real human beings longing for a fictional happily-ever-after.
And maybe that's where the hang-up begins.
Happily-ever-after is often mixed with more than one less-than-happy day.
And on this planet,
there's no perfect life.
There's simply flawed men.
And flawed women.
Trying.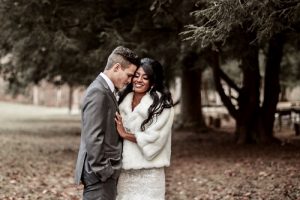 Mixed with these people who are "trying" you will find……….
piles of laundry
stacks of dishes
 trash to take out
light bulbs to replace
gutters to clean
bills to pay
And occasionally mice to catch.
You'll also witness…………
misunderstandings
unmet expectations
misplaced priorities
And occasionally days you'd like to forget.
___________________________________
So why choose marriage?
Why choose the day-in, day-out presence of the same imperfect person?
Why opt for the daily uncovering of all of your blemishes to another blemished soul?
And why in the world choose to celebrate this union with a ceremony surrounded by loved ones cheering you on?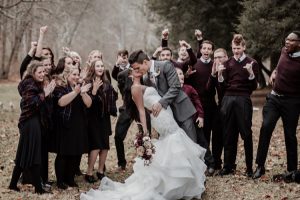 Who dares to declare so boldly that you're going all in?
Mr. and Mrs.
Imperfection joining imperfection
Forever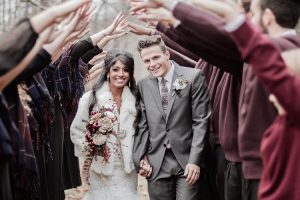 For better or for worse
In sickness and in health
Til death do you part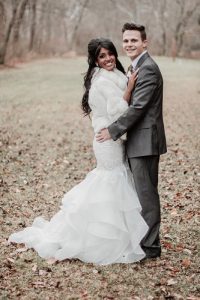 After nearly 33 years of "trying" and after studying the ins and outs of marriage in a graduate degree,
I think I'm finally beginning to understand who takes steps toward an altar.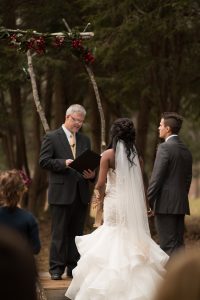 I think I know who laughs when they've just said, "I do," to a lifetime of highs and lows…..
in a world where more and more people are opting for "living together" or having "friends with benefits".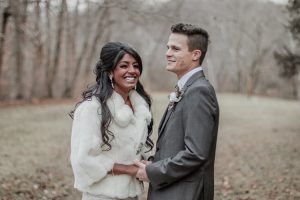 I think the brave dare to face each other in the face of scary statistics.
I think those who believe they'll become better
by the iron-sharpening union of their soul with another rough-edged person
are the ones who take the plunge today.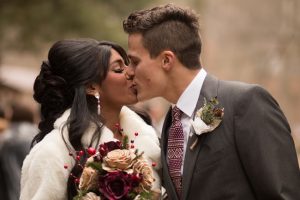 And, Luke and Olivia, I believe you are two of the brave ones.
I've watched your first year of marriage unfold.
 I've seen you both grow and learn and adjust all along the way.
I couldn't be more proud or thankful for each of you.
As you begin year number two and continue to serve God together,
please know this.
You're still surrounded by a crowd of friends and family cheering you on.
Never forget………..
Marriage was created by the Creator of life.
This sacred union is the only earthly symbol of Christ's relationship with the church.
Don't be discouraged when marriage feels hard or painful.
Jesus and the church understand persecution well.
Don't be surprised when the idea of being married forever feels attacked by the world you live in.
Jesus and the church understand that feeling too.
Cling to each other.
Forgive each other.
Encourage each other.
Sharpen each other.
Extend grace to each other.
And most of all, wake up every morning and choose love.
Love isn't a feeling that comes and goes.
Don't ever allow society to convince you that you can "fall out of love."
Anything that is commanded is a choice we are able to make.
Every day.
All day.
Remember, love is the choice that makes all you do for God have meaning and value and worth.
I Corinthians 13 says it best,
If I speak in the tongues of men or of angels, but do not have love, I am only a resounding gong or a clanging cymbal. 
If I have the gift of prophecy and can fathom all mysteries and all knowledge, and if I have a faith that can move mountains, but do not have love, I am nothing. 
If I give all I possess to the poor and give over my body to hardship that I may boast, but do not have love, I gain nothing.
Love is patient, love is kind. It does not envy, it does not boast, it is not proud. 
 It does not dishonor others, it is not self-seeking, it is not easily angered, it keeps no record of wrongs. 
Love does not delight in evil but rejoices with the truth. 
It always protects, always trusts, always hopes, always perseveres.
Love never fails. But where there are prophecies, they will cease; where there are tongues, they will be stilled; where there is knowledge, it will pass away. 
For we know in part and we prophesy in part, 
but when completeness comes, what is in part disappears. 
When I was a child, I talked like a child, I thought like a child, I reasoned like a child. When I became a man, I put the ways of childhood behind me. 
For now we see only a reflection as in a mirror; then we shall see face to face. Now I know in part; then I shall know fully, even as I am fully known.
And now these three remain: faith, hope and love. But the greatest of these is love.
Happy One Year Anniversary,
Mr. and Mrs. Luke Diamond.
May your second year as husband and wife be filled with even more adventures and fun than the first.