Nick loved the American flag.
I wish I had time this morning to dig through old photos,
because I know I have memories showing his deep love for the red, white, and blue.
————————————–
Nick loved football too.
Even when he could no longer walk,
we made our annual trip to Walmart for the newest version of Madden Football for XBox.
He counted down the days until its release every single summer.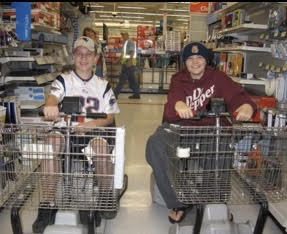 I still find old notebooks around the house filled with football plays drawn up by Nick just for fun.
He loved everything about this sport.
———————————————–
Thanks to a dear high school friend and her husband (We love you, Mike and Carol!),
Nick was able to attend several Titans' games.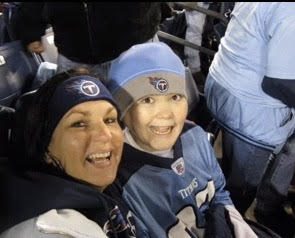 He even had the privilege of siting on the field for an up-close view of the players at the very last game he attended.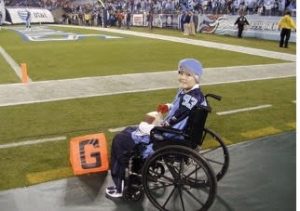 I didn't have time this morning to find great quality pics of these memories,
but I don't care.
I have something on my heart ,
and I want to share it before heading out the door to work.
America needs to wake up.
We're so busy ranting and raving
or standing in silence
or sitting in protest
that we're missing the bigger picture.
I believe Nick represents what we're missing.
We're missing the fact that children are watching.
The sidelines of our adult lives are filled with children,
longing for examples,
needing great role models,
hoping for a future filled with love not hate.
How do we stop this craziness?
Yes, we should have the freedom to choose whether we stand or sit………….anywhere.
That's a free gift in this country.
The flag and our national anthem celebrate this gift, though,
so we need to think long and hard about how we choose to make our point.
I can truly see both sides of this battle,
and I don't know enough to have a long and arduous debate with anyone about it.
But as the mom of a football-loving child who lost his fight to cancer,
leaving our family with only autographed football helmets and jerseys from several kindhearted teams,
I am begging our country to do one thing:
"Stop!"
 I'm also saying, "Stop!"  to all parents who are so busy worrying about their own freedom and happiness that they're missing the lives of the little ones right in front of their faces.
Please stop.
Look around you.
We're surrounded by children in need of love.
Children who desperately long for adults who will settle down, sit down, and share quality time.
I wish I could have one more day with Nick.
One more hug.
One more conversation.
One more chance to throw a football in our front yard.
One more anything……………………
So, if you read this and have any connection with children,
please stop whatever you're doing or fighting for
and fully embrace your time with them.
Now that's a freedom worth fighting for.