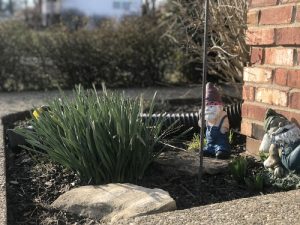 Moving in winter means unexpected surprises in spring.
The popping up of green all around our new yard reminds me –
seeds were planted here long before we came.
My job is very different on this new plot of land.
Our last yard was dirt when we arrived.
We planted the grass,
 every flower,
every bush,
and every tree.
But here.
It's so different.
Most of the hard work has already been done by someone else's hands.
And our job is to simply keep their work alive.
And help it flourish —
Tending to the plants that are struggling.
while maintaining the ones that are not.
I'm sure we'll plant some new things along the way.
I'm already thinking about a little herb garden.
And maybe a few tomato plants.
But for the most part,
I'm picking up where someone else left off.
And I'm finding this new chapter of life feels very much the same.
Entering a thriving church with all kinds of programs already in place,
it's easy to feel unneeded.
The hard work of turning up the soil is done.
The back-breaking task of planting rows and rows of new seeds is finished.
So walking into a Sunday morning service is a lot like walking into my new back yard.
I haven't been a first-time visitor or a new member at a church in nearly thirty years,
and God is teaching me so many things in this new season of life –
in this winter season leading toward an unexpected spring.
He's teaching me to rest.
He's teaching me to listen.
He's teaching me to watch.
He's teaching me to be thankful.
And He's teaching me to dream a new kind of dream.
This weekend, Tim and I went to a visit an old friend in the hospital.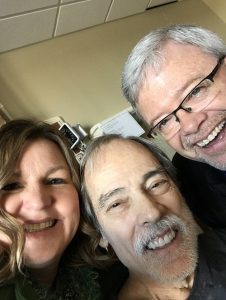 As he sat in his wheelchair recovering from surgery to his spine,
he told us a story I'll never forget.
During therapy one morning this past week,
John met a man who was having a hard time with the situation he was in –
grumpy and a bit unfriendly,
it was clear,
this man did not want to be in rehab
and was not especially interested in making new friends.
Over the course of the hour, though,
John continued to be himself –
laughing about his lot in life and trying to find humor in the tasks he was asked to accomplish.
As the therapy session ended,
the once-grumpy man who had spent the hour in therapy with John,
lifted his arm and waved goodbye as he said,
"See you tomorrow," with a smile on his face.
As Tim, John, and I reflected on this moment,
we all had tears in our eyes.
John then said with a shaking lip,
"I guess I just try to see the need right in front of me."
As Tim and I drove back to Crestwood from Lexington that morning,
a song came on the radio we'd never heard before called,
"Dream Small."
As we listened to the lyrics, I thought of John and said,
"Wouldn't it be cool to hear this song playing behind the scene of John in therapy with that man?"
Click here if you'd like to hear it.
I've thought a lot about this story since Saturday.
I've thought a lot about my yard.
And I've thought a lot about this new chapter of life……
where I'm trying so hard to bloom myself.
Daffodils have popped up in several places in our landscaping.
Several have already burst into beautiful yellow flowers.
But interestingly, none of them have had the strength to stand upright.
Heavy with rain,
they have bloomed while bowing to the sidewalk.
And every time I walk to our front door,
they catch my eye.
I've photographed them so many times,
the people across the street are probably wondering about their new neighbor.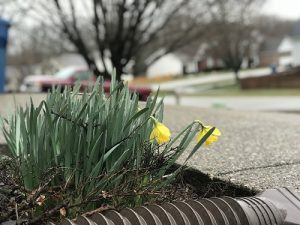 I'm reading a book right now called,
Humble Roots: How Humility Grounds and Nourishes our Soul.
And I feel as if the Holy Spirit is doing a new work inside of me as I read each page.
He is speaking through our yard,
through friends like John,
and through flowers that are bowing as they bloom.
The stress of this move took a toll on my physical health
and my broken hand is just now reaching a place of healing where I'm able to type without constant pain.
God is definitely using this season of life to slow me down.
Quiet my soul.
And help me gain a new perspective on life, my yard, and my place in the church.
I'm blooming.
But I'm blooming low.
Bowing down to the One who planted me here.
And waiting for Him to show me what is next.
Humble yourselves before the Lord, and he will lift you up
James 4:10
Our hometown is facing a tough situation this week
and not being there to help has been hard for me.
I've been so moved, though, to see through the gift of social media
how the community is coming together with love and support
from so many different agencies and people.
And I couldn't end this post without saying,
"We love you, Grayson, and we miss you.  You are in our prayers."