It's no secret.
You can move through life without ever turning to God.
And still live long.
Have power.
And accumulate wealth.
These earthly things are not connected to a relationship with the Giver of gifts.
Yes, He blesses those who love Him,
but He also blesses those who don't.
And His blessings aren't always fair.
Does a good father give their children every single thing their heart desires?
Does a good father say "yes" to every little (or big) request?
I don't think so.
But Job's friends thought differently.
They continued to believe God blessed the righteous.
And punished the evil.
And because of this, Job had to be guilty of something.
Suffering the consequences of his own shortcomings.
Paying some sort of price.
Maybe it made them feel better to view Job's suffering this way,
allowing them to think,
"If I can just be good, I'll be safe from this same kind of pain in my own life."
After all, isn't it scary to watch someone else's life fall apart and not understand why?
So they created their own reasons.
Tried to make sense of sickness and death.
Put the blame on Job so it didn't fall on God.
But Job continued to stand firm.
He was innocent.
And he watched wicked people prosper every day.
Job knew there had to be more to the story,
so he found his friend's answers "deceptive."
Their comfort "futile."
Randy Alcorn, in his book Heaven, says,
"The best of life on Earth is a glimpse of Heaven;
the worst of life is a glimpse of Hell.
For Christians, this present life is the closest they will come to Hell.
For unbelievers, it is the closest they will come to Heaven."
Job was slowly figuring this out.
Coming to grips with the reality –
Life on earth doesn't always make sense,
but in the end,
it will.
He believed he would be redeemed long before a Redeemer showed up.
He believed he would rise again long before death had been conquered.
But I know that my Redeemer lives,
and at the end He will stand on the dust.
Even after my skin has been destroyed,
yet I will see God in my flesh.
I will see Him myself;
my eyes will look at Him, and not as a stranger.
My heart longs within me.
Job 19:25-27
_______________________________________________
Day after day,
Job sat surrounded by friends.
Friends who intentionally or unintentionally spoke words
that could have easily poked holes in his faith and in his hope.
Weakened his spirit.
Torn his soul into shreds.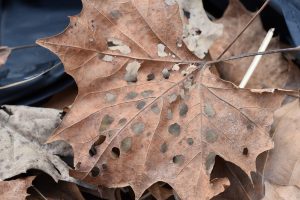 _________________________________________________
But Job looked closer.
Studied the holes created by their cutting words.
And discovered that in the very places the world sees emptiness,
one thing always remains.
No amount of poking can take this away.
And this one thing is…..
love.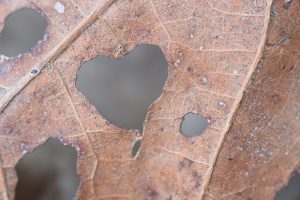 I Cor. 13:8-13
Love never fails.
where there are prophecies, they will cease;
where there are tongues, they will be stilled;
where there is knowledge, it will pass away. 
For we know in part and we prophesy in part, 
but when completeness comes, what is in part disappears. 
When I was a child, I talked like a child,
I thought like a child,
I reasoned like a child.
When I became a man,
I put the ways of childhood behind me. 
For now we see only a reflection as in a mirror;
 then we shall see face to face.
 Now I know in part;
then I shall know fully, even as I am fully known.
And now these three remain:
faith, hope and love. 
But the greatest of these is love.
(Thank you, Todd, for seeing this love when I would have missed it.)