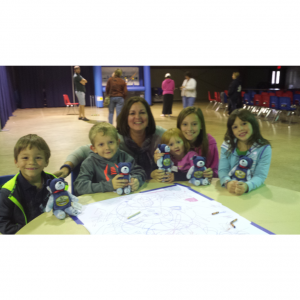 Something deep inside me fills with thankfulness and joy when I see little faces light up as they cling to bears that carry the name of Nick's Foundation.
My friend overhead one of these children looking at the back of their bear as they said, "It says, 'Joshua!'" which is the book that holds Nick's favorite verse.
Joshua 1:9
I love knowing these kids now carry part of Nick's life with them.
His legacy in the form of a teddy bear.
His memory etched into the fabric of a small stuffed animal.
When Nick still causes kids to smile,
he causes me to smile too;
because I know the same God who created Nick is still using him to make a difference on this planet.
Only God can redeem such pain in my heart.
Only God can transform my deepest, most anguish-filled cries into honest laughter and joy.
Only God can use death to bring new life.
Only God can give me a Hope that does not disappoint.
Only God can place in me a peace that passes understanding.
I miss Nick.
I miss his smile.
I miss his humor.
I miss his perspective on life and people.
I miss that chapter in our family's life when all our kids were close and family memories were constantly being made.
But God has worked a miracle in my heart.
He has taught me how to embrace my grief and discover the Hope that comes from knowing this life is but a vapor.
While I'm here, I'm going to choose daily to experience joy.
"Be joyful always; pray continually; give thanks in all circumstances, for this is God's will for you in Christ Jesus."
1 Thessalonians 5:16-18
I'm going to choose to have an abundant life in spite of my losses.
I want to live fully and completely even though I know I'll never be perfectly whole.
God wants to do the same for you.
He wants to use your heartache to help the world experience His never-ending love.
He wants your pain to somehow cause the world to smile.
I can't explain His reasoning.
It will never make sense on an intellectual level.
But I trust that God's ways are much higher than our ways, so I've learned to walk on roads that don't always make sense.
Roads that cause my son's death to lead to smiles on the faces of children I don't even know by name.
How can this be?
I do not have an earthly answer.
Isaiah 55:8
"For my thoughts are not your thoughts, neither are your ways my ways," declares the LORD.
No matter how hard I try to understand Him,
I will always come up lacking.
But in the midst of my questions,
I know He is there.
Offering Joy.
Offering Peace.
Offering Hope.
Romans 15:13
May the God of Hope fill you with all joy and peace
as you trust in Him so that you may
OVERFLOW
with Hope by the power of the Holy Spirit.
I'm praying you feel it all today and smile.
Joy
Peace
Hope