If you're wanting a "feel good" start to your day,
reading through the pages of the Old Testament each morning may not be the answer.
Stories like the execution of the Israelite leaders
who had aligned themselves with Baal
won't send you humming a happy tune as you head toward the shower.
Reading about Phinehas plunging a spear through an Israelite man and a Midianite woman
in order to end a plague that had already taken the lives of 24,000 Israelites won't leave you singing the lyrics,
"I've got the joy, joy, joy, joy, down in my heart."
The Old Testament is tough.
God's Holiness wasn't something for the Israelites to take lightly.
And His expectation for His people to be Holy wasn't either.
God hated sin then.
And He hates sin now.
Burnt offerings were a regular part of the Israelites' journey through the wilderness,
because sin cost something –
either your life or a sacrifice.
It's easy to avoid the Old Testament if you're not interested in hearing about the consequences of sin
in the days of men like Abraham and Moses.
There's another option if holding the Old Testament open in your hands doesn't feel pleasant.
After all, we live in an era in which we've been given the freedom
to toss anything out of our lives that no longer "sparks joy."
And who feels joy as they imagine the smiting of men, women, and children trudging through the desert in search of Canaan?
Here's the other option:
Skip the books in the Bible that make you cringe.
Flip to the New Testament.
Read about Jesus' arrival and the grace and hope that arrived with Him.
No wonder we love Christmas.
No wonder we fill our world with twinkling lights in December,
almost as if we're trying to recreate that one special, starry night all over again every year.
No wonder we sing carols,
celebrating His arrival.
Jesus gave His whole life for us,
became the sacrifice for our sins –
once and for all.
And thinking about this feels good.
Thinking about what Jesus did for me sparks the kind of joy I feel every winter as December 25th approaches,
and I like this feeling.
However, ignoring the Old Testament because it doesn't "spark joy"
would be a huge mistake for me.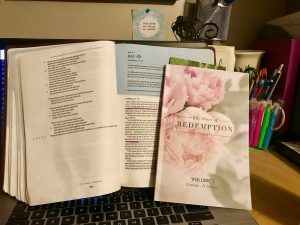 I need to feel uncomfortable.
I need to be reminded just how much God despised anything or anyone who stepped toward the world and away from Him.
I need to see what unholiness looked like in the wilderness –
and the cost of unholy living.
WHY???
Because I walk in my own kind of wilderness every single day.
Yes, the Promised Land is coming.
But for now,
I'm on the journey toward it.
And the battles I face every day are no different than the ones the Israelites faced.
In some ways, my battles are harder because the enemy doesn't always show up holding a weapon,
announcing his arrival in the pages of my life.
He's sneaky.
And he loves to convince us that majority rules,
and that the line between what is right and what is wrong is thick –
with lots of room to "play around."
As if fifty shades of grey really do exist between what is black and what is white.
I Peter 5:8-9 warns,
Be alert and of sober mind. 
Your enemy the devil prowls around like a roaring lion
looking for someone to devour.  Resist him, standing firm in the faith,
you know that the family of believers throughout the world
is undergoing the same kind of sufferings.
II. Cor. 11:3 says,
But I am afraid that just as Eve was deceived by the serpent's cunning,
minds may somehow be led astray from your sincere and pure devotion to Christ.
Eph. 6:12 says,
For our struggle is not against flesh and blood,
against the rulers, against the authorities,
against the powers of this dark world
and against the spiritual forces of evil in the heavenly realms.
The freedom Christ brought to the world wasn't the freedom to do and say whatever we want.
It was freedom from the power of the enemy –
who holds the power of death.
Heb. 2:14-15
Since the children have flesh and blood, he too shared in their humanity
 so that by his death he might break the power of him who holds the power of death
—that is, the devil— 
And free those who all their lives were held in slavery by their fear of death.
So reading the Old Testament,
though often painful and rarely sparking the same kind of joy I feel at Christmastime,
is crucial in my walk with God.
I want to feel joy,
but I never want to forget this truth:
I have not yet arrived in the Promised Land
and there's an enemy who is trying to keep me from getting there.
So every morning, I have a decision to make.
Choose Holiness.
Or not.
That's the freedom I have today.
And the only way to have this freedom is to submit myself to Him
who offered it first to Adam and Eve, Abraham, Isaac, Moses, and the Israelites.
James 4:7
Submit yourselves, then, to God.
Resist the devil, and he will flee from you.
Lord,
Let my desire to be holy as you are holy
be the one thing that sparks true joy in my soul today.
In Your Son's Precious Name,
Amen
(Today's reading was from Numbers 25-28.)