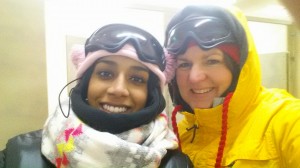 Sitting on the shuttle that took us from our car to the ski lodge,
I looked like any other skier ready to hit the slopes.
Ski boots, goggles, snow pants, and jacket……………….I had it all.
I even had a certain level of excitement for the day, although I would be stretching the truth if I didn't add that mixed with this excitement was a great level of fear.
But, as far as any other person aboard the shuttle was concerned, I was just another skier ready for a day of snow-packed action.
I'm not sure when reality set in, but I'm pretty sure it was the moment our "Intro to Snow" instructor explained how to snap our boots into our skis.
I'd love to make a list of excuses for my almost complete inability to stand on skis.
I could spend a long time talking about the freezing rain that had covered every surface with a layer of ice.
I could focus on the fact that my boots weren't tight until after I had fallen several times and the instructor had personally tightened them for me.
I could even talk about my age for a while, because most people I saw skiing confidently throughout the day looked to be anywhere from four years old to about thirty-five.
(And yes, many preschoolers were passing me by with impressive style and extreme confidence).
But, if I sit back and really look at this past weekend with an honest eye, I can't deny that the icy conditions didn't stop the rest of our "Intro to Snow" class from progressing from the nearly-flat practice  terrain to the actual slopes.
I also can't ignore the fact that even after my boots were tightened, my skills didn't miraculously improve.
I also can't talk about my age, because there were plenty of people zooming by me as I watched from the sidelines who were well into their mid-life years.
The truth is:
I was afraid of just about everything about skiing.
I was afraid of falling.
I was afraid of not being able to stop when my skis began moving too quickly down an inclined surface.
I was afraid of the ski lift (which our instructor rode with me the only time I even gave it a try).
At one point in the day, Luke strapped Todd's Go-Pro on me because the battery had died and he wasn't using it anymore, and I remember vividly how I felt as I glanced in a mirror as I left a bathroom, seeing my reflection and actually laughing out loud.
There I stood in my ski pants and jacket with goggles on my head and a Go Pro on my chest, looking like some kind of daredevil yet knowing deep inside that the only thing about my reflection that was true was that my jacket was the same color as fear in literary symbolism……….bright yellow.
I was a fake skier.
I was a  skier wannabe.
I was a mom trying my best to participate in my daughter's birthday weekend but falling miserably short (literally).
At one point in the lesson (actually after our first solo attempt at shuffling and then coming to a stop) when I fell right at the feet of the class instructor and struggled to even be able to stand back up again, I knew I was in trouble.
As the class continued and  my ability to stand without falling didn't show any signs of improving and the instructor clearly knew my name better than anyone else's, my laughter began to fade.
If I could put into words how badly I wanted to quit, I would.
I turned to Tim and said, "I don't want to do this anymore. I can't ski."
He started saying things like, "Baby, you'll be so mad at yourself if you don't finish this class."
He even had the nerve to mention my blog and how I would regret not being able to write about the experience.
The more he talked, the more I wanted to run…………….but there's something about having your feet strapped to skis while standing on a sheet of ice that keeps you locked in one location.
My eyes had filled with tears by the time our teacher came to get me for the next part of the lesson which involved riding on a conveyor belt to the top of a small incline that was built to teach skiers how to maneuver right and left turns.
I looked at him and said,
"I really want to quit.  I can't do this."
But, like Tim, he insisted that I could do it, so we made our way to the conveyor belt which might as well have been leading me to some sort of torture chamber.
There was no part of me that felt anything but dread and fear as I neared the end of the track and knew that I would soon be released to the instability of my skis and the icy ground.
As I watched others from my class follow the instructor's directions and move through the curves with very little difficulty, my heart pounded.
I looked at the women next to me and said, "I am terrified."
I was so relieved when I heard our teacher say,
"Tammy, I'm going to do this with you."
I didn't care how it sounded or looked to see me hold his arm and slowly move from one end to the other.
All I knew was that I was okay as long as I could feel my hands gripping his arm.
I didn't even care when this same instructor gave me permission to take off my skis and walk down the hill to the ski lift and then said, "I'll ride with Tammy."
I lost all pride as I realized that there was nothing about me that said,
"You have the potential to become a great skier."
This weekend, I was a mom wearing skis.
That was it.
Nothing more.
Nothing less.
When I finally embraced this reality and began enjoying the experience as a spectator, I was freed up to be me.
I even took pictures of another family as I was waiting for Tim, Luke, and Olivia to complete another slope;
and enjoyed my time with them.
In spite of my own inability to master a new sport, I had an amazing weekend;
and I have so much more to share about it.
But for today, I'll just say this.
Goggles and skis do not a skier make.
So any picture you might see of me dressed like a skier is a picture in which I am posing as something I am not.
I will forever laugh at the memory of me in a shuttle sitting in a row of people ready for a day on the slopes.
My awareness of just what a fake skier I really was caused me to laugh many times as we moved throughout the day, but it also made me think about other parts of my life that really matter in the scheme of things.
Who am I really?
It's not the outside that matters.
What I carry in my hands, how I look as I move from place to place, where I spend my time, who I spend time with………………………..
What really matters happens deep inside of me where no one else can see or go.
Who am I under all the layers?
That's the question for me as a new year begins.
It's the only question that really makes a difference.
But the LORD said to Samuel,
"Do not consider his appearance or his height,
for I have rejected him.
The LORD does not look at the things man looks at.
Man looks at the outward appearance,
but the LORD looks at the heart."
I Samuel 16:7