I've read the book of Genesis multiple times.
But this morning one verse stopped me.
Right after Cain is banished from the Garden
and headed to the Land of Nod, east of Eden,
something happens.
And today it bothered me.
"Cain was intimate with his wife, and she conceived and gave birth to Enoch."
Why did this verse grab my attention today?
I found myself reading commentary after commentary on the topic this morning.
And there's clearly a lot of speculation and debate about it.
This is definitely a question I want to study when I have more time.
Not because I need an answer in order to believe the Bible,
but because I want to be ready if someone ever asks me.
Do your best to present yourself to God as one approved,
a worker who does not need to be ashamed
and who correctly handles the word of truth.
II Tim. 2:15
I found an article written by "Answers in Genesis"
that makes the most sense.
Enough sense to pull me back to my computer anyway.
The truth is, though, I may never know for sure.
There's just not enough information in Scripture.
And this morning, I'm thinking God prefers to work that way.
If we knew everything, where would the mystery be?
And who doesn't love a good mystery?
Would we really want to live in a world where
everything could be explained without research and debate?
Would we need faith if everything had an answer?
Yesterday I wrote about God 's promise to make all things new.
And then I headed off to an elementary school to see kids for the day.
This sign was on the door of the first classroom I entered.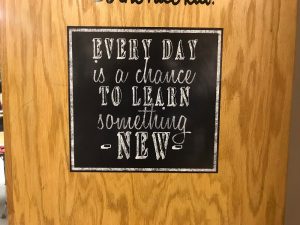 I think it's been hanging there all year long.
But yesterday, my eyes were open.
I was looking for messages.
I wanted to see God at work.
I wanted to hear from Him.
And He wasted no time in giving me just what I needed to get through the day.
I believe today will be no different.
He may not have the answer to the question about Cain's wife on a classroom door
(I may freak out if He does),
but I believe He'll be wherever I go.
And wherever you go.
And the answers we need to make it through the day
will be there
if we're looking and listening.
I don't think I need to know exactly who Cain's wife is
in order to walk through today.
But I do believe I need to know that it's a question
someone may ask me.
And it's a valid question.
There's lots of valid questions Christians could be asked today.
Because having Hope doesn't make sense.
But in your hearts revere Christ as Lord.
Always be prepared to give an answer 
to everyone who asks you
to give the reason for the hope that you have.
But do this with gentleness and respect.
I Peter 3:15
And the truth is,
I still have questions too.
A friend recently said to me in regard to the loss of someone she loves dearly,
"I don't think I'll ever understand."
My reply was the only one that was true,
"I don't think I will either…..
this side of Heaven."
I think that's what Paul is talking about in I Cor. 13
when he says,
For now we see only a reflection as in a mirror;
 then we shall see face to face. 
Now I know in part; then I shall know fully,
even as I am fully known.
 

And now these three remain:
faith, hope and love. 
But the greatest of these is love.
The day will come when faith and hope will no longer be required.
Love is all that will remain.
But for today,
we need all three.
Faith
Hope
and
Love
One day all our questions will ALL be washed away.
And standing in the presence of God,
I'm pretty sure the last thing I'll care about
is who Cain married.
But believe me,
if I get the chance,
I'm going to ask.
(By the way, thank you for every prayer yesterday…….I love you all so much.
And melatonin really does help if you need a good night of sleep.)