When our oldest son was born,
I said something that still makes me and my mom laugh today.
Every time a meal was delivered to my hospital room,
it included a cup of coffee.
As a young girl of just 21 years,
coffee had not become part of my daily routine.
And I always felt bad when I let it go to waste.
So one time when the kitchen staff came to pick up my "menu request" for the next day,
I said,
"I don't drink coffee.  You might want to write that down."
I have no idea what I was thinking in my post-baby state.
I didn't mean to sound bossy.
I just didn't want them to waste another cup.
It never occurred to me that I could share that portion of my tray with my mom.
It never occurred to me that a cold cup of coffee was probably the least of the hospital's concerns when it came to financial success.
Whatever the case, "You might want to write that down," has become a phrase my mom and I use from time to time
when something significant happens.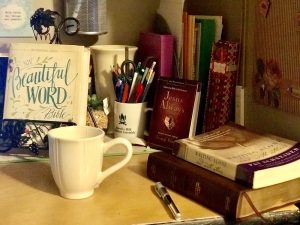 It's been 31 years since Erich was born.
I drink coffee now.
I've even become a fan of hot tea.
A lot has changed in the past three decades.
A lot has changed in the past month.
And I sense a lot of change coming in 2019.
Change isn't easy for me.
But neither is a life that stays exactly the same.
And maybe that's why I'm struggling.
So much of the change seems to be swirling all around me
while my life feels very still.
Watching the world you live in change
and having no control over how it's changing
is hard.
I cried myself to sleep last night.
Tim listened as I poured out all the reasons I'm feeling sad.
Sometimes life gets the best of me……
and last night life won.
As I woke up this morning,
the first words I heard in my mind were
"He makes all things new."
I wasn't sure what to do with these words.
I was sure God meant for me to hear them though.
As I opened Instagram (a morning habit I thought I needed to break),
I read the words from Isaiah 43:19
in a college alumni's post
before seeing anything else.
"See, I am doing a new thing!


    

Now it springs up; do you not perceive it?
I am making a way in the wilderness


    

and streams in the wasteland."
He is doing a new thing.
He is making a way.
Do I not perceive it?
I got out of bed and made my way to the kitchen.
Nothing felt new.
The same cup.
The same hot morning drink.
I made my way up the stairs.
The same desk.
The same chair.
Very soon I will walk out my door to the same job……..
one that I love but also find stressful at times.
 I'll face the same pressures.
Nothing feels very new.
So what did God mean this morning?
I read my January 2nd section of my Bible.
And picked up Jesus Always to read today's devotional thought.
"Find joy in me, for I am your strength."
I smiled.
I knew this was true.
It's been true my whole life.
He is my strength.
He's carried me through so many losses, so many goodbyes.
He's carrying my mom through the recent loss of one of her best friends.
And He's carrying me through the recent move of one of mine.
I know He's here this morning,
carrying me still.
But as I sat at my desk,
I still felt restless.
The words continued to play over and over in my head.
"He makes all things new."
Where are these words in the Bible?
I should know that by now.
I typed in the phrase and waited for the passage to pop up.
There it was.
Revelation 21:5
 I could feel the air rise in my lungs as I read the whole verse……
"He who was seated on the throne said,
"I am making everything new!
"Then he said, 'Write this down,
for these words are trustworthy and true.'"
_________________________________________
Write this down.
That's what I needed to hear God say this morning.
Something that makes me and my mom laugh.
He is making everything new.
These words are trustworthy and true.
I don't know what that means yet.
But I do know He keeps His Word.
So I'm writing this down.
Because it's significant.
And I don't want to forget.