 I pulled into my friend's driveway a week or so ago and this was hanging on her deck!!!!
It was her Mother's Day gift from her husband!
I had to jump out and take a picture!  I loved it!
I remember being on Nick's Make A Wish trip last June to the Bahamas and simply adoring all of the island people!  They were so relaxed, happy, carefree!  I bought a shirt that says, "I'm on island time."
What is it about an island that makes everything seem so much simpler?
Maybe it's the ocean on all sides, the blue water, the white sand, the palm trees waving….I remember asking one employee in the water park if he ever got stressed about anything.  He grinned, lifted his arms into the air, and said, "This is my job!"  As if he were saying, "How could I?!?!  I work in a vacation-dream world!"
The amazing part about their spirit to me was that fact that most of the workers had very little in terms of material possessions.  Their joy came from something other than "climbing the ladder to success."  Their joy came from simply embracing every day for the wonder it had in store!
Lord, help me to see each day as a day full of wonders!  Keep my glove always open and ready to catch an island attitude right here in Kentucky!  You created every part of the earth for your glory!  Keep me in awe of the beauty that surrounds me.  Keep me content.    In Jesus' Name.
Hebrews 13:5
Keep your lives free from the love of money and be content with what you have, because God has said,
   "Never will I leave you;
      never will I forsake you."
Phil. 4:12
I know what it is to be in need, and I know what it is to have plenty. I have learned the secret of being content in any and every situation, whether well fed or hungry, whether living in plenty or in want. I had to add a little congratulations to one of the KCU guys who has been living with us this past month!
Robert came in third place in the Carter County 5K Run Against Cancer!
I've been so impressed with Robert, Michael, and Andrew (our three KCU students who've become part of our family)…they all run daily..
That's what it takes to win a race..daily commitment..perseverance..determination.
The Christian life is so much like this..daily commitment..perseverance..determination.
Thank you, guys, for not only being great inspirations to me with your running passion but also great inspirations to me in your spiritual walks.  I've loved your conversations around the table about your class. 
You are all amazing! We will miss you the rest of the summer!  You've been amazing houseguests!  God knew just what I needed for the month of May!
Thankful, Philippians 3:13-15
13Brothers, I do not consider myself yet to have taken hold of it. But one thing I do: Forgetting what is behind and straining toward what is ahead, 14I press on toward the goal to win the prize for which God has called me heavenward in Christ Jesus.
15All of us who are mature should take such a view of things. And if on some point you think differently, that too God will make clear to you.
I Corinthians 9:24-27
24Do you not know that in a race all the runners run, but only one gets the prize? Run in such a way as to get the prize.
25Everyone who competes in the games goes into strict training. They do it to get a crown that will not last; but we do it to get a crown that will last forever.  26Therefore I do not run like a man running aimlessly; I do not fight like a man beating the air. 27No, I beat my body and make it my slave so that after I have preached to others, I myself will not be disqualified for the prize.
This has been "awards week" for Todd and Olivia.  Todd received several awards for tennis and academics.  Olivia received several awards for art fair entries and academics. 
However, in the midst of all of these awards, certificates, ribbons, and even a trophy…Olivia was disappointed when she didn't receive the "Student's Choice Award," and even commented very sweetly that her friend who received this honor in her class really did deserve it because she was "perfect."
As I thought about Olivia's desire to be voted the "best girl" in her class, I couldn't help but think about what our real desire should be in life..
To be voted "God's girl" or "God's boy."
As I watched the kid's faces as their names were called to come forward for recognition, I could see joy radiating in their grins.  But then I saw the faces of the students who were not called forward..and I saw disappointment, sadness, and even some that looked embarrassed.
I remember seeing Olivia's face when she didn't receive a "Distinguished Scholar" award….I'm sure she was wishing she would have tried a little harder on some of those quizzes and tests along the way…
Don't we all have moments in life when we realize that our best effort would have been worth it in the long run even though at the time taking the "easy way out" seemed more desirable?
How do I want to feel when I stand before God?
Full of joy, knowing that I ran the race to the best of my ability or full of disappointment and sadness, wishing I would have made Jesus the Lord of my life.
I tried to explain to Olivia that she needs to focus on pleasing God not man..when she is able to do that, she will be eternally victorious!
Trophies, ribbons, certificates, pins…they are all wonderful and worthy of praise!
But a crown that lasts forever!!!!!
That's what I want to see sitting on Olivia's head eternally!  And Todd's and Erich's and Evan's!!!!!!!!!!!!!!!!!  And all of their friends!!!
And yours!!!!!!!!
Thankful for all of you and cheering you on in your race, Our oldest son (Erich) left yesterday for a 9-week medical mission trip in Kenya, Africa. 
He will be flying out of Indianapolis next Tuesday after a week of training.
I remember the day I finally gave in to Erich's heart for missions.  I remember it like it was yesterday.  Erich was in high school when his spiritual mentor, Bill Leamon (who had led several trips to Mexico that Erich had taken), was tragically killed in a car accident just several hours after Erich had been visiting with him in his office at his job.
Bill was one of those men who treated everyone with passion and love.  Erich adored him.  He looked to him as a second father.  The night after Bill was killed our church opened its doors so that people could come together and share what Bill meant to them and just be together in their shock and grief.  I remember standing up and looking at Erich in front of the crowd and telling him that I supported his passion for missions and that whatever God called him to do, I would be there for him in whatever way I could.  Life suddenly seemed so fragile from any perspective.  Who was I to try and "overprotect" Erich's life that was already so sold out on mission work.
Well, many years have passed since that sad day.  Erich has been on several short mission trips since then.  Now he is preparing to enter his senior year in nursing at Kentucky Christian University and part of his dream is to do hospital work in foreign countries.  I know that Bill is cheering him on from Heaven.and I know that Nick and Adrienne are too!! And so many others who have gone before him.  I took a little "photo journey" through our day yesterday…
Olivia left for school before Erich woke up!  Look at Erich!  He slept in his clothes, on the couch, with his glasses on, after staying up til nearly 3 finishing his last college paper for his summer class!!  Olivia was saying  "bye" before she headed to school!
Not the greatest quality photo, but this is my sweet, little Erich's first Easter!!!
Erich burning one last CD of music for the long flight!!
          Tim and Erich
  Tim, Erich, Me, and Evan (our second-oldest son)
  Erich and Me (I tickled him to make him smile this big!)
Erich and Michael Johnson (one of his best buddies from KCU)
Erich and Andrew (another great buddy from KCU)
Look how hard it is to get a "normal" picture of Erich with his brother!!!
   FINALLY!!!! (Except Evan is tired of smiling by this point!)
This is Erich and Evan the way I remember them!!!!!!!!!!!!
  Erich turns around and grins and says, 
"See you in August!!"
Erich can't believe I'm still taking pictures!!!!
He'll enjoy a break from my camera, I'm sure!!
Tim gives him one last piece of "fatherly advice!" 
  Got it, Dad!!
By now, Erich is saying, "Mom, enough already!!"
Erich heads out of our driveway and into a big adventure…
We're praying for you Erich!   We miss you already!! I Chron. 16:33
Then the trees of the forest will sing, 
        they will sing for joy before the LORD,
       for he comes to judge the earth.
If you live in Grayson, KY, or if you have ever visited Kentucky Christian University, you have probably seen this tree on the right side of the entrance to the college campus.
I see this tree almost every day.
And every time I do, I have the same thought. 
I always think of the tree as "bowing in adoration of its Creator."
Today, I decided to stop and pull out my camera.  I just love this tree, because I feel like it is somehow already eagerly anticipating the return of the Lord and just can't hide its feelings of reverence and adoration!
Read these verses from Romans 8:
ROMANS 8
18I consider that our present sufferings are not worth comparing with the glory that will be revealed in us. 19The creation waits in eager expectation for the sons of God to be revealed. 20For the creation was subjected to frustration, not by its own choice, but by the will of the one who subjected it, in hope 21that the creation itself will be liberated from its bondage to decay and brought into the glorious freedom of the children of God.
22We know that the whole creation has been groaning as in the pains of childbirth right up to the present time. 23Not only so, but we ourselves, who have the first fruits of the Spirit, groan inwardly as we wait eagerly for our adoption as sons, the redemption of our bodies. 24For in this hope we were saved. But hope that is seen is no hope at all. Who hopes for what he already has? 25But if we hope for what we do not yet have, we wait for it patiently.
I love this passage so much!
When I look around my yard at my flowers, my bushes, my trees, even my grass…I see plants that are in bondage.
Struggling to compete against the weeds that so quickly overtake their space, trying to survive on a planet where water is not always easily accessible, hoping to catch a few rays of sunshine in order to continue to grow..
CREATION IS EAGERLY AWAITING THE GLORIOUS FREEDOM WE ALL LONG FOR!
I want to live like this tree!
Eagerly anticipating God's return to the point that I cannot stop from bowing in adoration of His Splendor and His Majesty!
Hoping for what I do not have but trying to wait patiently,

Mark 1:2-3
"…..I will send my messenger ahead of you
who will prepare your way…..
a voice of one calling in the desert…"
Have you ever thought about how differently you might have done things had you been the one to choose how to send Jesus to the earth or to announce His coming to the people of His day?
I would have been tempted to have Jesus born to royalty…..
After all He is our King.
I would have been tempted to have Him live a life of luxury…..
After all He was use to Heaven!
I would have been tempted to have His name placed on every marquis I could find proclaiming that the Son of God was walking on the earth!!!!
After all He came to save us from our sins……….ETERNALLY.
But, thankfully God sees the big picture.
He knew that a stable was a fitting beginning.
He knew that the sweet and very non-materialistic couple (Mary and Joseph) would raise Jesus to love all people no matter what their status.
He knew that John the Baptist's voice "calling from the desert" would cause a stir….
would cause people to look and listen.
Who is this man walking in the hot sand proclaiming hope to all mankind?
How can this man see hope in the midst of a desert?
What does he know that we need to know?
I guess that's why God is able to use our suffering in a more powerful way than our times of great rejoicing to help others.
Not that God doesn't want us to experience joy and wonderful moments.
But I do believe that when it comes to truly meeting someone's needs with the love of Jesus, God somehow sends the message in a way we would least expect it.
For me, Memorial Day weekend could have been so very painful and sad.
But somehow God used the faces of precious children who sat in the chair across from me on our small town Main Street as I painted butterflies, rainbows, ice cream cones, and so much more……………..
to remind me that He is with me and that He holds all children in the palm of His hand…………….
He used flowers from a friend in Florida to brighten my day on Nick's birthday!! Thank you, Carol! I love you!
He used Olivia and her little fun pack of friends to make me smile over and over again!
He used a house full of college kids and girl friends and laughter to keep me cooking and cleaning and laughing and loving!
He used my son's determination to throw me in the pool IN MY CLOTHES to make me laugh so hard and have such a fun time!
He used the meeting of a friend's mom who lives in Texas and who knows me only through my blog to make me smile! Hi, new friend!!!!!
I ended my time on Main Street by releasing one red balloon that had been tied to my chair!!! It was my "hello" to Nick! I'm so glad I had my camera nearby to capture it as it floated up into the sky!!
Thank you, Lord, for brightening my weekend with beautiful sunshine, beautiful clouds, and beautiful faces!!! I never expected to have such a wonderful weekend..but then again, why am I ever surprised at how You show up where I least expect You! Thank you! Shew!!
I started strong.
I want to stay strong!
I'm subbing at the school where Nick received his award last spring for getting a "distinguished" on his portfolio……..
Today is that same annual awards day.
I just can't go in the gym. I don't want to make a scene. So I've slipped back up to the science classroom where I was writing a letter for a teacher and I'm trying to keep my boundaries in "pleasant places" even though I'm a little tickled that my "pleasant place" today is in a room with a live bird!
Leave it to Nick to give me a reason to smile even in the midst of teary eyes. 1 Thessalonians 4:12-14 (New International Version)
13Brothers, we do not want you to be ignorant about those who fall asleep, or to grieve like the rest of men, who have no hope. 14We believe that Jesus died and rose again and so we believe that God will bring with Jesus those who have fallen asleep in him.
I'm subbing today. Trying to stay busy.
Olivia's having a sleepover tonight…………the girls are going to help me get ready for tomorrow…..we're having a fundraiser for Nick's foundation on Main Street during the Memory Days' festivities. The girls are going to paint faces. We're going to sell water and pop. If you happen to be on Main Street in Grayson, KY, tomorrow between 9 and 1, please stop by!!!
My heart is heavy in one sense………..
Joyous in another sense………
If you think about life and what really matters, it is serving God, pleasing God, living for God, and ultimately being with God. As a mom, that's always been my most important goal….to know that all of my kids were headed towards Heaven. I've told them before that if I somehow fail them in that area, then I will consider everything else I have done as pointless. Ultimately, I know it is their decision whether or not to live for Him, but while they are in my hands, my major purpose for being on this planet is to guide them towards loving and serving Him.
So, today as I think about Nick, I have to smile.
Last night Olivia had a softball game. The other team was short a couple of players so they had to forfeit the game to our girls, but we played them anyway. In the second inning the other team was up 7 to 1, but we already knew that the win was ours.
Life is like this.
We may feel defeated. We may feel that so early in life we are being beat so badly. We may think there's no way to ever regain our footing.
But, the good news is this!
The devil forfeited the war when Jesus died on the cross!! He lost! We won!
So no matter how "lost" you feel today, I hope and pray you remember with me that we are on the side of the Victor!!!!!!!!!!!!!!!!!
Forget the score!
We won!!
Nick won!!
Adrienne won!!
Now I just pray that Erich, Evan, Todd, and Olivia win too!!! That's why I'm here! And I pray you win too! Then we'll spend eternity celebrating our VICTORY!!!!!!!!!!!!!!!!!!! Together!!!!
Thank you for every prayer. I feel them in a powerful way!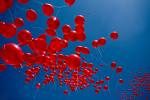 John 16
21
A woman giving bir
th
to a child has pain because her time has come; but when her baby is born sh
e forgets the anguish because of her joy that a child is born into the world.
22
So with you: Now is your time of grief, but I will see you again and you will rejoice, and no one will tak
e away your joy.
23
In that day you will no longer ask me anything. I tell you the truth, my Father will give you whatever you ask in my name.
I received a text early this morning from a friend in Nashville who heard the song "99 Red Balloons" on the radio while on her way to work……………..
This was one of Nick's favorite songs.
We played it at the end of his funeral outside the church on loud speakers as all the children who attended gathered outside with 99 red balloons…………….
And as we counted down from 10 to 1, they released the balloons into the air.
I heard later from several different people who were in the crowd that evening that 98 balloons went east and one balloon went west towards our house! In one picture you can see the balloon drifting away on its own……….Nick never was a follower.
As I received the text this morning, my eyes filled with tears……..happy and sad…………
Nick's birthday is coming up this Friday. It's a bittersweet week for us.
So I replied to the text by saying, "They must be getting ready for Nick's birthday party in Heaven!"
Life is different here. We are busier than ever in many ways…………………….and yet our hearts our heavier than ever at the exact same time.
I find myself planting flowers in the yard, trying to clean off the back porch, attempting to decorate a window on Main Street for the Memory Days Parade to display the work of Nick's Foundation, helping at Olivia's field day at school, helping friends from church with different little tasks, meeting with friends to plan this summer's Christian concert for Nick's foundation…..and the list goes on and on and on…………………………..
Yet in the stillness of my heart there is a constant ache, a never-ending awareness that Nick is not here, a grief so deep I rarely talk about it……….
Partly because I don't want to bring people down or make people feel uncomfortable and partly because I know without a shadow of a doubt that NICK IS GOOD!! ADRIENNE IS GOOD!
They are in the Presence of Him!
They are walking the streets of gold!
It's hard to comprehend. Hard to get my mind around sometimes.
But I believe John 16. There will be a day when grief is NO MORE!!!!!!!!!!!!!!!
A time when NOONE will be able to take away my joy! Or yours!!!!!!!!!!!!!!!
So my prayer today is that I can hold fast to these words….not growing sad as Friday approaches. It's a mind game, a constant spiritual battle, to stay on top of my emotions and continually tell satan to "get behind me."
But it's a battle I'm willing to fight! Why?
Because I know the Victor! Oh death, where is thy sting?
Clinging to God's Promises in Spite of My Grief, I just wanted to take a minute to thank the beautiful women of Bowling Green Christian Church for welcoming me and my mom this past Saturday in such a touching way.  We felt your love and passion for the Lord from the minute we walked in the door until the minute we left!!
May God bless you as you strive to serve Him so faithfully!!!!
We were blessed to be with you!
Peace lilies were on every table!!!
Mom and Barbara registering!!!
Candles surrounded the entire stage!
Eva Doris, Peggy, and Me
Barbara, Jeanne, Jessica, Me, and Mom
Brook, Beth, Me, and Imogene
Every bathroom stall door served two purposes!  The best was the sharing of His Word!!!!!!!!! Thanks, Ladies, for thinking of EVERYTHING!
A Nativity Set in the bathroom in MAY!! My dream come true!  I leave my Nativity Set out all year!
Me and Beth Ann Moore!!!!!!!!!!!  Seriously, that's her name and she was PRECIOUS!!!!!!!!!!!!!! 
The theme for the day!!!!!!!!!!!!!!!
Imogene, Barabara, and Mom
THANK YOU BOWLING GREEN CHRISTIAN CHURCH FOR A FABULOUS DAY OF WORSHIP!!!!!!!!!!!!!! 
Can't wait to see you again some day!!