And she gave birth to her firstborn son and wrapped him in swaddling cloths and laid him in a manger, because there was no place for them in the inn.
Luke 2:7

I wonder how she really felt that night, far from her family and unable to find a real bed for the Son of God.
We can't read Mary's mind or hear her conversations with Joseph as they struggled to find a place to stay in Bethlehem, and I have to believe there's a reason for this lack of information.
God chose to keep some aspects of the Christmas story private, and I'm thankful.
Even though part of me is curious about the details of that starry night long ago, I don't really want to know if Mary was irritated or scared or bewildered.
I also don't want to know if she was calm and understanding.
Because either way, I think I'd find myself comparing my behavior to hers and then justifying my weak moments or beating myself up for them.
The truth is:
Mary was human, and in the midst of all that was true – she was very young, she was far from her family, she was carrying the Son of God inside of her and the time of His arrival was drawing near – I'm sure there were moments along the way when "Silent Night" would not have been the most appropriate background music as she and Joseph went door to door looking for a place to stay.
Many details are left to our imagination as we read the Christmas story, but I love that one moment is shared in a very specific way.
I love that Luke records the visual of Mary carefully and lovingly wrapping up the Son of God and placing Him in the best thing she could find to use as a bed.
I love that no matter how she was feeling that night, she took great care of the most important thing in her life………..
Jesus.
I also love that because we know she wrapped Him up, we also know she had to eventually unwrap Him and allow Him to grow.
This unwrapping had to be just as difficult as every other part of the story.
The choosing to walk forward in a life that was anything but certain.
She had been chosen to bring God's Son into this world, but now she had to trust God with the rest of the story.
As I think of all I have unwrapped in this life, I am so thankful for Mary.
She inspires me to press on in the midst of crumpled paper, mangled bows, and empty boxes.
She also reminds me that no matter what I face today, no matter how difficult or trying, the most important detail in my life story is the one that shows the world what I do with Jesus.
The wrapping and unwrapping of Him who loves me most.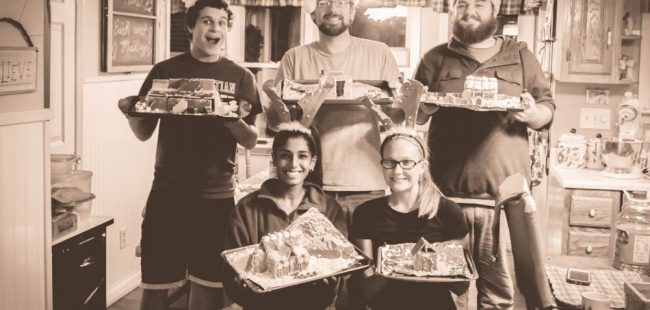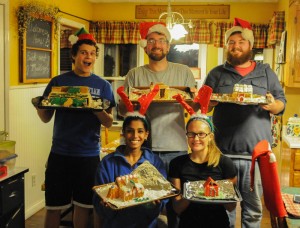 Building gingerbread houses is an annual tradition at our house.
All you need is………………
Christmas music
Graham crackers
Frosting
Candy
Cereal
Pretzels
Coconut
Food coloring
Anything else to add color and detail……………..
And willing builders.
In the end, you never know what you'll see.
One person's idea of a finished product looks totally different than the next,
but every house offers something special.
Whether the builder is inspired by Charlie Brown,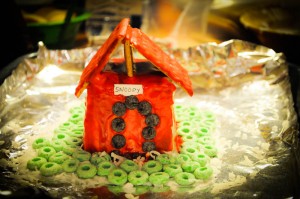 Shrek,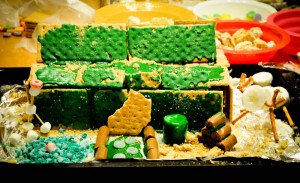 CSI,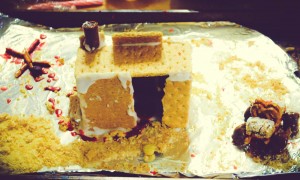 or a Hallmark movie,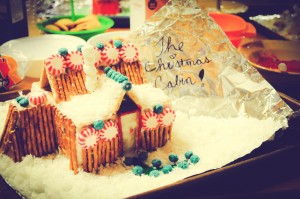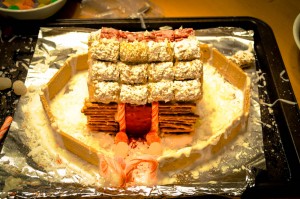 one thing is always certain……………..
creating a memorable gingerbread creation happens when the builder sticks with their work long enough to finish what they started.
Life is really no different.
Want to build a great life?
Start with what you've got.
And keep working.
Use what's right in front of you.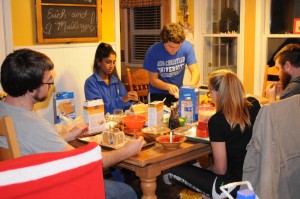 Don't wait for name-brand graham crackers or perfect decorations.
Just start building.
Add whatever makes you happy.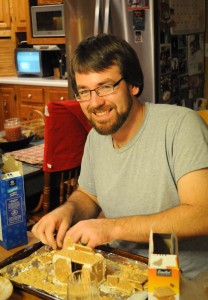 Don't be afraid to remove things that are causing your roof to cave in or your walls to crumble.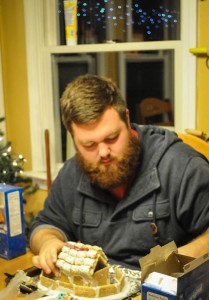 Find joy as you build.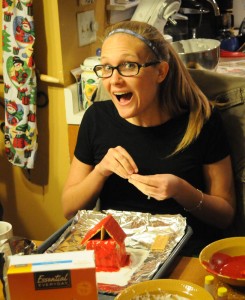 Share the journey with people you love.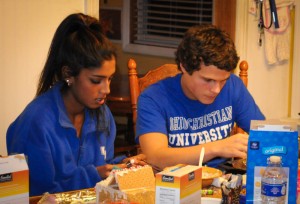 Be so engaged in the process that you stop worrying about the product.
Be fully present in the moment………………….
The adding of a pretzel or the placing of a gumdrop.
Because in the end,
it's really not about the house you're holding in your hands.
It's about all the fun things that happened as your house was being built.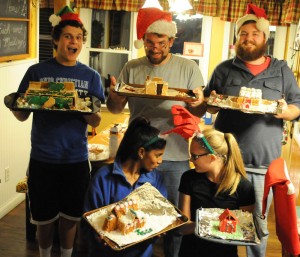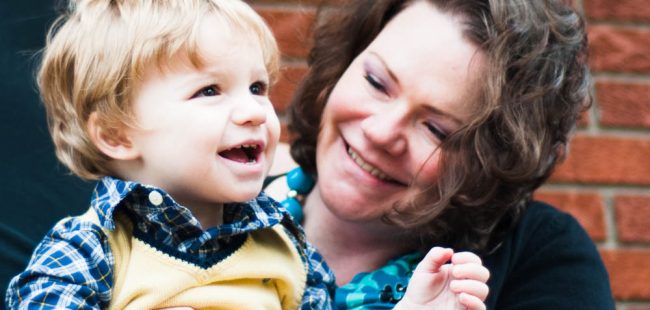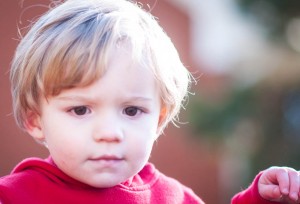 I'll never forget 12/12/12.
I was sitting in a meeting at work as I was receiving texts from my mom about David's approaching entry into this world.
This was our family's first addition since losing Nick, and our hearts were all ready to share love with a new little person.
Maura was in labor in room twelve of the hospital and 12 o'clock was quickly approaching.
I was thinking to myself, "What if he is born at 12 o'clock in room 12 on 12/12/12 exactly twelve days before his due date?!?
Wouldn't that be awesome!?!?!
Twelve o'clock passed by, but the texts from my mom were coming quickly; and my co-worker and I looked at the clock and both thought the same thing!
Is this little guy going to join us at 12:12?!?!?
Sure enough!!!!!!!!!!!
With no help from the doctors by stalling or rushing his arrival,
David became part of our lives at that very minute!!
7-12s from David suddenly joined our already incredibly significant 7-11 from Nick!!
Ever since that moment, David has been such a gift to our family.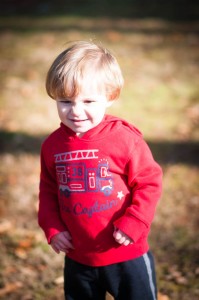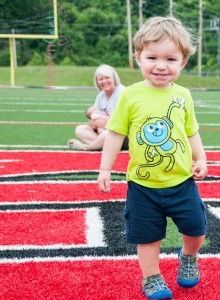 David has taught us just how precious life is all over again.
He's been the topic of so many conversations!
He keeps us all laughing!
He brings out the best in all of us!!
I honestly can't imagine life without our little Weasel!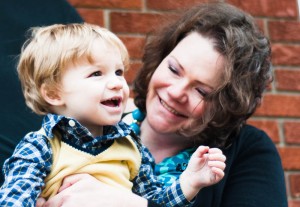 I just had to take a few minutes this morning to say,
"Happy birthday, David!!  
Uncle Tim and Tamaw love you so much!
We can't believe you are already two years old!"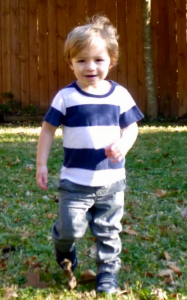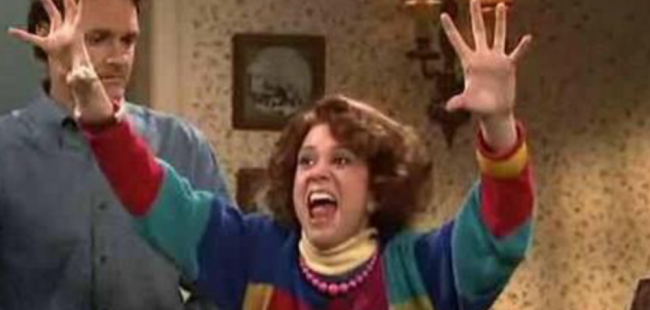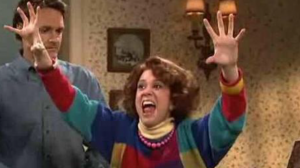 Merry Christmas, Everyone!
This is Erich and Mallory, not Tammy.
After finding mom's computer open to her blog, we just couldn't resist the opportunity to say,
"Hello!"
So from the two of us to each and every one of you,
"Merry Christmas, and may the Lord bless you as you bless Him throughout this new year!"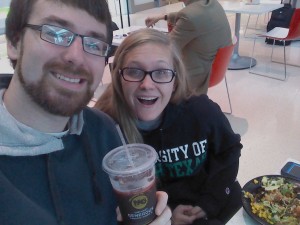 If anyone is passing through Dallas and needs a place to lay their head(s), feel free to swing by. Mom has the contact info.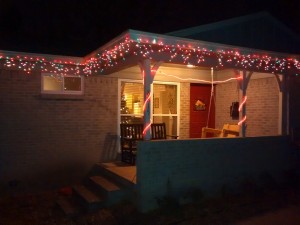 P.S. Mom, sorry for hijacking your blog…. We Love You and thank you for being such an awesome mom/mom-in-law!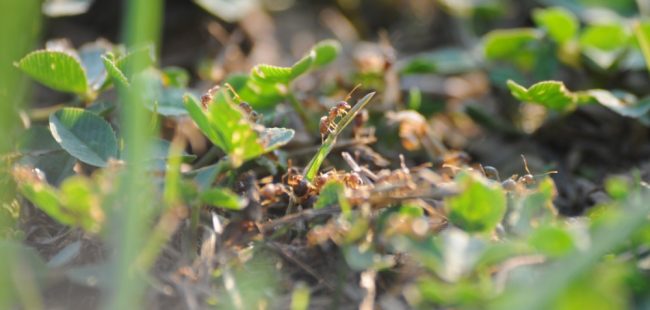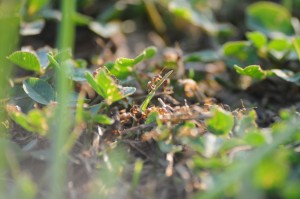 In the craziness of this life,
running here and running there,
it's easy to think we are "just another ant" in the colony.
In the sad times,
when putting one foot in front of another is hard work,
it's easy to forget that someone sees every tiny step…….and cares.
In the happy times,
when our problems seem to fade away temporarily and laughter comes more easily,
it's easy to forget that this world is still filled with hurting people.
But when we take time to pray in the crazy times, the sad times, and the happy times…….
When we climb up and out of any kind of season of life just enough to remove ourselves from the crowd, just enough to show we remember there's more to life than us,
something happens.
It happens not so much to the world around us or beside or below us,
but it happens inside of us.
We begin to feel connected to Something bigger than this world.
We begin to sense that no matter how busy or how painful or how joyous this life can be…..
WE ARE NOT ALONE.
And we begin to feel inspired and motivated to climb higher and reach further and pray more because it's these conversations we need to make it through another day, another minute, another hour.
Pray matters more because of what it does TO us than what it does THROUGH us.
Prayer works from the inside out and without it we lower ourselves to the world of ants, scurrying about
buying gifts,
comparing toys,
racing to finish tasks,
building,
tearing down,
and building again.
Prayer pulls us out of the chaos.
It removes the noise.
It separates us from the silliness.
It aims us in the right direction.
It allows us to see the world from His perspective; and when we do, we can face today and tomorrow and the next day.
Prayer matters because it's an invitation from God to be in His presence whenever, wherever, for however long we desire.
There's no boundaries.
There's no rules.
No expectations.
Climb out of your crazy world today and take time to pray.
From one "ant" to another, it will change everything about you.
I promise.
Psalms 34:15 (NASB)
The eyes of the Lord are toward the righteous
And His ears are open to their cry.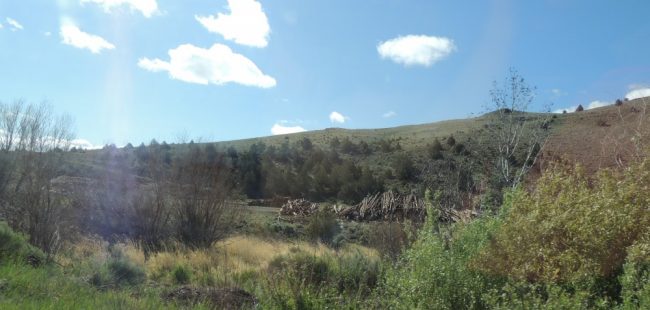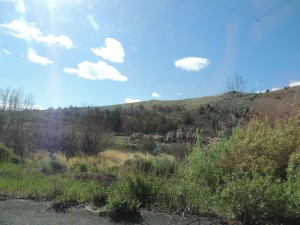 He flashes through my mind at the most unexpected times.
A funny memory.
His smile.
The way he would lightly touch my shoulder in the car if he could tell I was feeling stressed.
The way he would sit at the computer meticulously creating something new on WordArt or sit with a sketch pad drawing yet another funny-faced character wearing a football jersey.
The way he would curl up with a Hardy Boys' book and read for hours on end.
His absence from our house and our lives seems to vibrate off every wall most every single day………….still……………six years later, and I try so hard to keep pressing on.
But sometimes I really want to say out loud,
"I miss Nick, and I want him back."
I may text a friend and ask them to pray for me if I'm having a particularly hard day.
I may sigh and tell Tim I'm feeling sad, and he understands why because he carries the same weight, the same grief, the same hole in his own heart.
But sometimes in the middle of laughter and fun with family or friends, I really want to just say out loud, "I wish Nick were here in this moment, in this picture I'm taking."
I want to scream those words really, and maybe that's why I just close my heart and keep smiling and laughing, because I know that I'm protecting the world from my pain by just being quiet.
I don't want to be the reason a happy moment suddenly gets awkward.
I don't want to ruin everyone else's day by pulling them into my hurt.
So, grief becomes a secret I carry with me.
I've mastered carrying it in my back pocket most of the time.
I've learned to tuck it away so the world gets a better me.
And I've learned that people who are grieving deeply don't quite ever fit in again, so I take a deep breath before entering a room.
I look in the mirror, say a prayer, and ask God for strength to join a conversation.
Sometimes grief can make me feel crazy still today.
I second-guess my faith, my ability to believe in more than this life, because sometimes this life seems so long and Heaven seems so very far away……………..and Nick's smile seems to be fading as more and more photographs appear without him in them.
And I panic inside at the thought of all the memories we're making without him, and I wonder if my kids remember the sound of his voice and the strength of his laugh when he was in the middle of something so fun he could barely stand it.
I'm a mess this week, and I'm realizing more and more that the holiday season is just plain hard when someone you love deeply isn't here anymore.
Friends want to help me, and I feel bad because there's really no secret remedy for a grieving mom.
I know I'm a lot of work.
I know I'm complicated.
I wish I could see me without grief.
I wonder many times what I would look like today if Adrienne were 22 and Nick were 19.
It takes my breath away to even imagine that world.
Maybe I would be more self-absorbed.
Maybe I wouldn't even like that person.
I know I wouldn't be blogging this morning, because this all started when Nick was sick.
I know I wouldn't be up early every single morning reading my Bible because grief is what drew me to God in such a deep, "I-can't-survive-without-Him" way.
I know the news of yet another mom losing a child wouldn't cut straight to my soul like it does today as I think of Miranda's mom in Olive Hill and how today she will walk into her daughter's funeral and then walk out into a world that will never, ever be the same.
I remember when Adrienne died.
I remember fearing that my friends and family would never want to see me walking up their sidewalk again.
That somehow my sadness would change me into a miserable person who was easier to avoid.
So, I made a decision to not be the difficult friend or daughter or sister or aunt or cousin, the person who was too much effort.
When Nick died, I had to make this decision all over again.
And I try.
I really do.
But sometimes I really want to say out loud,
"I miss Nick so much, and I want him back………today."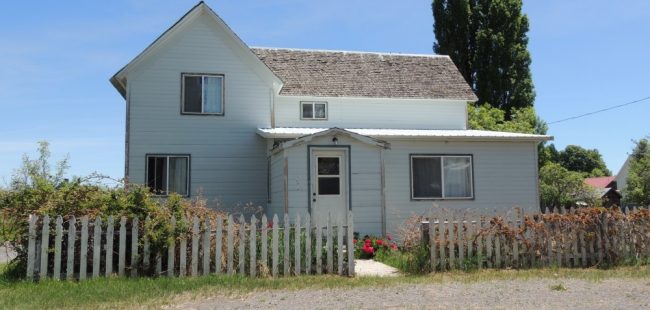 The thought of jumping from an airplane while strapped to a parachute terrifies me.
The idea of entering a dark, small cave and meandering deep into the earth's core just about takes my breath away.
Actually, I fear most anything that involves heights or closed-in spaces.
I tend to stay away from experiences in which the control of my surroundings feels compromised by either a lack of boundaries or boundaries that squeeze me in too tightly.
So, I sit here tonight puzzled at how a person like me can blog.
For nearly seven years of my life I have openly shared what's going on inside my head.
That truth alone is scary, but when I really think about it, a blog has the very same characteristics as the kinds of things I try to avoid in life.
In some ways, my blog has no boundaries.
I can jump from any height and parachute down for as long as I want before ending a post.
I can climb the highest mountain or go down into the lowest valley with my emotions.
No one is telling me, "Don't write that," or "You'd better stop there."
Like a wide angle lens, I catch life from one end to the other and spill it out as I type.
I have freedom as a blog.
In other ways, though, my blog is constricting.
The "squeezing in" comes from wanting to protect the world from parts of me and from trying to avoid conversations that will lead down roads that won't be so pretty.
Parts of my life become fences that trap my words.
My faith creates boundaries.
My job creates boundaries..
My family creates boundaries.
My friends create boundaries.
I fear stepping out of line and saying too much, so every time I jump I'm looking down……………
making sure to avoid every branch, every house, every person who might get hit along the way.
Lately, I haven't been able to write, because the branches and the people and the houses have been too close.
I've started to write several times over the past few weeks and I've been struck with a dilemma most every single time:
Either write an artificial post or pour out ugly right on my screen.
I've managed to write a few simple posts.
Enough to get a few words out of my head.
But most of the time, I've felt like a horse being held back from running to the barn on a cold, windy night.
And to be honest, I need to go to the barn.
I need to lay down in the warm hay and know everything is going to be okay.
I need to write with freedom while dancing close to the fence line.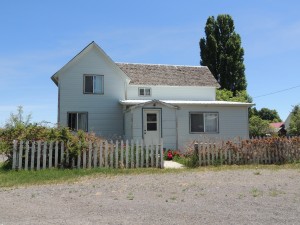 I need to release myself from myself.
I need to say what I need to say.
So brace yourself, please, because tonight I'm fully aware of just how dangerous blogging can be.
I'm standing in the open door of the airplane.
I've checked my parachute to make sure it's fitting just right, and I'm jumping.
I'll keep an eye on what's below; but if I graze a branch, forgive me.  If I land on a house, I'll move quickly.
_______________________________________________
I'm tired.
I'm tired of smiling when I feel like crying  –
even though I know I'll smile tomorrow if I pass you on a sidewalk or in a hall.
I'm tired of finding the good in things when so much in life can seem so bad –
 even though I know I'll keep trying  to look for the bright side. 
I'm tired of hearing about girls who call themselves Christians treating other kids unkindly –
as if being mean and exclusive creates an allusion of popularity. 
I'm tired of acting like I care about test data,
because my heart keeps screaming that no matter how distinguished Nick was on his standardized exams they don't matter a bit now.    No one is analyzing his scores in Heaven.
I'm tired of social media and how it plays into so many facets of my life
and yet I turn to it in some way every single day.
What do I do with all this fatigue, piling up on me like layers of heavy blankets?
How do I find rest when my soul is so weary?
Where do I turn when I've turned every single direction and only found walls?
I know the answer.
I really do.
I can't take grief away.
I can't make something good out of something that is bad.
I can't change mean girls.
I can't take testing out of schools.
I can't remove Facebook, Instagram, and Twitter from this world.
But I can do this:
I can trust God with my sadness.  He sees my every tear.
I can give God time to make everything good.  He promises He will.
I can pray for mean girls.  They need His love.
I can help students see that tests only measure a fraction of what they know while how they live their lives measures everything else about who they are.
I can use social media as an extra outlet for sharing God's love but not choose it as the best way to interact with flesh and blood friends.
____________________________________________
I think I've landed.
I avoided some big trees along the way, but I'm thankful for the branches that caught me for a minute or two.
Fences are good for marking property lines, but it feels so good to open the gate and walk out onto the sidewalk every once in a while.
Thanks for letting me blog dangerously tonight.
I think I'll be able to sleep. Ambition……………………..
Hard work
Determination
Purpose
Intent
Plan
Desire
Dream
Aspiration
Goal
Aim
Target
Wish
These words can often lead to material success, promotions, high scores, popularity…………………..
Achievements that elevate
Actions that draw attention 
Moments that bring praise
Accomplishments that result in an easier life
But this morning as I was reading in I Thessalonians, I came across a passage that took the word "ambition" and pointed it in the opposite direction.
Aim low
Stay quiet
Work hard
Paul says,
"Make it your ambition to lead a quiet life,
to mind your own business,
and to work with your hands."
In a world filled with so many ways to "see" the success of others,
I find great peace in knowing that in God's eyes success has nothing to do with how we look to the world but everything to do with how we look to Him.
The pressure is gone to make the most, have the most, or be the most.
Climbing a ladder can be replaced with sitting on a stool.
The pursuit of stuff can become the pursuit of Him.
The road to success can be exchanged for the path to peace.
This morning, I'm thinking about what I want the next chapter of my life to look like.
I'm thinking about how I want my kids to measure success.
I'm thinking about all the disciples gave up to follow Jesus,
and I'm hoping I can be just as faithful in laying down my own desires in order to pick up the desires of Him who loves me most.