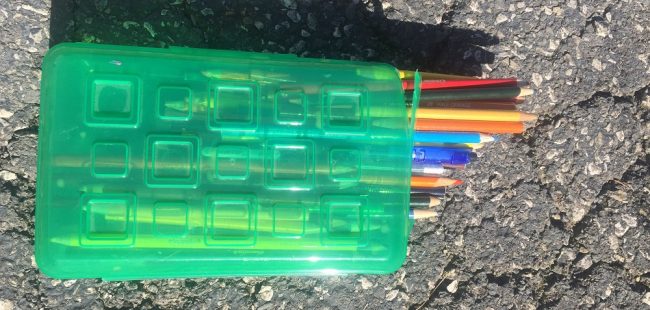 I knew I had overestimated what I could carry in one trip.
Two large notebooks
A Bible
A tub of colored pencils
And my purse………..
The trip from my car to the house didn't seem that far –
until I closed the car door (with my foot) and turned to walk inside.
I could feel the wobbly stack beginning to slip
and before I could see what was happening,
I heard the unmistakable sound of something breaking.
Colored pencils bounced randomly across our weathered pavement and the tub that had once locked securely now lay shattered,
exposing its contents in a way that said,
"I've served my time………..I'm done."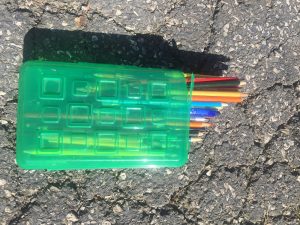 Something about this broken tub reminded me of the woman that had just held these pencils.
Feeling purposeless,
broken,
so done with the time she's now serving,
an inmate I saw today had drawn a picture of herself crying.
"Help me, God!"
she penned above her tear-stained drawing.
As we sat and looked at what she was feeling,
I found myself wordless.
————————————–
We don't get to choose our beginning in this world.
And hers had been anything but easy.
Layers of a hard life,
now covered by the shadow of her looming court date,
were more than she could bear.
And like me trying to make it to my door,
her hands were just too full.
—————————————-
What do you do when you realize you just can't carry it all anymore?
_______________________
Jesus realized His own hands were too full
and took the heavy cup He was holding to His Father,
"Father, if you are willing,
take this cup from me;
yet not my will,
but yours be done."
Luke 22:42
When the Son of God realized He needed help with His heavy load,
He wasn't afraid to ask.
Cast your burden on the Lord, and he will sustain you;
he will never permit the righteous to be moved.
Psalm 55:22
Even the Psalmist knew where to go with hands that were overflowing.
Peter, writing to Christian exiles spread across the Roman empire who surely felt their grasp on life was slipping,
penned the well-known words,
Cast all your anxieties on him,
because he cares for you.
I Peter 5:7
He knew what we all eventually learn……
We just can't do this thing called life all by ourselves.
Stop trying to figure things out.
Stop trying to make sense of this or that.
The past can't be changed
Tomorrow can't be predicted.
And today is often too much to hold on our own.
The best thing to do when the load we're carrying is too heavy is simply lay it down.
Lay it all down.
The notebooks,
the Bible,
the tub of colored pencils,
whatever it is that's about to slip from our hands and shatter anyway…………….
lay it all down.
Leave it at the foot of the cross, because He's there.
And He's got this.
He was (and still is) with us in the joy and pain we feel when we look back,
and He's ahead of us in the good and bad that awaits.
So today, I'm laying it all down,
emptying my hands,
and reaching out for His.
If your hands are too full,
I hope you'll try it too.
For I am the LORD your God who takes hold of your right hand and says to you,
Do not fear; I will help you.
Is. 41:13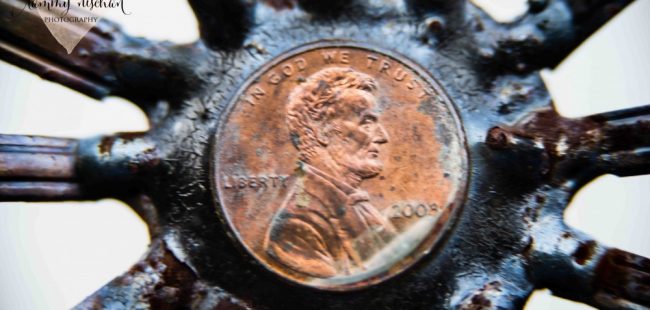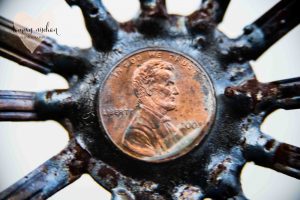 In a world where everything seems bigger and louder than ever before,
I love the thought of a tiny copper coin still having a voice.
———————————————
A purchase today may cost several hundred dollars,
but there's a good chance the total will still end in some sort of cents……..
"That'll be 265 dollars and 23 cents."
I don't know why, but this is powerful to me.
It's as if my heart and mind know that the very minute I say pennies are obsolete,
I say a whole lot more…………
Because pennies have power.
That's right.
One little coin has the ability to stop me in my tracks.
Every single time.
I may be in a parking lot or in a grocery store thinking about a million different things,
but when I spot one,
time seems to stop.
I see Heaven in a penny.
I see Nick.
I see God placing something in my path that gives me permission to slow down.
______________________
Just a few minutes ago, as I was writing this very post,
my phone dinged and I saw the words,
"Look what I just found,"
arriving in a text message.
Attached to the message was this picture……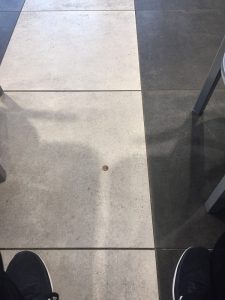 Jon, one of Nick's best childhood buddies, was
walking on the campus of the University of Kentucky when he
spotted one little coin, and it caused him to stop,
take a picture,
think of Nick……and think of me.
Jon made my day today……..
with a short text and a picture of one little coin.
As I came back to finish this post,
I realized Jon gets it too.
Pennies still matter.
And I'm so glad!
————————————————————–
Pennies catch us by surprise.
They send hellos from Heaven.
They remind us that joy will never be found in wealth.
Joy is found in slowing down enough to notice all the little things along the way.
___________________________________
Pennies can do even more than that………
They can also remind us of our past.
Designed by Benjamin Franklin in 1787, pennies were the very first form of currency authorized by the United States.
Almost 200 years later, an image of Lincoln was added to the coin along with the words, "In God We Trust,"
making it the first piece of money to ever bear these powerful words.
____________________________
I'm so glad pennies still matter,
because in this big, loud, busy world………
I need them.
—————————-
Thus says the LORD:
"Stand by the roads, and look,
and ask for the ancient paths,
where the good way is;
and walk in it, 
and find rest for your souls. 
Jeremiah 6:16