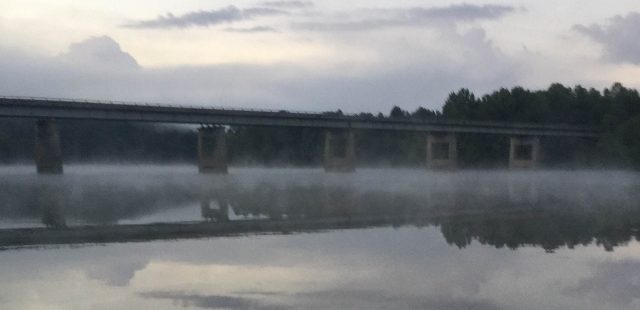 I've thought about this word a lot lately.
Grace.
Receiving something I don't deserve.
It settles over me like a cool morning mist.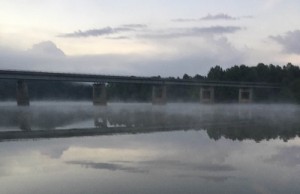 Hovering close.
This thing called grace.
Smoothing out my rough edges.
Hiding my flaws.
God has a way of wrapping me in grace and if I lean back and soak it up,
I begin to feel freed up from everything about me that is so wrong.
But offering grace to others?
That's not always so easy.
I know.
I've withheld grace many times in my life.
I've been a fog lifter.
A finder of imperfections.
A grace thief.
Maybe that's why it's so hard to accept God's offer……………
because the very thing I long for I can't seem to give.
__________________________________________
I'm learning something in my later years of life.
My ability to accept God's grace is
often directly related to how freely I am willing to share it with others.
It's a choice I make, and the consequences are always the same.
Withhold grace.
Struggle to feel God's hand of mercy.
Lifting the fog and exposing the flaws of others ends up pulling the cool mist right off of me,
and I'm fully aware of how it feels to be exposed.
I understand the feeling of having grace withheld.
Vulnerable
Hurt
Weak
Broken
If grace is getting something I don't deserve, I qualify.
I need grace.
I need it every single day.
I also need to offer it to everyone around me.
I have no right to withhold this thing called grace from
the unkind
the impatient
the self-absorbed……………….
because I, too, can be unkind, impatient, and self-absorbed.
The flawed must be extra gentle when handling the flawed.
And I am one of the flawed.
Maybe the lifting of the fog in my own life, the exposing of all that isn't right within me,
is a good reminder of just how much I need to layer my love for others in a good heavy mist of  the very thing I need most……..
This thing called grace.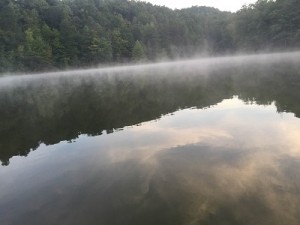 ~ A. W. Tozer, once said, "The cross is the lightning rod of grace that short-circuits God's wrath to Christ so that only the light of His love remains for believers."
May we all be struck by the lightning rod of grace today so that only the light of His love remains.
……for all have sinned and fall short of the glory of God,
and all are justified freely by his grace through the redemption that came by Christ Jesus.  
Romans 3:23-24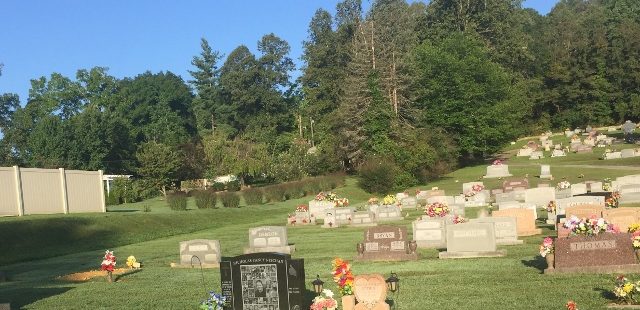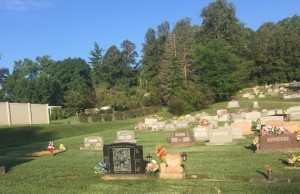 Dinner was finished,
and Tim had headed out to mow.
I needed to get out, too.
Just enjoy some fresh air.
Move a bit.
Get my heart pumping.
As I made my way up the hill near our home, I decided to call a friend and see about her day.
We hadn't been chatting long when I reached the cemetery that holds Adrienne and Nick's graves.
I always look.
Doesn't a mom always check on her kids when she has the chance?
A group of people were decorating headstones,  and I noticed one elderly lady and gentleman standing in front of Nick's.
I could tell they were reading every word, gazing at every picture.
They moved to the back side of his stone, and I watched as they made the connection between the two markers reading "Nischan".
I asked my friend if I could call her back.
I had to meet these people.
I had to introduce my kids.
As I approached the tombstones, I almost turned around.
What if they think I'm crazy?
I couldn't stop myself, though.
When someone takes time to admire my children (here or in Heaven), I have to say "thank you."
I saw some of the other people who were standing nearby look towards me as I grew closer to the couple.
I hesitated for a second and then said,
"Those are my children."
Without hesitation, the elderly lady said, "Oh, I'm so sorry," as if she thought I found her presence there intruding.
I quickly said, "Oh, it's okay!  I just wanted to say thank you for taking time to stop and look.  You just made my night!"
I went on to tell her a little about Nick.
About his sweet smile and spirit.
About his amazing love for life.
I then shared about Adrienne, and we both began to cry.
I gave her a big hug and told her to have a good evening and left to finish my walk.
I don't know who she was or where she was from.
I'll probably never see her again in my life.
All I know is this:
I fell in love with a stranger in the cemetery last night,
because she cared enough about my life to shed a tear with me.
_____________________________________________
Isn't that all we really need in this world?
People who are willing to cry with us when we're hurting,
laugh with us when we're happy,
celebrate with us when we're triumphant,
grieve with us when we're mourning.
I went for a walk to get my heart pumping.
I had no idea I was going to fall in love……………….
in a cemetery.
Whoever you are, sweet lady, know you blessed my heart last night.
You comforted me, and I hope in some small way I comforted you.
I want you to know I love you.
I don't think I told you that.
II Cor. 1:3-5
Praise be to the God and Father of our Lord Jesus Christ,
the Father of compassion and the God of all comfort,
 who comforts us in all our troubles,
so that we can comfort those in any trouble with the comfort we ourselves receive from God.
For just as we share abundantly in the sufferings of Christ,
so also our comfort abounds through Christ.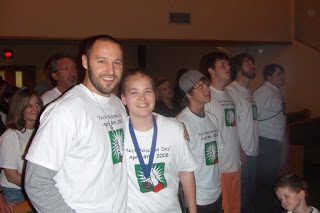 I don't think I can write about anything more pressing on my mind than what happened in my family's life on Friday night.
For those who don't know, our youngest son has cancer. Just typing that is painful. However, I have learned in the past nearly 6 years of living with this reality that God is bigger than anything…..even cancer. He has proven time and time again that He can bring good out of the most difficult situations, and Friday night will always stand out as one of those "good" memories that never would have happened without the ugliness of the illness Nick faces every day.
Several months ago, a couple of young ladies from our church decided to have a celebration night for Nick and were able to have April 4, 2008, declared "Nick Nischan Day" in our small town in Kentucky. Shirts were made and commercials were played on the radio, in the newspaper, and on our local TV channel.
Friday night as I entered the church with Nick, I had no idea how amazing the evening was going to be!
On top of being supported by at least 200 prayer warriors, we shared an evening of praise and worship that literally reminded me of how awesome Heaven is going to be!! Kentucky Christian University students led worship followed by University of Kentucky students in concert! I didn't want the singing and praising to end.
And that's not all……….Nick was totally surprised when, after watching a short video clip from Mike Furrey (wide receiver with the Detroit Lions) and his wife telling Nick that they wished they could be there to support him, Mike Furrey actually walked onto the stage from a side door! It was amazing!!!!!!!!! Mike spoke to everyone about his and Nick's favorite verse Joshua 1:9, and he spoke directly to Nick about how Nick has become his hero. Through tears, Mike shared that because of Nick's bravery and ability to stay positive in spite of his cancer, he has personally became a more committed Christian and a more determined role model who wants nothing more than to use his position as an NFL player to share Jesus with the world.
Wow!
It is difficult in some ways to step down from this memory and simply keep pressing on. I want to sit and savor the feelings from Friday night forever. But the reality of what is ahead of me keeps me pushing onward. Nick has an MRI on Thursday, and until then, we must keep focused on all of Nick's medicines, treatments, etc.
I am reminded of Paul's words to "press on toward the prize…." and that is what keeps me going. I know it is what keeps Nick going too!
I am so thankful for everyone who had a part in Friday night! And I just want to say to anyone who reads my blog………………THERE IS NOTHING YOU WILL FACE IN THIS LIFE THAT IS BIGGER THAN WHAT GOD CAN HANDLE! And when we allow God to handle things, He has a way of transforming them into beautiful memories!
My prayer for you today is that you will let go of whatever is holding you back, and step forward in God's loving arms! He wants to carry you through it all!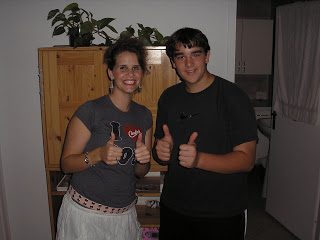 Thumbs up!
This picture was sent to me all the way from Hungary where my dear friend Donnette's daughter is doing a one-year internship with her husband David. This picture is actually Deborah and her brother-in-law, Aaron. They are showing their love, support, and prayers for Nick all the way from the other side of the world!
This journey with Nick as had so many moments just like this one. Times when God reminded me that we are not fighting this battle alone. To see more about Nick's story, you can go to his website, www.nick7-11.zoomshare.com, and see many, many amazing pictures of God's people showing their love to Nick.
Be sure to look for the picture of the cloud my mother saw while driving to our house to begin Nick's radiation! It is a perfect thumbs up! Also, look for Sarah's ultrasound picture where her new little baby sends an amazing thumbs up from within the womb!
This list goes on and on………
God is with us. For tonight, that's all I need to know. Living with a child who has cancer is not always easy, but living with a God who promises to meet our every need is ALWAYS EASY!
I hope that you live a life with God right in the middle of it! If not, please email me. I want to help you find your way to Him! In the end, that's ALL that matters!!!!!!!!! What is it about snow-covered hills dotted with evergreens that are drooping under the weight of heavy white branches? I often look at nature after a snow and am amazed at the pure beauty, the innocence of snow not yet trod by any footprints. I love to see a bird hopping from tree to tree in search of food after a night of snowfall. The simple trust of a bird….she doesn't seem to be fretting as she hops and looks. She actually seems quite certain that eventually she will find just what she needs! And the roads! I love our road before any tires have reminded me that life must go on as usual…..I love when I know that everyone is tucked away in their homes, safe and snug, warm and toasty!
I'm not sure what my favorite part of a snowy morning is, but I do know that our Creator knew just what He was doing when He created all four seasons! What fun He must have had coming up with such a great plan! I can just hear the angels as He shared with them His idea about snow! White innocence falling from the sky, stopping major cities in their tracks, making the most driven of men somewhat immobilized, causing children to have a chance to sleep in and then spend the afternoon riding on sleds!
I love snow! It reminds me that Perfection did once come to this earth. It also reminds me that sin made perfection impossible for all of us. We dirty up the most beautiful of snows with not only our footprints and tires but also with our actions and tongues. The good news is that new snow falls from the sky every year bringing the promise of Perfection back to earth!
As God's people, we must do all we can to show people how they can have a relationship with the Creator of this beautiful snow. We must show them how they can be made white and clean again through the blood of Jesus Christ!
The next time you get to experience a beautiful snowfall I hope you will think of God and His love for you! As beautiful as a snow-covered lawn may be, you are much more beautiful in the eyes of your Creator! He knew you before you were born! Psalm 139 Isn't that great! And I'll bet the angels loved hearing all about God's plans for you too! Have a happy Valentine's Day! You are loved!