He appeared for the very first time in Old Testament history a few chapters ago.
Seemingly out of nowhere,
Moses calls Joshua to battle saying,
"Select some men for us and go fight against Amalek.
Tomorrow I will stand on the hilltop with God's staff in my hand."
Without hesitation,
"Joshua did as Moses had told him….while Moses, Aaron, and Hur went up to the top of the hill."
Fast forward seven chapters,
and this same man is in an entirely position in Bible history.
Aaron and Hur, along with seventy elders,
are told to stay at the base of the mountain to settle disputes
while Joshua joins Moses on the journey to the mountain of God.
Scripture doesn't make it clear if Joshua entered the cloud filled with God's presence,
but it does say he went further than anyone else was allowed to go on that particular day.
I'm not sure why Joshua's story stands out to me this morning.
He appears in only a few verses in both Exodus 17 and 24.
No backstory is given about his life before the battle with the Amalekites.
And no conversation between him and Moses is included to explain his new assignment as Moses' assistant.
He just shows up.
Fights.
And then receives an invitation to join Moses on Mt. Sinai.
A place not even Moses' brother has been invited to go.
Rule and after rule has been delivered to the Israelites.
Now God wants them on display –
So the people can see with their very own eyes what they can and cannot do.
The Ten Commandments are soon to be etched into both tablets of stone and human history.
And Joshua is chosen to be part of this big day.
Maybe that's how God works.
Calling us to a life of spiritual warfare,
He makes it very clear.
We are in a battle.
From the minute we wake up until the minute we fall to sleep,
the enemy is against us.
And sometimes he even shows up in the dark,
filling our minds with fear and doubt.
The devil has one goal.
Take us down.
Wipe us out.
Remove us from the front line.
So God, like Moses, looks at us and says,
"Go fight."
_________________________________
"Put on the whole armor of God,
that you may be able to stand against the schemes of the devil.
For we do not wrestle against flesh and blood,
but against the rulers, against the authorities,
against the cosmic powers over this present darkness,
against the spiritual forces of evil in the heavenly places."
Ephesians 6:11-12
At the same time, like Moses,
He invites us to intimate places with Him.
Exodus 33:14
"And he said, "My presence will go with you, and I will give you rest."
Hebrews 10:19-22
"Therefore, brothers and sisters, since we have confidence to enter the Most Holy Place by the blood of Jesus… 
let us draw near to God with a sincere heart and with the full assurance that faith brings,
having our hearts sprinkled to cleanse us from a guilty conscience and having our bodies washed with pure water.
As Christians, don't we long for God's presence?
An invitation to find rest in His arms?
A way to draw near to Him with confidence?
I know I do.
But this morning, as I look back at Joshua's first appearance in Bible history,
I realize something.
Joshua wasn't asked to go to the mountain until after he faced the war.
A battle preceded an invitation.
And I think it still does today.
Over and over again,
we face spiritual warfare.
Sometimes it's as personal as self-doubt or discouragement.
Other times it's unknown medical results
or resurfacing waves of crushing grief.
War is waged.
Day after day.
In some fashion or another.
And it's only after pushing through enemy lines that we reach the next place with God.
Intimacy follows war.
So today, I don't know which side of the equation you're on.
I hope you're resting in His arms,
having faced the one who longs to destroy you,
and made it to the other side.
But if you're not there yet,
please know this.
The battle you're in will pass.
And He's on the other side.
Waiting at the mountain.
You'll get there in time.
When you arrive,
His presence will wash away the battle scars,
healing your heart and soul long enough to strengthen you for the next attack.
And with each mountaintop experience,
you'll grow a little stronger.
Just never forget….
A battle will precede an invitation
but intimacy always follows a war.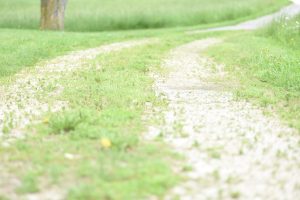 Ephesians 6:13
"Therefore put on the full armor of God, so that when the day of evil comes,
you may be able to stand your ground, and after you have done everything, to stand."
(Today's reading:  Exodus 22-25)