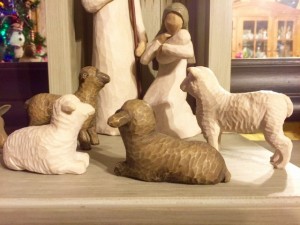 If you read my blog from time to time,
you know I've been struggling for the past couple of weeks.
Giving myself permission to slow down and lean into my grief has been painful, but I believe it's also been necessary.
It's easy to stay one step ahead of grief for a while, but eventually it catches up with you and you have to make a choice:
Run faster or just sit down and embrace its company.
For me, embracing the company of grief has been a difficult but necessary part of this holiday season.
I looked through old photographs of our family and reminisced on many sweet memories.
I even allowed myself to wonder what things would be like today had cancer never entered our family story.
As I wrestled with anger, sadness, disappointment, and even envy,
I found myself being filled up with gratitude, joy, hope, and peace.
The reality is this:
I would walk the very same road again if it were the only way to have the honor of being Nick's mom.
And as I've reflected on our family and how we have each been changed by Nick's presence in our lives,
I've also realized that even though we still deal with a lot of negative emotions we are all better human beings because of the impact he had and continues to have on our lives.
I've been determined to climb out of this pit I've been in, and one thing I did that truly required effort was attend the Christmas chapel service at Kentucky Christian University yesterday morning.
Todd was singing in a choir and his girlfriend was performing in a skit, so I really wanted to be there even though my heart wasn't feeling that full of Christmas spirit.
As the worship band played and messages about the joy of Christmas were shared in several different ways, I found my heart stirring a little.
But when we sang,
"Oh come let us adore Him"
and were challenged to find ways to show Jesus how much we adore Him over the next month,
I realized my focus has been on myself way too long.
My sadness
My loss
My pain
We were given the opportunity to think of ways we could express our love for Jesus and then write them on slips of paper.
I listed several things, and one of them was "Instagram."
I felt challenged to take my focus off of my own life and what is happening with my family and friends and place the focus totally on Jesus for the next month as I post on this form of social media.
I came home and took a picture of my empty Nativity set and wrote my first Instagram Christmas Nativity post.
This morning, as I thought about the Nativity scene and where I wanted to focus next,
 sheep kept coming into my mind.
Surely they were there with the shepherds.
Surely they stood near the manger watching baby Jesus gaze into the eyes of Mary and Mary gaze into the eyes of the Son of God.
Thinking about all of this led me to write this Instagram post:
There's something very powerful about the shepherds being chosen to receive the angelic announcement of Jesus' birth. God used the metaphor of sheep and their shepherd many times in the Old Testament to describe our relationship with Him.
Psalm 100:3
"Know that the LORD Himself is God; It is He who has made us, and not we ourselves; We are His people and the sheep of His pasture."
I wonder if the shepherds reflected on verses just like this one as they tended their flocks day in and day out. I wonder if they felt an extra-special connection with God as they led their sheep while trusting God to be their Shepherd and Lord. It's almost as if God knew these men would be most open to the words in Luke 2:11,
"Today in the town of David a Savior has been born to you; he is the Messiah, the Lord."
I have to believe the shepherds brought their sheep with them, and the thought of these animals surrounding Jesus on that holy night seems like a beautiful foreshadowing of the day when Jesus would be questioned about being the Messiah and would reply,
"My sheep listen to my voice; I know them, and they follow me."
John 10:27
There are plenty of things I'll never understand about the Bible or God's plans, but I find peace when I stop asking questions and start soaking up the beauty of things as simple as sheep being present on the day Jesus was born. I especially feel humbled when I think about how much Jesus loves us. He entered this world knowing that one day He would fulfill Isaiah 53:7,
"He was oppressed and afflicted, yet he did not open his mouth; he was led like a lamb to the slaughter, and as a sheep before its shearers is silent, so he did not open his mouth."
The Christmas season is definitely a time to celebrate the birth of Jesus, but it's also a time to reflect on God's ultimate plan which was to make a way for us, His sheep, to be released from the power of sin and darkness……..and just say thank you.
As I wrote these words, I thought about how easy it is for me to stop being thankful when I fall into times of trouble.
The stresses of this life can somehow get the best of me when I least expect it and when they do, everything good seems to fade into the background as my heart and mind become overwhelmed with everything that is "not quite perfect."
I am such a sheep.
Without a shepherd, I am lost.
Without his rod and staff to guide me and defend me, I am a wandering mess.
Today, I am thankful that the angels announced Jesus' birth to the shepherds.
I'm thankful that sheep were invited to witness the birth of God's Son.
If simple sheep were there on that Christmas day so long ago,
surely God is good with simple sheep like me being near Him today.
I want to follow Him.
I want to hear His voice.
I hope you'll be listening for Him today too…………….
and follow where He leads.