Have you ever held a cup in your hands, running over with all things good,
and found yourself checking for possible cracks,
ways for what you so carefully hold to accidentally slip away?
I'm married to a man who can hold a hole-filled bucket up to the sun and create a magical light display while I stand and wonder how we'll ever carry water in such a useless container.
Why do I struggle so?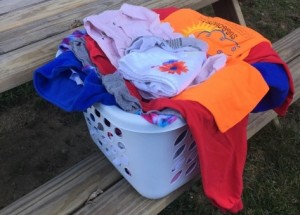 I take the laundry outside to fold.
It's a sunny day,
and I'm thinking a good phone conversation with a friend might help me sort through my thoughts.
But deep inside,
I know the sorting isn't anyone's to do but my own.
It's my laundry after all.
My pile of clothes that need to be dealt with.
Fold a towel.
Sigh.
Fold a shirt.
Sigh.
Why are some days just like this?
I wish I knew.
As I finish, I gather up all the other things I've had outside on this beautiful afternoon.
Shiny string.
Old curtains.
A hot glue gun.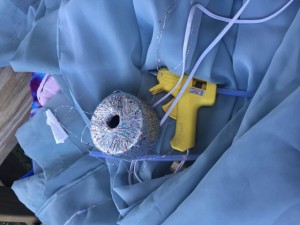 Sometimes Pinterest makes things look way too easy.
I head for the kitchen.
It's time to think about dinner,
and isn't that the perfect time for everything to fall?
Right at my feet………..
my sorted laundry and my thankfully-cooled glue gun.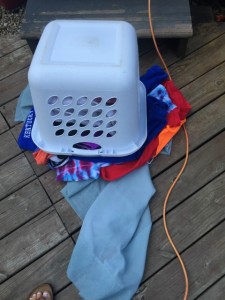 Sometimes a mom's work gets flipped upside down before she can even celebrate it's completion,
and today was just one of those upside-down-kind-of days……
all day long.
Then it all changed…………….
just as quickly as the basket had flipped,
my heart turned upside right when this girl spoke.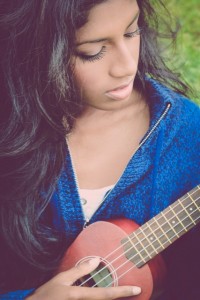 "I've had these kind-of days too, Mom."
That's all I needed to hear, I knew it was true.
She's had her fair share of good and bad days lately,
and there's something about upside-down-kind-of days not being faced alone that makes everything seem to flip right back over into place.
Things aren't quite as bad as they once seemed when someone else sees and really understands.
Life isn't always easy…….that's for sure…………even when our cup looks full.
You'd think I'd have this whole emotion-thing figured out by now,
but so many years of stumbling through life can become a habit…………hard to break.
I'm a stumbler…………
(Maybe saying it out loud is the first steady step toward recovery.)
________________________________________
Years of grief can do a number on the path below your feet.
I'm not trying to make excuses,
but grief makes the path we walk a little rocky and
changing seasons seem to bring fresh reminders of what once was…………
There'll never be a Fall day that doesn't remind me of Nick.
Footballs flying through the air.
Boys on trampolines.
I miss the sound of his voice.
I miss the grin on his face.
Today, I just feel sad;
and I guess I'm slowly learning there'll always be days like this………..
when unexpected waves of longing wash over me.
Uncontrollable feelings of injustice
and jealousy
and anger
and every other ugly emotion that seems to travel right alongside the road of grief
have a way of making even a full cup appear empty.
_________________
On these extra-tough days,
I have to remember that sometimes
laundry has to be refolded
and
glue guns have to be placed back on the shelf………..
in hopes of a better day.
And that's okay.