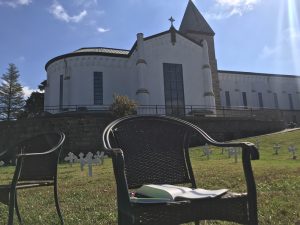 Viewing life as a story has always been "a thing" for me.
Long before learning about the work of Epston and White on narrative therapy,
I saw my life as a series of days broken into sections –
each with a specific purpose.
I  remember sitting with my sister,
when one of us was faced with the break-up of a boyfriend
or some other "dramatic" teenage event,
and saying to each other,
"Well, it's time for the next chapter."
Life has to move on even when we don't want it to.
Turning the page makes it a little easier.
I love to think of the people I encounter,
whether for a day or a lifetime,
as characters in my life story.
Some minor.
Others much more.
But all significant in their own special way.
I wonder sometimes as I read the Bible,
"How did the disciples see their world?"
Did they talk about life before Jesus and after Him
when conversing with friends?
I have to believe they did.
One day a fishermen,
the next a fisher of men.
One day a collector of taxes,
the next a giver of hope.
Talk about a life-changing chapter title –
"The Day I Met Jesus"
I remember sitting in church as a little girl,
learning about a Man who loved me
just as I was.
I didn't understand everything the preacher said,
but I knew this,
"I wanted to know this Man –
more and more."
Time passed.
Church camp
Youth group
Bible college
I had the chance to sit and listen to person after person talk about Jesus.
This Man who came to save me.
I accepted Him as my Savior –
not once but twice.
Being baptized at nine and then feeling as if I needed to be baptized again at seventeen.
The enemy has the power to whisper self-doubt into the ear of anyone willing to listen.
As if I had the ability to take away what Jesus had so freely given.
More time passed.
Various jobs
Marriage
Children
A new home in a new town
The pages of my life were flipping by so quickly.
Short chapters each packed with so much story.
But it wasn't until heartache rocked my world
that the gift of knowing Jesus really took hold of me.
Suddenly it wasn't about knowing Him as much as it was about needing Him.
I was suddenly unable to take one more step without Him.
Right beside me.
Holding my hand.
As I read some of Jesus' parables this morning
and was reminded me of the mystery wrapped up in His delivery,
I couldn't help but think about the crowds listening to His words.
Hearing Him teach but not understanding His words.
They had to be curious if they took time to stand and listen.
But I wonder how many of them walked away unchanged?
I also wonder how many remembered Him later –
when the next chapter of life got hard –
and then ran in search of His presence……once again.
This time needing Him.
Desperately.
I love the thought of Jesus waiting patiently for them to "get it,"
when the right chapter arrived.
_________________
Not much has changed since those early days of  Jesus.
His teaching is still a mystery to many.
Crowds listen from a distance.
Some in churches to preachers.
Some online to writers or speakers.
Some in line behind us at the store.
Curious.
Wondering what's so special about this Man and His message……
but not quite able or ready to understand.
I love knowing their stories aren't finished.
Chapters await –
where Jesus will have the chance
to show up
at just the right time
in just the right place….
just when they need Him most.
___________________
I'm so thankful for all the men and women who introduced Him to me –
long before I understood who He was
or  realized how much I needed Him in my life.
My story will never be the same
since the chapter I invited Him to walk beside me forever.
I think I'm calling this next chapter of my own life –
Parables (and the future) are mysterious.
Jesus is not.