As I walked through the thrift store, this bag of plastic hearts caught my eye………………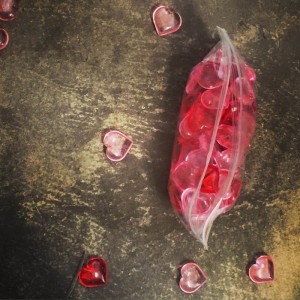 Marked down to 50% off,
$1.50 seemed like a pretty inexpensive way to set the mood for love.
My daughter's boyfriend was making the journey all the way from college just to celebrate Valentine's Day with her.
The least I could do was make this little purchase.
Around the corner I found a white tablecloth with lace trim……………
$2.98
And pink cloth napkins……………..
50 cents each.
A stop at a Dollar Tree for candles, and I was ready to go home and see what I could do to set the mood for love.
I did what I could, but when Luke arrived a few hours later, tired and still in his dirty practice uniform from a long baseball practice, he added the finishing touch.
Roses.
As I looked at the table, I realized just how beautiful love is when we take time to prepare a place for it.
A place for talking and laughing and sharing.
A place for memories to be made.
A place for two people to be together who see in each other someone who makes their life a little better.
That's love.
Nothing super fancy.
Not a lot of work.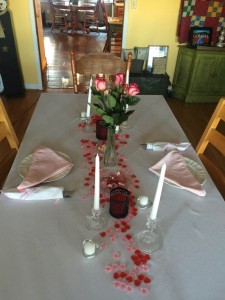 But time………………..it does take time to set the mood for love.
It takes time traveling when you're already tired after a long week of classes and baseball practice and homework and ministry.
It takes time thinking about the perfect gift and then buying it or making it.
(And they both made such sweet gifts for each other.)
If there's one thing I want my daughter (and my sons) and Luke and my daughter-in-law and all their friends to know about love is this………………..
it takes time.
We have to be willing to take a break from checking things off our list of things to do and step away from all the "stuff" that calls our name.
We have to choose to say "no" to the world and "yes" to each other.
Love can't be rushed.
And it comes with no expectations.
Love just is…………….
and that's what makes it so beautiful.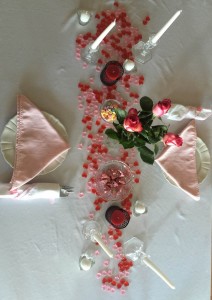 I love that Psalm 23:5 says,
"You prepare a table before me……………"
Even in the presence of what might feel like our enemies,
God takes the time to set the mood for love for us.
He says,
"No matter how hard today might feel,
I have a place at my table just for you.
My love for you cost a lot more than $1.50.
It cost my son's life.
My love for you began the moment I knit you together in your mother's womb,
and I've been spending every single minute with you ever since……………………
you are worth my time.
Candles are lit.
Roses are in place.
Come sit with me.
Even if you feel tired or unworthy,
I want to look you in the eye.
I want you to know………………..
There's nothing in this world that can separate you from my love."
In all these things we are more than conquerors through him who loved us.  For I am convinced that neither death nor life, neither angels nor demons, neither the present nor the future, nor any powers, neither height nor depth, nor anything else in all creation, will be able to separate us from the love of God that is in Christ Jesus our Lord.
Romans 8:37-39
Saturday, I did my best to set the mood for love for Luke and Olivia.
But, as always, God showed me………………
love was already there.
And so is He.
Yesterday
Today
and
Tomorrow
In the beginning was the Word, and the Word was with God, and the Word was God.
John 1:1
Dear friends, let us love one another,
for love comes from God.
Everyone who loves has been born of God and knows God.
I John 4:7
Three things will last forever—faith, hope, and love—and the greatest of these is love.
I Cor. 13:13
Love takes time.
It can't be rushed,
but it's worth every minute.
Set the mood for love today and discover He's already there.
With no expectations but your presence……………He's patiently waiting for you.