When I think back on my childhood, I have so many fond memories of my grandma's kitchen.  I clearly remember drinking Kool-aid out of a cold, brightly-colored, metal glass.  I remember her pantry doors that slid open and shut and how we use to play Price is Right, hiding behind them until one of our cousins "introduced" us to the audience.  I had my first cup of coffee (it was actually warm milk with just a little coffee added for flavor) sitting at my grandma's table when I was just a little girl.  I felt so grown up sipping coffee as I ate my breakfast.  The summer lunch table always included plates of homegrown tomatoes and cucumbers, and I'm pretty sure Grandma made jello every single day.    I use to love to pick her wild flowers from the sides of the dusty roads around their farm.  She would place them in a vase as a centerpiece, and I still believe she loved them more than any bouquet a florist could have created with expert hands.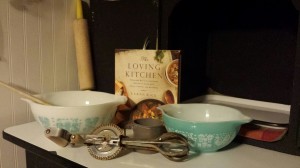 As is this case in all of our lives, there were plenty of things about my childhood that were far from perfect; but when I was in my grandma's kitchen, the entire world seemed to revolve in the right way.  Grandma was a constant in an ever-changing life; and I always knew she loved me unconditionally.
My mom carried on the same kind of "loving kitchen" for my own kids as they were growing up.  Mamaw's house was and still is the cure for any problem or stress my kids were facing.  She is for them what her mom always was for me……a constant source of unconditional love and acceptance.
When my mom called years ago to tell me grandma was very sick, Tim and I loaded the car within hours to make the long trip to Oklahoma.  I wanted to see my grandma one more time before she passed away.  I wanted to give her one last hug and let her know just how much she meant to me.  I could still see her perfectly in my mind as we pulled away from her house the summer before, waving as she always did until we drove out of sight.  And I could remember crying as I always did for the first stretch of the trip back to Kentucky.  Part of my heart will always be in Oklahoma.
When we finally pulled into my grandma's driveway nearly twenty-four hours after my mom called, my cousin Todd met us at our van.  His face was grim, and he shook his head.  I knew we were too late.  She had slipped away just hours before we arrived.
I'll never forget walking into her kitchen knowing she was gone.
On one counter sat her eyeglasses, used mostly for completing the newspaper crossword puzzle.
Tiny pieces of her love were scattered across every counter.
She was gone, but her love was still there.
When I think about my own kitchen, I feel a great sense of guilt as I wonder if I have created the same kind of memories for my own family.
Do they feel love in my kitchen?
What can I do to make this part of my house warmer, more significant?
I want friends and family to know that when they enter my home,
there is unconditional, always-available – LOVE.
I want laughter and tears to feel welcome.
I want hugs to come naturally.
And in the midst of all of this love, I hope from time to time there is a decent meal.
That's why I'm especially excited today to share this give-away.
My friend, LeAnn Rice, has created a cookbook.
She understands what it means to have a "loving kitchen."
In her book, you will find recipes along with inspiration.
And if you knew LeAnn and her love for her son Nick,
you would know that every word was written with just as much love for you.
If you would like to be entered for this giveaway, leave a comment below or on my Facebook page.
I will announce the winner one week from today.
LeAnn's book is also available on Amazon!
It would make an awesome gift for someone you love!
I hope your day is filled with moments where you not only feel the love of family and friend but also feel the love of God.
He longs to share time in your kitchen too!
And where He is, there is love!
I'm thankful today for my grandma and what she taught me about having a loving kitchen.
I hope she smiles when she sees me in mine.
I know she surely laughs!