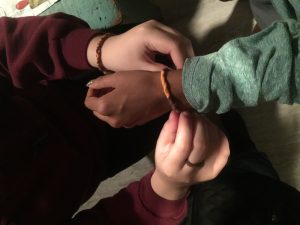 I'll never forget the first time I walked into a jail cell.
Metal bunk beds
Concrete floors
Cinder block walls
Even the faces of the women seemed hard and cold
Freedom and joy, like distant memories, had faded from their eyes.
Holding only our Bibles,
I remember feeling as if  we surely looked disappointing.
We held no power to release them.
We held no great news of a shorter sentence.
We only held words.
As we gathered in a circle with these ladies who longed for so much more than the letters of the alphabet strung together into sentences,
I felt my heart begin to pound.
What do you say when you think words just aren't enough?
_______________________________
My voice trembled as I spoke.
I had never sat where these girls were sitting.
I had no right to say,
"I know this is hard."
After all, what in the world did I know about serving time?
But God, as always, knew something I didn't.
He knew I was serving my own kind of sentence.
And He knew jail was the very place I needed to be.
Just as these women were held back by bars,
grief had imprisoned me.
And just like these women, my joy had been locked up.
As I began to share my own life story with them,
we all wept.
My words somehow became wrapped in His Living Words,
and suddenly God was there………………….
teaching us all that grief comes in so many different kinds of packages.
Loss of loved ones
Loss of freedom
Loss of joy
Loss of hope
Loss of peace
Any kind of loss brings grief,
so we spent the next couple of hours unwrapping our pain together with a little laughter and a whole lot of tears.
______________________________________
Five years have passed since the first time I walked into a jail cell.
The sound of the electronically-locking doors as I move from one room to another is part of my weekly routine.
In some ways, I've grown accustomed to the sights and smells of a life held back from freedom.
But this morning as I sit in my warm home,
lights sparkling on our tree,
gifts patiently waiting for our kids to arrive,
a fire dancing in front of me…………………..
I can't help but think about the women whose life choices have placed them on the other side of freedom.
 I also can't help but think of all the moms and dads I've met through the years who walk the road of grief,
feeling anything but fully free on this Christmas morning.
Holidays are so hard when you're hurting.
This morning my grief isn't pressing down as painfully as it has in years past,
but I don't ever want to journey so far away from my own pain that I forget many are experiencing the new and crushing weight of it every single day.
God has called me to jail and He's called me to grief……………
and the gift He offers in return is a freedom I never felt before.
___________________
I never thought the day would come when an inmate would stand in my kitchen,
but a week ago I had the joy of hugging one of these girls as she stood right next to my refrigerator.
Nervous about the next chapter of her life,
she said it was scary being free.
We talked for a while before she left and then she smiled as she handed me a gift.
A bracelet made from the strings of her towels was all she had to offer,
but in my heart this gift meant more than anything I could have found wrapped and waiting under my tree.
She smiled as she tied a bracelet on my wrist and then another one on my daughter's.
She smiled as she gave one to my friend who had brought her by to say good bye to me.
God was in my kitchen that evening,
and He was gently reminding me that He had chosen jail as the very place to set me free.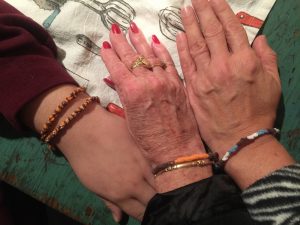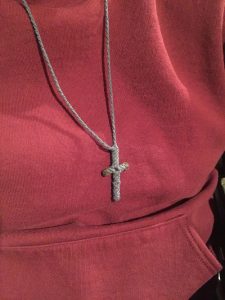 I don't know what your Christmas morning looks like this year,
but I do know this.
God knows the very gift you need in order to grasp the depth and width and height of His love for you.
The freedom that comes from knowing Him…………..the Living Word.
———————————-
A manger was such an unsuspecting place to wrap our Savior,
but I believe that's exactly how God continues to work today…………..
Wrapping just what we need in places we would least likely look.
————————————
If you're longing to feel joy or hope or peace or freedom this Christmas,
don't look under your tree.
I don't think you'll find it wrapped in paper and bows.
Look out your window and down your street.
Look into the eyes of everyone you meet.
Look down
Look up
Look in
Look out
Unwrap the wonder of this Christmas all around you………
just don't expect to find it under a tree.
——————————–
Emmanuel
God is with Us
——————————–
That's the greatest gift we'll unwrap today.