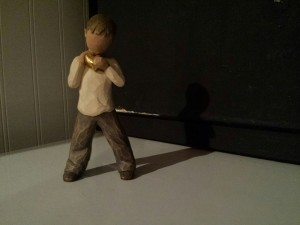 In 1992, our six-week old daughter died of SIDS.
In 2008, our thirteen-year old son died of brain cancer.
Looking back, I don't know how I survived those two years of my life and all the years since.
I don't know how I've managed to pull myself out of bed every single morning and keep pressing on.
I don't know how I've continued to smile, laugh, and love when my heart has felt so broken.
But since Nick's death, I do know this.
I've tried to live a full and complete life in the midst of a lot of doubt and questions.
I've tried to press on toward the prize.
It hasn't always been easy.
Some days are still very hard.
I'm not going to pretend.
Unanswered prayers are painful to accept.
Seeing how these unanswered prayers continue to affect my family is maddening.
Hearing others talk of miracles in their own lives can still hurt to the core of my soul.
So, when I say I don't know how I've made it to 2015,  in many ways I really mean it.
When I realize I have a faith that is still deepening, still vibrant, and still meaningful, I find myself nothing short of amazed.
Yet in some very bizarre way, I find myself thankful and blessed.
Just typing those words can feel wrong, though.
How can I sit here on January 1, 2015, with two tombstones less than a mile from my house etched with the names Adrienne and Nick, and pour out words like "thankful" and "blessed"?
Sometimes I feel like I should be angry and disillusioned.
I feel like I should be bitter.
I feel like I should be skeptical.
And I definitely feel like I should look at prayer as pointless.
After all, we had people all over the world begging God for a miracle, fasting for days, and trusting Him to heal Nick.
But, here's the truth, and sometimes the truth is more painful than the roads we are called to walk.
 NONE of us knows the number of our days on this earth.
If we knew for sure we were going to live to be 100, I think we would miss so much of the sense of wonder about today.
The awe of each new sunrise could easily turn into "just another morning" until we were nearing our 100th birthday, because it's easy to take for granted the things we "know" are certainly going to happen.
Since death is inevitable and the day of our death is something out of our control,
I've spent lots and lots of time reshaping my view of prayer.
And for me, this has made all the difference in my grief.
Prayer is not about getting what I want.
Prayer is about sharing life-
the good, the bad, and the ugly-
with the One who loves me most.
When I focus on sharing life with Him rather than expecting things from Him, everything about yesterday, today, and tomorrow changes.
As I think about 2015, I realize there's so much I do not know.
I can choose to be frightened by this reality, or I can choose to truly surrender all the unknown to Him who knows.
And for me, the act of surrendering has changed everything about my life.
I remember feeling like a baby who had been placed in a crib to cry myself to sleep when I would cry about Nick's death.
It was as if God was whispering,
"Go ahead and cry.  It's okay.  Cry until you can cry no more.  Then rest.  Just lay down and rest."
And so I would cry.
I would wrestle.
I would scream.
And finally.
I would give in and rest.
And every time I did, I found myself a little braver.
A little more confident that He who had placed me in the crib still loved me and would come back for me.
In the resting, I found God very faithful.
I found Him very present in my tears and very compassionate in my heartache.
He has sent pennies and hearts just when I need them.
He has surrounded me with friends and family who find pennies and hearts too.
He's carried me when I can't walk on my own.
And He has helped me reach deep down inside myself and discover my passions of writing and photography and loving people for exactly who they are.
I've got a long way to go on my journey toward becoming the person I want to be, but when I think about a new year, a new start, a new beginning, I am excited.
I feel energized and ready for all the unknowns of this year.
I feel determined to learn new things and stretch myself into uncharted waters.
I feel ready for new adventures.
I don't know the number of my days on this planet, but I do know the One who does,
and I know that He loves me.
So, what's 2015 going to look like for me?
I really have no idea!
I'm just incredibly thankful that God knows every detail about every single day of this year, and He promises to walk before me and beside me.
That's enough to make me excited!
He knows what your year looks like too!
Trust Him with 2015.
And remember that prayer isn't about getting what you want in this life,
it's about spending time with Him who loves you most.
Your eyes saw my unformed body;
all the days ordained for me
were written in your book
before one of them came to be.
Psalm 139:16
I have come that they may have life,
and have it to the full.
John 10:10b