As the worship service progressed, I could feel it.
A gnawing sense of "trying" to draw close to God…………..and failing.
Have you ever felt the wall?
My heart longed to know I was in His presence.
My soul yearned for some type of "feeling" that He was right there.
But my mind continued to wander and wonder.
As the sermon began, I hoped for words that would step on my toes…….and grab my attention.
I should have known that just asking was exactly what God was waiting for……….and that His answer would go far beyond my wishes.
God didn't just grab my attention by stepping on my toes.
He stopped me in my tracks.
If you don't feel strong desires for the manifestation of the glory of God, it is not because you have drunk deeply and are satisfied.
It is because you have nibbled so long at the table of the world.
Your soul is stuffed with small things, and there is no room for the great.
God did not create you for this. 
John Piper, A Hunger for God:  Desiring God Through Fasting and Prayer
The sermon could have started and ended with these words.
They were all I needed Sunday.
As I heard our preacher read this quote and as I read it on the screen in front of me, I knew that my problem wasn't that I was too satisfied with the glory of God…………….
My problem was all my nibbling on small things.
Like a great meal unable to be enjoyed because every spoon has been licked and every item tasted,
I knew I had been filling my life with too much "world,"
leaving little room for the One I love most.
———————————
Today, I confessed my wilderness season to my future son-in-law as I was beginning to clean part of our shed.
As we talked, he made the statement that even the shed could become a "holy place" for me.
I knew in that very instant that my problem hasn't been "God not showing up."
My problem has been missing Him, because I haven't been as intentional about inviting Him into my shed-cleaning moments.
I ran in the house to get my camera, because I knew I would see better through a lens.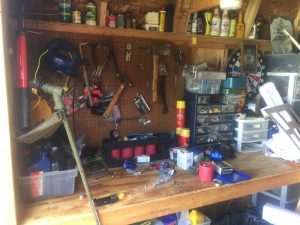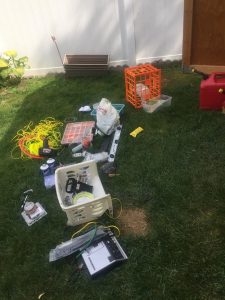 I saw the overwhelming mess before me in a whole new way,
but I didn't feel overwhelmed.
I took everything off the shelf and off the walls……….
and covered our yard with so many mismatched containers of screwdrivers, drill bits, nails, and tools that we could have opened our own little hardware store for days.
Cleaning started only after making a bigger mess.
And I knew my own mess had to be poured out at His feet too.
——————————-
Mismatched thoughts
Mismatched actions
Treasures mixed with trash
———————————
My mind and heart needed sorting more than this little holy building ever would.
The shelf, covered in dust and grease, needed wiped down.
A clean surface had to be created before deciding what could go where,
and I braced myself for God's "wiping down" of all my own dust and grease.
———————————–
Create in me a clean heart,
O God,
and renew a right spirit within me.
Psalm 51:10 ESV
————————————-
My husband joined me in the undertaking, and together we dumped and sorted and purged.
Sometimes even spiritual deserts can't be faced alone.
Our shelf looks almost brand new (more thanks to Tim than to me),
but my heart and mind are still a work in progress…………….
and I know Tim can't finish this job.
It feels so good to hear my fingers clicking on this keyboard tonight…………….
because, for me, this clicking is the one way I am able to see straight.
I write.
And God speaks.
——————————-
 He shows up every time I slow down
and gently reminds me He's been right here all along.
———————————
I am with you and will watch over you wherever you go, 
and I will bring you back to this land. 
I will not leave you until I have done what I have promised you.
Genesis 28:15 NIV
————————————-
It's 3:35 a.m., and I feel better.
Everyone is sleeping.
The house is somewhat clean.
I've edited a photo shoot and texted with a friend who also longs for a closer walk with God.
And I stumbled across another John Piper quote tonight and realized part of my struggle has been balancing my real life with social media……………..
O, how easy it is to do religious things if other people are watching! Preaching, praying, attending church, reading the bible, acts of kindness and charity-they all take on a certain pleasantness of the ego if we know that others will find out about them and think well of us. It is a deadly addiction for esteem that we have.
John Piper, A Hunger for God
——————————
To think this book was written 20 years ago.
Long before Blogging or Facebook or Social Media or Twitter.
It's so easy to look spiritual.
_________________
I'm confessing tonight that my walk with God is a stumbling, tripping, often-falling one.
I'm so thankful for a Father who extends His hand to me time and time again and says,
"Here I am.  Hold on a little tighter."
And I'm so thankful for a shed that became holy and a mess that became His.