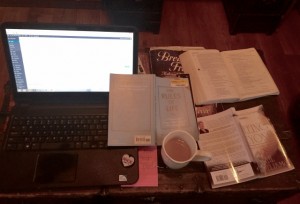 I can handle Walmart.
Long rows of isolation.
A few passers-by and a nod.
That's all I have to give as I look for laundry detergent and dog food.
But church?
There's hugging and laughing,
and so much smiling.
And people praising God for answered prayers.
Then there's me.
Feeling defeated and weary.
And I know there's others, too,
who feel like me;
but I just can't pick them out……………..
at church.
Because church is the place where God is good………….
all the time…………
but sometimes,
I'm sorry,
it just doesn't feel like He is.
So, I get people who stop going.
I understand the feeling of "I've got better things to do."
I really, really do.
But, I'm here today to say that the church needs you when you're broken.
Showing up with your sadness, your anger, your fear…………….
the church needs more people willing to do just this.
Showing up may be the hardest but best thing you'll ever do.
I showed up yesterday.
Minimal sleep.
Eyes puffy.
Hair not quite feeling "church worthy."
And it changed everything about the rest of my day.
As the women in my Sunday school class looked toward me, ready for the day's lesson to begin,
I couldn't hide it anymore.
I just said,
"Are you ever just proud of yourself for showing up?"
And then it happened.
I couldn't hold it back anymore.
Unlike the people in Walmart, these women weren't going to push right by…………..
My tears began to fall,
and I poured out everything……
because sometimes a Sunday school teacher's lesson doesn't mean near as much as her honesty.
Yesterday, I left Sunday school knowing this:
I need my church the most when I want it the least.
Next Sunday, I hope you'll show up.
I hope you'll take off your mask.
I hope you'll allow someone into your pain so that you can know……………
you're not alone
you're loved
and
it's going to be okay.
Church.
God's family.
Show up.
Even when it's hard.
For just as we have many members in one body and all the members do not have the same function, so we, who are many, are one body in Christ, and individually members one of another.
Romans 12:4-5