Kids often run full speed toward new things.
Who wouldn't want to ride on "moving stairs?"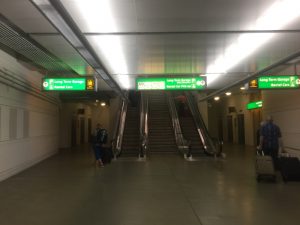 But a lanyard around the neck of a little boy with tiny legs can quickly become an enemy when brought too close to a gap in the moving metal.
Before I could even think, he was way ahead of me,
moving upward,
grinning and leaning down to watch the magic of the machine….
that's when I saw his name tag slip into the temporary space between the quickly-disappearing stairs.
"Help!"
That's all I could scream in that moment,
and thankfully a science museum employee was nearby….
and with the push of a button,
the stairs came to an abrupt halt and my little guy was free.
Unaware of just how close he had been to danger,
he kept on running and we never spoke of it again.
………………………………………………………………………………..
The memory lingers still….
the day we were spared a nightmare.
The day that time, unlike the stairs, didn't stop moving forward.
…………………………………………………………………………………
Not all days move on so smoothly though.
Sometimes the lanyard falls and the stairs keep moving.
Life grabs us.
Pulls us down.
And in a second everything is changed.
Forever.
Yesterday, the stairs kept moving but time stopped for a family we love dearly.
No pushing of a button spared them a nightmare —
and there are no words in any language that can speak into their pain.
I'll never understand these kind of days.
Days when the stairs keep moving but time stops.
I remember so clearly the sound of a lawnmower the day Adrienne was taken from us.
How could grass need mowed when my heart had been so painfully cut in two?
 I remember hearing the sound of laughter not long after saying "goodbye" to Nick.
Would this sound ever come from my mouth again?
Time stopped.
But the stairs kept moving.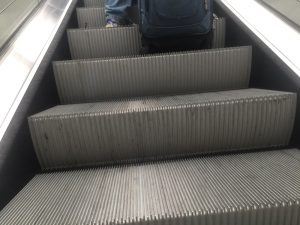 I've been forced onto many moving stairs since the day we were spared one tragedy…..
and I've been forced onto many moving stairs since the days we weren't.
I could never find an answer for my pain when we lost our daughter or our son,
and I can't find one today for a family who has lost three generations of love in one split second.
_______________________________
I could spend the rest of my days on this planet trying to sort things out,
but I would never find the right words to make sense of it all.
————————————–
Stairs moving but time stopping –
how can this ever make sense?
———————————-
I'm not sure what to do with all the questions running through my mind.
Why is the emergency button so close some days and so very far away on others?
I do not know.
I'll never know.
All I know is this:
God is there……
whether the stairs stop or time comes to an all-too-sudden halt.
He's in the middle of every averted tragedy,
and He's in the middle of every moment we're sure we'll never be able to face the world again.
All we can do on these days is cry for help…..
and know that He is there.
I've clung to this passage for many years and found it to be true time and time and again.
Psalm 40:1-3
I waited patiently for the Lord;
    he turned to me and heard my cry.
 He lifted me out of the slimy pit,
    out of the mud and mire;
he set my feet on a rock
    and gave me a firm place to stand.
 He put a new song in my mouth,
    a hymn of praise to our God.
Many will see and fear the Lord
    and put their trust in him.
—————
I don't understand so many things about life, but I do know this:
When time stops but the stairs keep moving,
He is still there.
******************
And I'm forever thankful.
******************
"Yet this I call to mind and therefore I have hope:
because of the Lord's great love we are not consumed,
for His compassions never fail.
They are new every morning;
great is your faithfulness.
I say to myself,
'The Lord is my portion; therefore I will wait for him.'"
Lamentations 3:21-24