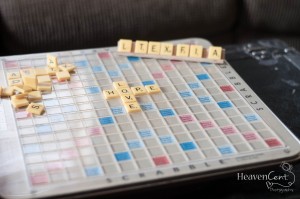 I'v
e read quotes f
rom many famous authors this morning.
Authors who have faced the pain of sudden loss.
I've read 
the words of many famous men and women from history.
Men and wo
men who have walked roads of horrific tragedy and heartache.
I've been searching for some stringing together of words that could somehow speak into the news I heard late last night.
But everything I read seemed to ring with an echo of nothingness like a spoon tapped against pillow.
It's moments like this when I realize just how empty words can be.
It's moments like this when I realize that no matter what man tries to say in the face of unexpected loss, NOTHING makes the reality of last night's news any better.
So, I turn to the only Book that really speaks into pain, the only Author who has the right to voice His opinion about life and death and not be questioned.
He who spoke life into being and who sent His own Son, the living Word, to save us from the one thing we can't understand – death –
His Word somehow takes the same twenty-six letters we all try to jumble together into Facebook statuses and tweets in an attempt to come to grips with news we never wanted to hear and bring a sense of calm in the middle of our chaos.
Our town is grieving today.
Another teen has been pulled from this life to the next in a split-second,
and we as teachers, friends, and family are left here with no words to really communicate anything more than sadness.
So, this morning, I have no words of my own and no words of any other person from history who has walked this tragic road before us and made everything seem better or okay.
I just have His Word.
And I will cling to it today as I prepare to face students with tears and questions.
My use of twenty-six letters will always fall short,
but His Word will always be enough………………….
for yesterday's news, today's heartache, and tomorrow's sorrow.
And I am convinced that nothing can ever separate us from God's love. Neither death nor life, neither angels nor demons, neither our fears for today nor our worries about tomorrow—not even the powers of hell can separate us from God's love.
No power in the sky above or in the earth below—indeed, nothing in all creation will ever be able to separate us from the love of God that is revealed in Christ Jesus our Lord.
We are hard pressed on every side, but not crushed; perplexed, but not in despair;
persecuted, but not abandoned; struck down, but not destroyed.
I waited patiently for the 

Lord

;
he turned to me and heard my cry.

 
He lifted me out of the slimy pit,
out of the mud and mire;
he set my feet on a rock
and gave me a firm place to stand.

 
He put a new song in my mouth,
a hymn of praise to our God.
Many will see and fear the 

Lord
and put their trust in him.