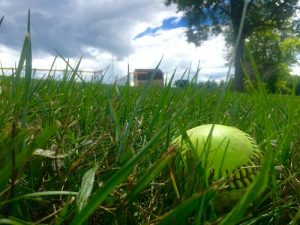 I sat in the grass with Olivia's dog,
waiting for her soccer scrimmage to begin.
Tiny sweat bees danced around my legs and a warm breeze blew through my hair.
It was quiet here, just below the sport's fields on OCU's campus,
and I was thankful for a few minutes to simply soak in the moment.
That's when I noticed the softball, like a forgotten Easter egg, hiding in the grass nearby.
I wondered how long it had been here,
tucked away from sight,
and I wondered how it had arrived.
A foul ball?
A home run?
A missed catch?
Whatever the reason,
this bright yellow softball caught my eye;
and as I placed my phone deep into the blades of grass to snap a picture,
I realized that from the right angle this once-hidden piece of sports equipment quickly became a large and daunting part of the landscape in front of me.
Perspective really does change everything.
_______________________________________
If you've ever battled depression or deep sadness,
you understand the struggle to keep a healthy perspective.
Little things seem so big when you're straining to see through blades of grass strategically blocking your view of the open sky.
Depression feels a lot like looking at life from a laying – down position.
I've walked through life with this enemy holding my hand for many years.
It's hard to let go of something that clings so tightly.
It's also easy to feel less than godly when you know you should be filled with joy because of all that God has done for you,
yet there seems to be a dark cloud looming right on top of your heart many days.
My husband compares me to Jeremiah, the prophet that seemed to be called to a life of weeping;
and I'm learning to embrace this calling as I work with women who have so many reasons to feel incredibly broken and sad.
Life is tough,
and I never want anyone to feel as if their tears are unnoticed, insignificant, or unnecessary.
God created each one of them, after all, and He cares enough to store them in a bottle.
You keep track of all my sorrows.




    

You have collected all my tears in your bottle.




    

You have recorded each one in your book.
Psalm 56:8
When I'm especially sad, I love to remember that the Bible promises,
The Lord is close to the brokenhearted
    and saves those who are crushed in spirit.
Psalm 34:18
I don't know what you're facing in your life today,
but I do know this:
If you're feeling sad or overwhelmed or confused or at the end of your rope,
you are not alone.
If all you can see in front of you is one huge yellow softball that to the rest of the world seems small and hidden,
you are not alone.
If your view of the beautiful blue sky is blurred by waving blades of grass,
you are not alone.
I believe that in our seasons of face-to-the-ground sadness,
God is working in ways He coulg never work while we're enjoying a mountaintop experience.
The valleys in life have a very special purpose,
and I love how the Israelites chose to walk through them…………………………….
As they pass through the Valley of Baka (or Valley of Weeping),
they make it a place of springs;
the autumn rains also cover it with pools.
Psalm 84:6
Today, if you find yourself feeling blue,
consider making your tears into a place of springs.
Find reasons to embrace your sadness,
and ask God what He's teaching you as you faithfully walk through the valley.
Allow Him to lift you above the things that seem so overwhelming;
but until He does,
learn what you can from the yellow softball right in front of you.
Why is it there?
What is it saying to you?
Allow the thing that overwhelms you to become your teacher rather than your master.
Enjoy the view no matter the angle.
Perspective really does change everything.
Since, then, you have been raised with Christ, set your hearts on things above,
where Christ is, seated at the right hand of God.
 Set your minds on things above, not on earthly things.
Colossians 3:1-2