The sermon ended, and I could feel my heart racing.
A lump swelled in my throat and tears filled my eyes.
I leaned over and warned my husband,
"Just so you know, I may go forward. I have something I have to say."
The invitation song was about to begin when our minister,  not knowing I needed Tim right there beside me, asked the elders to come stand with him……………..
in case someone needed prayer.
Tim left our pew.
He joined the other elders across the front of our sanctuary, leaving me alone with my racing heart.
As the song began, I felt the near-panic welling up inside me.
I turned to a dear friend standing on my left and said,
"I really need to say something."
She hugged me as I began to cry, and she knew what I was battling…………
she had heard the sermon too.
I could no longer fight the urge to stay where I was,
and I stepped out into the aisle.
Once I was out, there was no turning back.
I had to either leave the service or move forward,
so I did what any wife would do in that moment.
I walked straight to my husband.  He knew my struggle.
He knew exactly why my heart was pounding,
and I as approached him he held out his arms.
Deep inside, I believe his heart was pounding too.
Hearing a sermon about God and the power of prayer isn't easy when you live a life filled with unanswered ones.
I whispered in Tim's ear exactly how I was feeling, then he did what he would have done for any hurting church member in that moment………
He prayed for me.
I felt peace wash over me and rather than asking for a chance to speak,
I returned to my seat.
I found myself continuing to wrestle with so many different emotions, and in some ways I was sure I had grieved the Holy Spirit by remaining silent.
I knew so many people in that sanctuary also live lives of unanswered prayers, and I wanted so much to say,
"James 5:14-15 makes no sense to me, and it's verses just like these that make me understand why people walk away from church and God."
"Is anyone among you sick? Let them call the elders of the church to pray over them and anoint them with oil in the name of the Lord.  And the prayer offered in faith will make the sick person well; the Lord will raise them up."
I wanted to say so much about how we had prayed with deep faith for Nick's healing and how the elders had anointed him with oil not once but twice.
I wanted to say that if prayer has to be fervent, ours was.
I wanted to say that if fasting is required, we fasted.
I wanted to say that if prayer has to be offered by someone free from sin in order for God to hear and answer,
then who in the world will ever have a prayer answered, because haven't we all sinned???
It wasn't the sermon that pushed me to this point of desperation,
it was the Bible.
It wasn't the minister who left me feeling bewildered yesterday,
it was God.
How in the world do I keep stepping forward in faith when my faith wasn't even enough to save my very own child from cancer??
How much more earnest could prayers be than those of a mom in the middle of the night as her child lay sick and suffering?
Believe me, I spent many nights walking the floors of our house pouring out my soul to the Creator of the Universe,
bargaining,
making promises,
begging,
bawling,
reading His own Words right back to Him,
trusting and believing in the power of prayer.
Until the very last minute, I knew God could do the impossible…………………….
I knew God had the power to heal my son……………….
and then Nick stopped breathing………………
and I was forced up against a wall that pinned me tight.
Immediately, I felt as if the devil began taunting me with questions like,
"What are you going to do with Him now?"
"Where was God when you needed Him?"
And since that moment almost seven years ago,
I have walked the fine line of deep faith and wavering belief.
I have juggled all that God is with all that God hasn't been.
I have watched people I love become disillusioned with His power,
and I have found myself shaking my fist one day and raising my hand in praise on another.
I love God,
but I also don't understand Him.
And yesterday, I wanted my whole church family to know that no matter how disappointing life can be I still believe it would be worse to walk without Him.
I live a life mixed with so much hope and so much disappointment.
Every single day, I walk a road paved with both overwhelming joy and overwhelming sorrow.
I trust God, but I don't always understand the Bible.
I have done a lot of research on James 5:14-15.
I prayed so hard this morning that God would lead me to exactly what I needed to hear and know.
I chose not to speak yesterday, but I can't be quiet today.
I can't be quiet because I found something that helped me find some peace, and I want others who feel defeated by unanswered prayers to feel peace too.
James asks, "Is anyone among you sick?"
I read this morning that "all Greek lexicons agree that its primary meaning is "to be weak, feeble, or impotent." It is most often used that way in the epistles. In Romans 4:19,14:1-2, 21 it is used of being weak in faith. In 1 Corinthians 8:9, 11-12 it is used of spiritual weakness. In Romans 5:6 it is used to refer to the spiritual impotence of the unsaved. In 2 Corinthians 11:21 it is used to refer to the weakness of personality."
http://www.gty.org/resources/positions/P09/when-the-healing-doesnt-come
As I read on, I realized that yesterday, I was the one who was weak.
I was the one who was feeble.
And even though I was struggling with the words of James, I did exactly what he said to do.
I went to an elder for prayer.
And somehow this grieving mom was "raised back up."
When Nick was sick, I wanted so badly to believe that there was something I could do to save Nick.
I wanted a verse that said,
"Do this or that, and your prayers will be answered."
But what if God is so much more interested in our spiritual wellness than He is in our physical?
What if we could reach a place where like Paul we could honestly say,
"To live is Christ.  To die is gain."
Phil. 1:21
I have so much more to say, but for today I'll say this:
If you're walking a road that seems to be filled with unanswered prayers,
tell God how you feel.
Ask Him to lead you to the right words, the right people, the right places.
________________________________________
I will never understand Nick's death.
Ever.
But I do believe with all my heart and soul that I will see him again one day………..and my faith will become sight.
For today, that is enough to know and believe.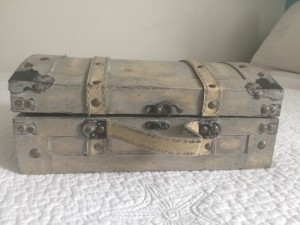 But store up for yourselves treasures in heaven,
where moths and vermin do not destroy,
and where thieves do not break in and steal.
Matt. 6:20