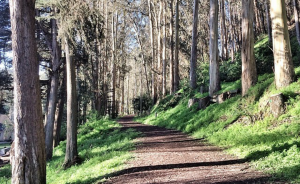 Imagine an island covered with tiny huts or a forest filled with little cabins.
As you move from one make-shift home to the next you discover that only one has a secure roof.  All the rest give no protection from the sun, the rain, or the wind.
Where would you live if given the choice?
I think we would all choose a home with a secure roof.
Our journey through life is a lot like a stroll across this island or through these woods.
God gives us a choice of where to live all along the way.
He is not a God who forces His way into our lives, but He does make it very clear that our decisions affect our quality of life.
If we are longing for rest in this world, we need to take a good look at where we have chosen to dwell.
Psalm 91:1-2
Whoever dwells in the shelter of the Most High
will rest in the shadow of the Almighty.
I will say of the Lord, "He is my refuge and my fortress,
my God, in whom I trust.
It's almost like a formula:
Dwelling here = Resting there
In my own life, I've found that my seasons of unrest seem to line right up with y seasons of trying to live my life outside the protection of God's shelter.

Sometimes it takes a lot of rain, a lot of sun, or a lot of wind to wake me up to the fact that I am not where I need to be spiritually.
But when I get it – when I finally  look up and realize I'm no longer dwelling in the shadow of the Almighty, I love that God is right there waiting for me.
It's as if He has my resting place reserved and ready.
I just have to arrive and take up residence.
Today, if you're feeling unsteady, restless, or unsure, take a good look at where you're dwelling.
Are you close enough to God to dwell in His shadow?
If not, walk closer to Him today.
Start your week in His presence.
Give Him all of you, and you will quickly find yourself freed up from the cares of this world.
He longs to become your protection from the brutal forces of this life.
He also longs to fill your days with every good and perfect gift.
When I think about dwelling in the shadow of the Almighty, I feel safe and secure because I know His shadow is steadfast and trustworthy.
James explains it this way,
James 1:17
Every good and perfect gift is from above,
coming down from the Father of the heavenly lights,
who does not change like shifting shadows.
Today, consider where you're dwelling.
If you're not finding rest there, it's time to move closer to Him who loves you most.