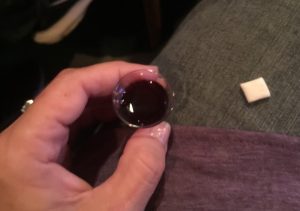 I remember family vacations that included Sundays.
No matter where we were, from a campground to a parking lot,
dad would pull out a bottle of grape juice and a box of crackers.
And right there in the middle of who-knows-what-kind-of-moods we were in at the time,
we would stop everything long enough to eat one broken piece of a Saltine and sip one little gulp of Welch's.
 I remember feeling sort-of embarrassed as the juice bottle and cracker box sat on the hood of our car and dad read a verse about Jesus dying on the cross out loud to us.
"Who else does this?
"Why can't we just wait and do this next week at church?"
I would often think to my teenage self.
Looking back on this image of our classic 70s family, clothes and all, and remembering what a moody, difficult girl I could be at times,
I am forever thankful.
I learned then what I didn't really appreciate until now.
This tiny meal sustained my family.
And it still sustains me today.
Every week as I pick up the little piece of bread,
I'm reminded of His body.
Broken just for me.
I am often overwhelmed by the feeling of this cracker being crushed by my teeth, sticking in my throat as it goes down.
It's hard to swallow the fact that someone willingly died so I could live.
If I could just wash this down…………………remove the pieces of this memory.
And then I remember, I can.
I hold the tiny cup to my lips and I'm thankful for a way to rinse the dry feeling of the cracker from my throat,
but as the liquid goes down I'm reminded of His blood, the blood that washes away my sin.
Only God would choose something red to make something white.
Jesus died for me.
He paid the price for everything I've thought, said, or done.
And every single week He's provided a way for me to remember.
A way for me to reflect on and regroup from every stumbling step I took since the last time I met Him here…………….at the table.
I need this meal more than any other.
I need this tiny cracker and this miniature cup.
They convict me.
They refresh me.
But most of all,
they remind me.
They take me back to a place I've never actually been to experience a moment in history that changed our calendar from B.C. to A.D. and changed our future from despair to hope.
 And he took bread, gave thanks and broke it, and gave it to them, saying, "This is my body given for you; do this in remembrance of me." In the same way, after the supper he took the cup, saying, "This cup is the new covenant in my blood, which is poured out for you.
Luke 22:19-20
It's only Wednesday, and I'm already hungry.
Maybe that's what Jesus was talking about in Matthew 5:6 when He said,
"Blessed are those who hunger and thirst for righteousness,
for they will be filled."
I need this meal weekly.
And I'm thankful my parents did too – long before I really understood why.