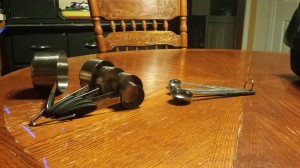 If portion control is the secret to losing and/or maintaining your weight,
consider these verses today with regard to your spiritual life.
I say to myself, "The LORD is my portion; therefore I will wait for him.
Lam. 3:24
LORD, you alone are my portion and my cup; you make my lot secure.
Psalm 16:5
My flesh and my heart may fail, but God is the strength of my heart and my portion forever.
Psalm. 73:26
No matter what you're facing,
no matter how easy or difficult life may seem at this very moment,
never  forget that with God as your portion you have just what you need.
He is enough for your today and your tomorrow.
He satisfies every longing.
He quenches thirst.
He is more than sufficient.
He is more than enough.
He goes above and beyond.
He is our extra mile.
For this reason I kneel before the Father,  from whom his whole family in heaven and on earth derives its name.  I pray that out of his glorious riches he may strengthen you with power through his Spirit in your inner being, so that Christ may dwell in your hearts through faith. And I pray that you, being rooted and established in love, may have power, together with all the saints, to grasp how wide and long and high and deep is the love of Christ,  and to know this love that surpasses knowledge–that you may be filled to the measure of all the fullness of God.
If you want to be filled up today, let God be your portion.
He is the perfect diet.