It caught my eye.
The shiny copper coin on the sidewalk seemed to say,
"You're walking in the right direction today."
"Keep moving forward."
If you know me at all, you know I love pennies;
and this particular day I had no idea how my moment with this tiny coin, worth very little in the eyes of an economist, would grow in value over such a short period of time.
As I leaned down to pick it up, I heard a voice ahead of me say, "Mrs. Nischan, I want you to meet someone."
I smiled as I looked up and saw a family standing with one of my co-workers.
The son was the one with whom I would have my conversation.
A high school student, bound to a wheelchair in a way I could tell was more than temporary.
He was able to answer my questions yet rarely able to look me in the eye even though he grinned and seemed to enjoy our conversation.
Math was his favorite subject.
He sort-of liked school.
In so many ways, he was like any other boy.
But in so many other ways, he was never going to be like every other boy.
I didn't realize as we talked that my heart was beginning to ache.
It didn't really hit me until I shook his parents' hands and told them to have a great day.
Yep.
Those were my life-changing words to a couple who looked tired and weary.
Sometimes my words seem so empty.
As I walked into the office of the school, everything began to roar in my head.
When I saw the secretary who I love as a dear friend, I couldn't keep it in.
I tried to say something but found myself struggling to just say, "I'm having a moment."
Tears began to pour and I knew that grief had ambushed me and that the penny may have very well been Nick's way of saying,
"Brace yourself, mom, life is getting ready to get really hard."
Nick.
Wheelchair bound.
I tried not to go there in my mind, but it was too late.
The crashing of today with my own yesterday happened without me even having a chance to say,
"Let me get home first.  Let me handle this alone."
So, I let it all out.
I had a good cry.
I embraced my moment of hurting for these parents, wishing life was different for this young man, and reflecting on my own years with a son unable to walk on his own.
Moving on with my work day wasn't easy, but I managed to blow my nose, fix my mascara, and head on to the next task on my to-do list.
About an hour later, I returned to that same office after spending some time with students reviewing for a test; and this time I was greeted by a girl who had no idea about the incident earlier in the day.
She held up a piece of paper and said,
"Mrs. Nischan, I made this for you."
In front of me was a plain sheet of notebook paper with the shape of heart cut out of the middle.
Around the heart were the words,
"I love you."
I looked at this girl who had been my student about five years ago and said,
"You have no idea how much I needed this today."
I was just about to tell the secretary how I had realized this weekend that Adrienne's tombstone is in the shape of a heart and how maybe the pennies I find are from Nick and the hearts I see are from Adrienne when I saw something that took my breath away.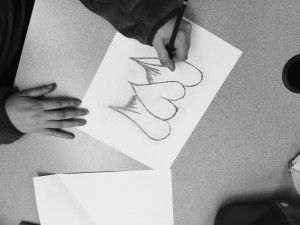 Another student sitting in the office was also doing artwork.
Her drawing seemed to confirm what my heart was feeling.
See, Adrienne's tombstone reads,
"Gone to be an angel,"
and this girl was finishing a drawing of a heart with angel wings.
As the secretary and I looked at the drawing and then at each other, we knew we were in the middle of more than just an everyday moment.
We were certain we were standing on holy ground.
I left that office on that particular day feeling incredibly loved and cherished by a Father who knew just what I needed on a very emotional day.
My penny-on-the-sidewalk moment had blossomed into so much love and hope and joy.
The story didn't end here, but I'm saving the rest for another day.
For now, I'll say this:
Life can be very hard.
Believe me, I know.
But life is also full of penny moments and heart moments that can make all the pain and heartache we carry inside of us transform into a deep awareness of God's presence on the most difficult days.
I believe He sees every tear, and He cares deeply.
Yes,
Life can still be great.
He's able to bring wonderful news and even miracles from time to time,
but for the most part,
He brings comfort in the moments when what we pray for and hope for and long for seems to be answered with an incredibly painful "no".
Look down today……………….find pennies.
Look around today…………………find hearts.
Look up today………………find Him.
He's with you.
I promise.
And He cares.
I've had a fairly wordless week when it comes to blogging, but this morning I had to share part of this story that made one day of my work week a little brighter.
I hope it makes your day a little brighter too.
Happy Friday!
Happy Spring!
You will seek me and find me when you seek me with all your heart.
Jer. 29:13