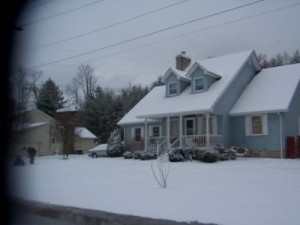 Here I am.
It's 2:45 a.m. and, once again, I'm awake while the house sleeps.
I really should have been a nurse.
(I could have worked the night shift beautifully.)
I learn this about myself every winter, because
snow days turn me into a bat.
As soon as I hear the words, "No school tomorrow,"
I feel like a little kid who has just been told I don't have a bedtime!
I dive into a cleaning project or read a book or watch a movie or clean a room,
because I know my alarm clock won't be going off at 4:45 a.m.
What is it about the word "snow day" that transforms me into someone who cannot sleep??
I'm not sure, really, but I decided I'd better write a little post tonight while I'm awake just in case my "bat" habits prevent me from having time to write anything in the morning.
I read about Sarai and Hagar today.
What a pair!
Sarai tried to solve Abraham's "heir dilemma" by offering Hagar as a possible mother to his promised son,
and then Hagar tried to run away after giving birth to the only son Abraham had ever had.
It's easy to read this story and think,
"Ladies, please, what were you thinking?"
As soon as that thought zips through my mind, though, I hear Tim lightly snoring next to me,
and I realize I should have been asleep about 5 hours ago;
and suddenly, I'm fully aware that I am always one decision away from making the right one.
And somehow God still loves me.
I think that's what I love most about the stories of these two women:
God didn't give up on either one of them.
He loved Sarai and Hagar all the way through to a blessing.
He still allowed Sarai to have her own son, Isaac,
and He pursued Hagar, bringing her back to safety, when she tried to run away from all her problems.
I love that God works in spite of our bad decisions and our attempts to escape reality and continues to love us right back into His story.
If you feel like you're one decision away from the right one,
take heart.
God still loves you.
If you feel like you've been trying to run away from your troubles,
be encouraged.
God will pursue you no matter how far away you roam.
Tonight, I'm thankful for the stories of Sarai and Hagar because they help me feel normal when I am impulsive, weak, or afraid.
Snow days turn my world upside down,
and I blog when I should be sleeping.
But somehow God still speaks to me tonight.
Not that late-night blogging is quite as bad as giving a servant to your husband in order to have a son or running away from your home because you can't handle the situations there.
But, still, I should be sleeping.
I should be resting before the big day ahead of me-
Olivia's 16th Birthday!!!!
That's a whole other post I'll have to write later!
This morning, I am thankful for the honesty of the Bible.
I'm thankful that men and women made poor decisions and God somehow brought good out of even their mistakes.
I love that just as God was with Sarai and Hagar in their messed-up lives,
He is with me in mine.
He's with you in your life too,
and I hope that's enough to keep you smiling today (or tonight or whenever it happens to be that you read this!)
I love you all so much!
Even at 3:37 a.m.!
Oh, snow days, look what I allow you to do to me!