Paris
Baghdad
Mexico
Japan
Beirut
The headlines are filled with terrorist attacks and natural disasters this morning.
——————————————————-
Last night, our television was glued to the breaking news in Paris.
As I prepared to leave for a middle school lock-in at our church, I was filled with a sense of dread and fear.
The juxtaposition of these two events overwhelmed me.
Choosing board games seemed so wrong as people on the other side of the world had no choice but to hide as men with weapons roamed their streets.
I could feel welts begin to pop up on my chin…………..my bodies way of handling stress the past few years.
What could I do??
A mom in a little town in Kentucky……….overwhelmed for people in a country oceans away.
As I walked to my car late last night, I glanced up toward the sky.
The stars seemed to sparkle, and I remembered moments almost seven years ago when these celestial creations seemed to almost speak to me.
After Nick died in November of 2008, I would often stand on our deck and just look up, wondering if he could see me.
Wondering if he knew that even though I was moving forward, my heart was standing so very still.
That's exactly how I felt last night.
I was moving forward……..toward a church lock-in,
but my heart was frozen…..
stuck……..
in Paris.
This beautiful city where my son and daughter-in-law spent time this summer.
This place where my daughter-in-law made new friends during her month of studying abroad.
This place where a big part of her heart always stays.
I found myself whispering those very words again,
"Are you there?"
Last night, though, I wasn't asking Nick about his presence.
I was talking to the Creator of the universe.
I was speaking to Him who first spoke life into existence.
"Are you there?"
Deep inside, I know He is……………………….but sometimes I wonder.
I trust and I doubt.
I feel brave and I feel terrified.
I'm confident and I'm insecure.
I feel certain and I feel unsure.
I stay calm and I become panicked.
I know peace and I know turmoil.
I walk by faith, yet I stumble with every step.
Last night, I came back home at 1 a.m. after several fun games and lots of laughter, leaving college girls to man the still-very-awake middle school crew.
Every once in a while, I take advantage of my age………………
and last night was one of those nights.
I just needed a bed, a safe place to lay my head.
I woke up early this morning in spite of the late night, and my heart immediately filled with thoughts of France.
I knew it was pointless to try to go back to sleep, so I made my way through the darkness of the morning and began reading more news stories……………….
wondering how in the world the whole world is supposed to wake up and face today?
Last night, one news commentator said,
"The world as we knew it has forever changed."
What do we do with this kind of news?
What do we do when we look at the night sky and wonder if God is there?
What do we do when we wake up and fear is the first emotion that runs through our body?
Psalm 56:3-4 is a verse I have clung to for years.
I'm a woman who battles anxiety almost every day.
When I am afraid, I put my trust in you…………In God, whose word I praise—
in God I trust and am not afraid.
    What can mere mortals do to me?
Sometimes it feels like God is so unreachable, so very unaware…………….
Sometimes it feels like we're on our own,
facing evil at every turn.
In moments like these, I'm so thankful for verses like the ones above.
In times of unsettling reality, I need words to settle me down.
This morning, I woke up feeling scared.
Darkness filled my bedroom and my heart.
I did the only thing I could do in that moment……………
I stumbled through the darkness and eventually found my way to Him.
Isn't that just how He works??
He leads us through the darkest valleys……………
and says, "fear no evil."
I have to remember that He doesn't say there will be no evil……………….
He simply says, "Do not fear it."
So, today, if you find yourself waking up filled with fear,
stumble toward Him.
So do not fear, for I am with you; do not be dismayed, for I am your God. I will strengthen you and help you; I will uphold you with my righteous right hand.
Isaiah 41:10
"Peace is what I leave with you; it is my own peace that I give you. I do not give it as the world does. Do not be worried and upset; do not be afraid."
John 14:27

Do not be anxious about anything, but in every situation, by prayer and petition, with thanksgiving, present your requests to God.  And the peace of God, which transcends all understanding, will guard your hearts and your minds in Christ Jesus."
Phil. 4:6-7
"For God has not given us a spirit of fear, but of power and of love and of a sound mind." 
II Tim. 1:7
The sun has risen since I began writing this morning.
I have to remember……………
God is as faithful as the dawning of this new day.
The world as we know it may have changed forever last night,
but God is still God.
He is still on His throne.
Malachi 3:6 says,
I the LORD do not change.
Lean on those words today.
Acknowledge Him.
Press on, even if you stumble all the way.
He is there………….just ahead……………as faithful as the rising sun.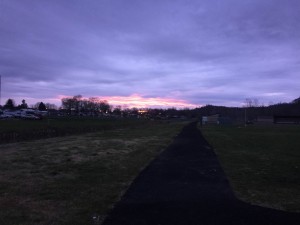 Let us acknowledge the LORD; let us press on to acknowledge him. As surely as the sun rises, he will appear; he will come to us like the winter rains, like the spring rains that water the earth."
Hosea 6:3