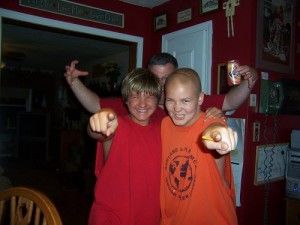 This weekend, Nick's childhood buddy and sidekick is getting married.
Nick should be standing beside Brandon on this big day;
but since he can't, Brandon has asked Tim to stand in his place.
With their engagement happening on 7-11 in Nick's memory and their wedding being set for 11-7,
Tim and I are overwhelmed with emotions this week as we reflect on the memories of these two boys together.
Sleepovers
Trampoline wrestling matches
Video game marathons
Movie nights
Walks to and from each other's homes
Last night, we sifted through photographs trying to find a perfect one for the wedding display.
This picture made us both feel happy and feel sad at the very same time.
Life has changed so much for our family since that day,
but one thing I know for sure…………….
Nick is still smiling that same kind of smile, and he wants us to keep on smiling………………
for him.
I've found myself a little less full of words lately,
but my heart hasn't been any less full of emotions and my mind hasn't been any less full of thoughts.
This morning, as the sun rises and a new days begins,
I had to take a minute to share this memory and just a few thoughts on what it means to a parent when their child is remembered and honored in such a special way.
When your son is in Heaven and is asked to be the best man in a wedding,
it's as if the whole world stops and says,
"We will never forget your boy and the part he played in our lives."
Having your child included in conversations and events after they are gone is a gift that exceeds anything that could be wrapped in paper or placed in a gift bag.
Grieving parents have one burning passion……………….to keep their child's memory alive.
Grieving parents want to know that all the love and memories and joy their child brought to the world has not faded away.
Grieving parents want to know that if their child were still here,
they would be right in the middle of so many happy days.
Grieving parents want to still feel like joy-filled parents,
because deep inside they wouldn't trade their pain for a life without a reason for it.
Today if you have a friend who is grieving,
don't be afraid to send them a note or give them a hug and just share a memory of their loved one that makes you smile.
Death may try to take away our loved ones, but it can never take away our precious memories.
O death, where is your sting?
I'm thankful today for Brandon and Abby and their desire to have Nick share in their special day in such a significant way.
I know Nick will show up.
He's already been making himself known through hearts and pennies in extra-big ways this past week, and I am confident of this:
Heaven is real.
We are surrounded by a cloud of witnesses.
The veil between this life and the next are incredibly thin.
Nick loved God so much.
If He could say one thing to you today, it would be this,
"Smile and believe.
Life is short.
Life is a gift.
Cherish every breath."
You made me; you created me.
Now give me the sense to follow your commands.
May all who fear you find in me a cause for joy,
for I have put my hope in your word.
Psalm 119:73-74