Have you ever read a really great book?
Drama
Suspense
Conflict
Turning the page is the only option,
because you just have to know what's next.
Powerful story lines keep us up all night,
and I like to think our life stories are what keep God up, too.
 When I read Psalm 121,
I lift up my eyes to the mountains—
    where does my help come from?
My help comes from the Lord,
    the Maker of heaven and earth.
He will not let your foot slip—
He who watches over you will not slumber;
 indeed, he who watches over Israel
    

will neither slumber nor sleep.
 The

Lord

watches over you—
    the Lord is your shade at your right hand;
the sun will not harm you by day,
    nor the moon by night,
I see a God who is so drawn to our stories that He cannot slumber or sleep.
He watches over us.
The author who is penning our stories never stops writing,
even as we sleep.
And what He writes matters.
It's easy for me to forget this on days when my biggest accomplishment may be trying a new crock pot recipe or having all bathrooms clean at the same time.
But even on these days, I am inspired to live a big life because the Creator of the Universe is intimately involved in every breath I take.
I scrub the shower.
He scrubs my heart.
I wash the dishes.
He washes over my soul.
I add ingredients to soup, and
He gently reminds me that I am also made up of all I choose to add to my life.
From the rising of the sun outside my bedroom window
to the magnificent spider web stretching across my sidewalk,
He reminds me of His faithfulness.
Because of the Lord's great love we are not consumed,
for his compassions never fail.
They are new every morning;
great is your faithfulness.
Lam. 3:22-23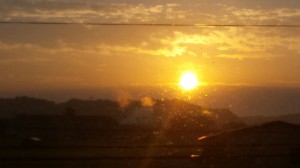 Such is the destiny of all who forget God;
so perishes the hope of the godless.
What they trust in is fragile;
what they rely on is a spider's web.
They lean on the web, but it gives way;
they cling to it, but it does not hold.
Job 8:13-15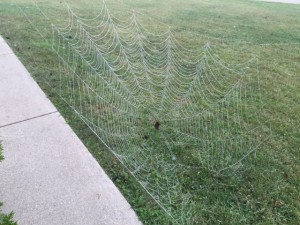 It's easy to look around and see other stories that seem more exciting or more purposeful,
but I believe there's power in every single page of every single of life.
God can take the quietest stories
and transform them into magnificent novels.
The Bible is filled with men and women who in the world's eyes weren't popular or famous, yet in God's eyes were exactly who He needed in order to do His mightiest work.
___________________________________________
No matter how difficult
or complicated
or lonely
or confusing
or insignificant
your life may seem,
never forget this:
Your story matters, and it keeps God awake all day and all night.
___________________________________________
 Today,
Lift your eyes to the hills.
Your help comes from the Lord, 
the Maker of the Heavens and the Earth.
He's reading your story,
and He loves turning every page!
He sees the end, too,
and He knows you won't be disappointed!