To every woman who's hurting,
I love you.
To every son or daughter who's longing for a hug,
I love you too.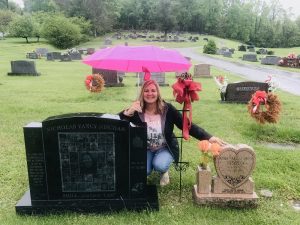 It's okay to feel sad on a day when others seem happy.
It's okay to feel angry too.
Life isn't fair.
And it's rarely easy.
So it's alright to wonder why things are the way they are –
and even look up with a shaking fist and ask the only One who knows.
It's okay to cry.
Or take a long walk alone.
Or visit a cemetery.
Or whatever it is that calms you
on a day you wish could end before it even begins.
 I have a challenge for you, though.
A challenge that may make your day a little brighter
and your heart a little warmer.
___________________________________________________
Think of someone else who may be struggling.
Call them.
Text them.
FaceTime them.
Do something – ANYTHING – that pulls you out of your own pain and places you right next to theirs.
In that moment,
something magical will happen.
You'll feel unexpected joy.
You'll experience supernatural peace.
Why do I say this?
Because I've tried it.
And it works.
Every single time.
God promises to be close to the brokenhearted.
The LORD is close to the brokenhearted and saves those who are crushed in spirit.
Psalm 34:18
He also promises to be where two or three are gathered in His name.
For where two or three gather in my name, there am I with them.
Matt. 18:20
So when two broken people choose to come together,
there's no denying His presence.
And really,
isn't He what we're needing most of all?
The Hope Giver
The Great Comforter
The Good Shepherd
The One who leads us beside quiet waters
and refreshes our soul.
Mother's Day may not be the day you want it to be.
But it may be the day you become Jesus with skin on to someone else who's feeling the very same way.
Don't let your heartache keep you from being light in a dark world.
Don't let disappointment or sadness keep you from showing love to someone who needs it.
Praise be to the God and Father of our Lord Jesus Christ,
the Father of compassion and the God of all comfort,
who comforts us in all our troubles,
so that we can comfort those in any trouble with the comfort we ourselves receive from God.
II. Cor. 1:3-4
____________________________________________________________________
Life is hard.
But God is good.
________________________________________________________________________
And someone needs to hear that today.
From you.
<3