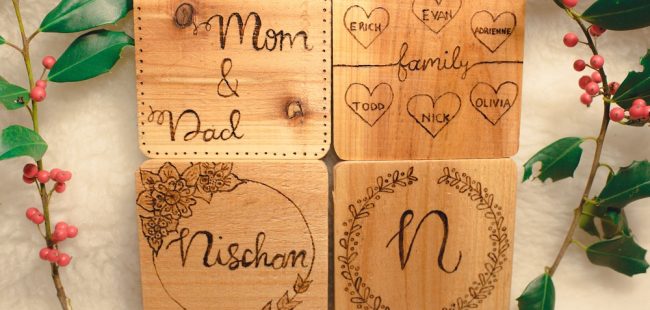 Olivia spent many hours creating Christmas gifts for each member of our family.
Handmade coasters.
Burned wood in all kinds of styles,
specially designed to match each family members' personality and style.
Reminders of her love for us.
And reminders of the love our family shares.
As I read Genesis this morning,
Noah and his family survived the flood
and the day finally came for them to leave the ark
and walk on dry ground.
Noah's first response in this moment wasn't to build a house for his family.
His immediate action was to build an altar to God.
Something to express His thanks for his family's salvation.
Love puts people in action.
I'm not sure how to thank Olivia for our coasters.
They remind me of her love every time I look at them.
They remind of the time she took to meticulously etch patterns into wood out of love.
God saw Noah's altar.
God smelled the aroma coming from it.
He knew it was for Him.
He felt loved.
And He was moved.
He blessed Noah and then He did something the Creator of the Universe didn't seem to need to do.
But He did it anyway.
As a reminder for Himself (not for us as I had always thought),
He made a rainbow.
And then He said,
"Whenever I form the clouds over the earth and the bow appears in the clouds, 
I will remember
my covenant between me and you and all the living creatures;
water will never again become a flood to destroy every creature. 
The bow will be in the clouds,
and
I will look at it and remember
the permanent covenant between God
and all the the living creatures on earth."
Olivia etched her love into coasters so we would have a reminder of her love for us.
Noah etched his love into an altar so God would have a reminder of his family's love for Him.
And God etched His love into the sky to remind Himself of His love for the world.
I've always seen rainbows as our reminder of His love for us……………
but the next time I see a curved arch of color in the sky,
I'm going to smile as I think of God,
looking down from Heaven and seeing this beautiful band of colors,
and being reminded of the very same thing.
I love that He created a reminder for Himself
and chose to share it with us.
I love that He invited us into His creative way
of holding Himself
accountable to His own words.
At the very same time,
I love that He created a beautiful reminder for us of His
never ending love.
We definitely need it in a world where
daily sacrifice doesn't come as easily or naturally
as it did for Noah.
What can I sacrifice today in order to show God my love for Him?
What do I need to put on my altar as a way of saying, "thank you," to Him who loves me most?
How can I remind Him today of how much His love means to me?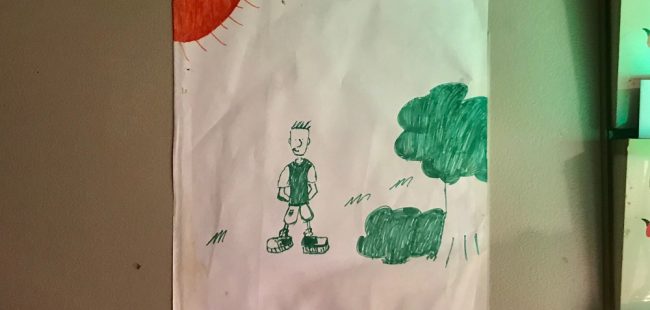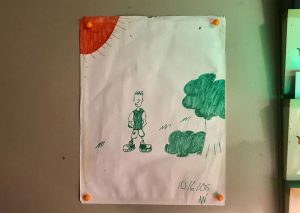 You don't have to make it very far in your daily Bible reading to hear the words,
"When the Lord saw that human wickedness was widespread on the earth……."
"The Lord regretted that He had made man on the earth, and He was deeply grieved."
Just three chapters into Genesis and the story of creation takes a turn for the worse.
I wonder how God feels today when He looks at the world?
More than that, I wonder how God feels when He looks at me.
It's easy for me to read news stories and be disillusioned with mankind,
but I'm pretty sure there are many times when God is disillusioned with my own behavior.
There was something about Noah that caught God's eye though.
"Noah, however, found favor with the Lord."
What if that was our goal today?
To somehow find favor with Him.
Catch His eye.
Make Him smile.
I hope your Friday is filled with these kind of moments.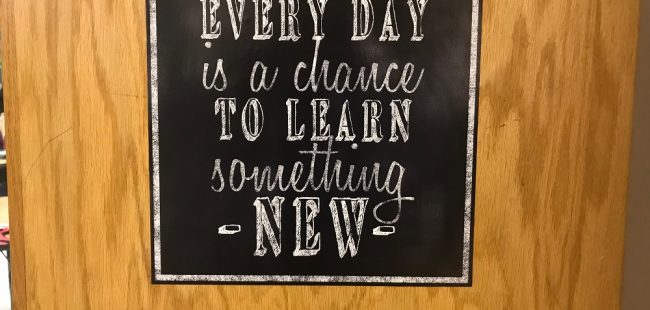 I've read the book of Genesis multiple times.
But this morning one verse stopped me.
Right after Cain is banished from the Garden
and headed to the Land of Nod, east of Eden,
something happens.
And today it bothered me.
"Cain was intimate with his wife, and she conceived and gave birth to Enoch."
Why did this verse grab my attention today?
I found myself reading commentary after commentary on the topic this morning.
And there's clearly a lot of speculation and debate about it.
This is definitely a question I want to study when I have more time.
Not because I need an answer in order to believe the Bible,
but because I want to be ready if someone ever asks me.
Do your best to present yourself to God as one approved,
a worker who does not need to be ashamed
and who correctly handles the word of truth.
II Tim. 2:15
I found an article written by "Answers in Genesis"
that makes the most sense.
Enough sense to pull me back to my computer anyway.
The truth is, though, I may never know for sure.
There's just not enough information in Scripture.
And this morning, I'm thinking God prefers to work that way.
If we knew everything, where would the mystery be?
And who doesn't love a good mystery?
Would we really want to live in a world where
everything could be explained without research and debate?
Would we need faith if everything had an answer?
Yesterday I wrote about God 's promise to make all things new.
And then I headed off to an elementary school to see kids for the day.
This sign was on the door of the first classroom I entered.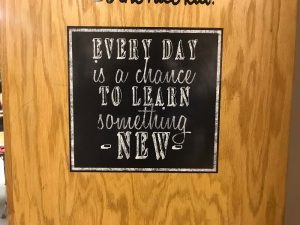 I think it's been hanging there all year long.
But yesterday, my eyes were open.
I was looking for messages.
I wanted to see God at work.
I wanted to hear from Him.
And He wasted no time in giving me just what I needed to get through the day.
I believe today will be no different.
He may not have the answer to the question about Cain's wife on a classroom door
(I may freak out if He does),
but I believe He'll be wherever I go.
And wherever you go.
And the answers we need to make it through the day
will be there
if we're looking and listening.
I don't think I need to know exactly who Cain's wife is
in order to walk through today.
But I do believe I need to know that it's a question
someone may ask me.
And it's a valid question.
There's lots of valid questions Christians could be asked today.
Because having Hope doesn't make sense.
But in your hearts revere Christ as Lord.
Always be prepared to give an answer 
to everyone who asks you
to give the reason for the hope that you have.
But do this with gentleness and respect.
I Peter 3:15
And the truth is,
I still have questions too.
A friend recently said to me in regard to the loss of someone she loves dearly,
"I don't think I'll ever understand."
My reply was the only one that was true,
"I don't think I will either…..
this side of Heaven."
I think that's what Paul is talking about in I Cor. 13
when he says,
For now we see only a reflection as in a mirror;
 then we shall see face to face. 
Now I know in part; then I shall know fully,
even as I am fully known.
 

And now these three remain:
faith, hope and love. 
But the greatest of these is love.
The day will come when faith and hope will no longer be required.
Love is all that will remain.
But for today,
we need all three.
Faith
Hope
and
Love
One day all our questions will ALL be washed away.
And standing in the presence of God,
I'm pretty sure the last thing I'll care about
is who Cain married.
But believe me,
if I get the chance,
I'm going to ask.
(By the way, thank you for every prayer yesterday…….I love you all so much.
And melatonin really does help if you need a good night of sleep.)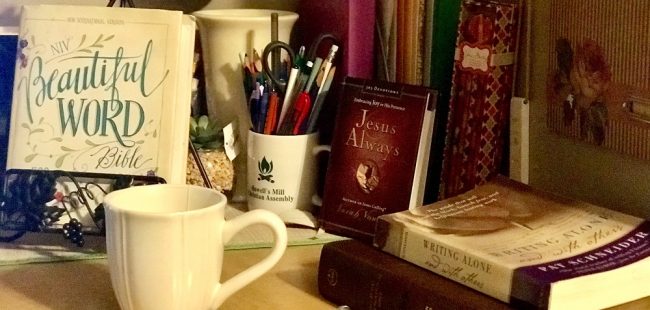 When our oldest son was born,
I said something that still makes me and my mom laugh today.
Every time a meal was delivered to my hospital room,
it included a cup of coffee.
As a young girl of just 21 years,
coffee had not become part of my daily routine.
And I always felt bad when I let it go to waste.
So one time when the kitchen staff came to pick up my "menu request" for the next day,
I said,
"I don't drink coffee.  You might want to write that down."
I have no idea what I was thinking in my post-baby state.
I didn't mean to sound bossy.
I just didn't want them to waste another cup.
It never occurred to me that I could share that portion of my tray with my mom.
It never occurred to me that a cold cup of coffee was probably the least of the hospital's concerns when it came to financial success.
Whatever the case, "You might want to write that down," has become a phrase my mom and I use from time to time
when something significant happens.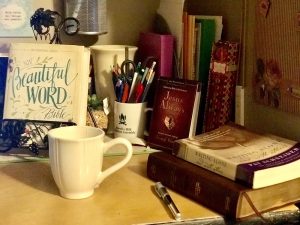 It's been 31 years since Erich was born.
I drink coffee now.
I've even become a fan of hot tea.
A lot has changed in the past three decades.
A lot has changed in the past month.
And I sense a lot of change coming in 2019.
Change isn't easy for me.
But neither is a life that stays exactly the same.
And maybe that's why I'm struggling.
So much of the change seems to be swirling all around me
while my life feels very still.
Watching the world you live in change
and having no control over how it's changing
is hard.
I cried myself to sleep last night.
Tim listened as I poured out all the reasons I'm feeling sad.
Sometimes life gets the best of me……
and last night life won.
As I woke up this morning,
the first words I heard in my mind were
"He makes all things new."
I wasn't sure what to do with these words.
I was sure God meant for me to hear them though.
As I opened Instagram (a morning habit I thought I needed to break),
I read the words from Isaiah 43:19
in a college alumni's post
before seeing anything else.
"See, I am doing a new thing!


    

Now it springs up; do you not perceive it?
I am making a way in the wilderness


    

and streams in the wasteland."
He is doing a new thing.
He is making a way.
Do I not perceive it?
I got out of bed and made my way to the kitchen.
Nothing felt new.
The same cup.
The same hot morning drink.
I made my way up the stairs.
The same desk.
The same chair.
Very soon I will walk out my door to the same job……..
one that I love but also find stressful at times.
 I'll face the same pressures.
Nothing feels very new.
So what did God mean this morning?
I read my January 2nd section of my Bible.
And picked up Jesus Always to read today's devotional thought.
"Find joy in me, for I am your strength."
I smiled.
I knew this was true.
It's been true my whole life.
He is my strength.
He's carried me through so many losses, so many goodbyes.
He's carrying my mom through the recent loss of one of her best friends.
And He's carrying me through the recent move of one of mine.
I know He's here this morning,
carrying me still.
But as I sat at my desk,
I still felt restless.
The words continued to play over and over in my head.
"He makes all things new."
Where are these words in the Bible?
I should know that by now.
I typed in the phrase and waited for the passage to pop up.
There it was.
Revelation 21:5
 I could feel the air rise in my lungs as I read the whole verse……
"He who was seated on the throne said,
"I am making everything new!
"Then he said, 'Write this down,
for these words are trustworthy and true.'"
_________________________________________
Write this down.
That's what I needed to hear God say this morning.
Something that makes me and my mom laugh.
He is making everything new.
These words are trustworthy and true.
I don't know what that means yet.
But I do know He keeps His Word.
So I'm writing this down.
Because it's significant.
And I don't want to forget.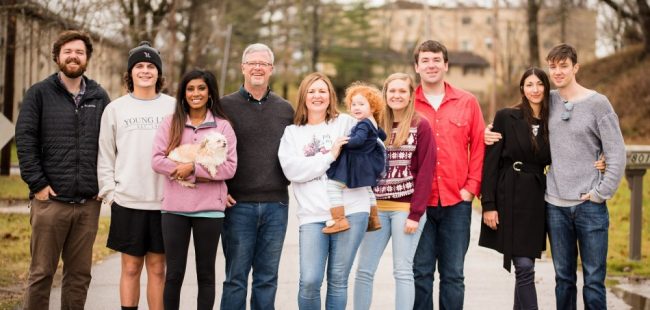 I'm so glad God created the world in six days…..
and then rested.
I'm even more glad He chose to call that particular day, "Holy."
Set apart.
Sacred.
Not the day He gathered water into one place.
Or the day He said, "Let there be light."
Or the day He made man in His image.
Or any other day He created something and saw that it was good.
No.
The day He made holy was not a day full of check lists and productivity.
The day He made holy was the day He took a break.
The morning He declared holy was the morning He took a look at all He had accomplished and thought,
"I've done enough."
That was the most special day.
The day He blessed.
____________________________________
I've spent a lot of my life busy.
Trying hard to be good enough…….
as a friend
as a wife
as a mom
as a daughter
as an aunt
as a sister
as a Christian
as an employee…..
and the list goes on and on.
I've coached and taught and cleaned and shopped and rearranged everything from my schedule to the rooms in my house.
But in the trying,
I've often failed.
Come up short.
Disappointed.
Let down.
Forgotten.
Overbooked.
Misunderstood or been misunderstood.
And in those moments,
I've become weary.
Disheartened.
Overwhelmed.
Stressed.
Hurt.
And broken.
These aren't the best emotions to feel when you're trying.
So this morning as I read Genesis 2:3,
I was struck with the realization that I've had it all wrong.
I've made the wrong days holy.
I've tried to prove myself,
find my significance,
earn my titles,
be glorified……..
in and through the things I do.
When your love language is acts of service,
resting feels wrong.
But this morning,
God spoke to me through His Word,
and said,
I need your love too,
and the act of service I desire most 
is for you to rest.
Close your eyes.
Soak in the sounds around you.
Open your eyes.
Soak in the sights around you.
The hours you choose to be still and just know me…….
those are the sacred hours.
The minutes you pause to breathe in deeply and exhale slowly,
fully aware of the One who breathed life into you…….
those are the sacred minutes.
God had plenty of things to do after setting the universe in motion.
He knew the enemy was on the loose.
And there were many battles to come.
He could have chosen to immediately dive into strategy planning.
He could have begun fretting about things like getting the Israelites across the Red Sea or helping Jonah get out of the belly of a whale.
Instead He propped His feet up on His footstool, the earth (Isaiah 66:1),
and took a break.
I don't know about you, but I need a new kind of year.
A fresh start.
And I think this year,
my biggest goal is going to be to rest.
Go to bed earlier.
Say "no" more often.
Worry less about what others think
and focus more on what God desires.
The first holy and blessed day
was not the day the world began
or the day man was created.
The first holy and blessed day
was the day God rested.
And I'm finally getting it.
Happy New Year from my family to yours.
May God bless your year
with many restful moments.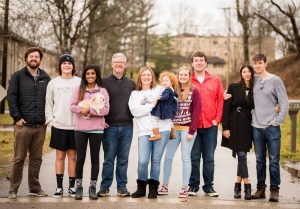 This is the day the Lord has made.
We will rejoice and be glad in it.
Psalm 118:24